Dundalk may have one hand on the League of Ireland Premier Division title after their 1-0 victory over Cork but manager Stephen Kenny insists that they've 'won nothing yet.'
The Lilywhites were full value for their 1-0 victory at Turners' Cross against a Cork City side that looked short on confidence and creativity.
Indeed the scoreline flattered the defending champions, who struggled to create any meaningful chances and who appeared to give up their title defence with a whimper.
The result leaves Dundalk nine points clear off Cork with four games to go and the Lilywhites also holding a game in hand.
Kenny was quick to praise his players and insisted that the result and their league position was all down to the hard work and attitude shown by his side.
"It was a great effort by the players, I felt," the Dundalk boss told RTÉ Sport. "The players' attitude is tremendous and they showed a great attitude again today.
"It wasn't a flawless performance by any stretch of the imagination but I think the team deserved the win on the night.
"It's why we sacrifice everything, it's why all the players make the sacrifices that they do and they all make huge sacrifices and that ensures that there is a massive hunger to win matches."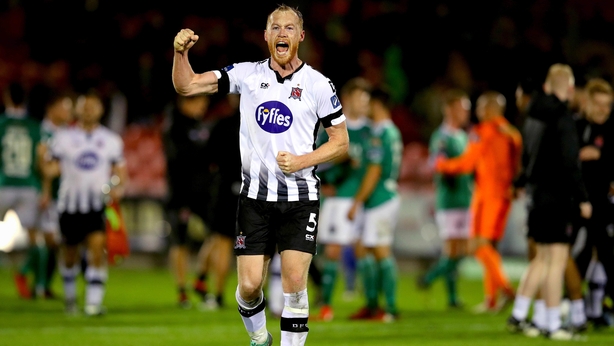 However, while his side need just four points from their final five games to bring the league title back to Dundalk, Kenny is still taking nothing for granted.
His side have a quick turn-around to Tuesday when they welcome Derry to Oriel Park before they face UCD in the FAI Cup semi-final on Saturday and the manager is celebrating nothing yet.
"We've won nothing yet, we still have a tough game against Derry on Tuesday and a semi-final on Friday," he added.
"So we have a tough week. We haven't won anything yet but we took a big step tonight with that 1-0 win.
"Tuesday night will be a big night in Oriel with Derry coming down.
"It's a significant result tonight because our record in the last couple of years in Cork, we haven't done that well in the last couple of years, so it's an absolutely terrific win."