Some League of Ireland fans may recall the Waterford and Shamrock Rovers tussle of the 1960s, managers Jim McLaughlin and Turlough O'Connor dominating the League of Ireland during the '80s or Bohemians and Shelbourne battling for supremacy at the beginning of the millennium.
But no rivalry has resulted in the top two places in the League being shared by two teams for four successive years, with a fifth almost guaranteed. This is the case for Dundalk and Cork City since 2014.
The gap to the rest of the league has also been significant and is growing year by year. It was two points in 2015, eight in 2016, 15 last year with the current gap at 15 again.
The last three years that Scotland's Old Firm took first and second spots, the average gap to the next team was 11 points.
Added to this, their FAI Cup hegemony has seen them be the first pair of teams to contest three consecutive finals. Only twice before had the same teams met twice in a row (1932/33 and 1965/66). Both are one win away from another Aviva showdown in 2018.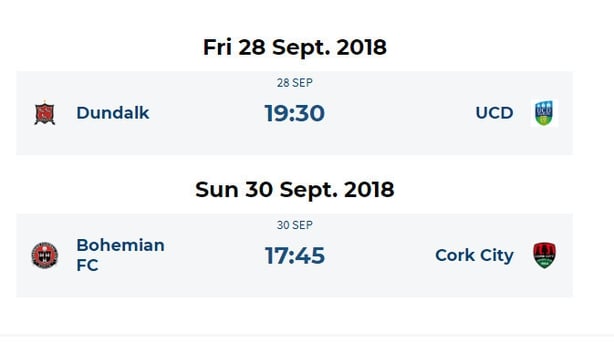 The teams first battled for the 2014 Premier Division title and it took all 33 games to separate them.
A meeting at Oriel Park on the final day of the season took 48 minutes for a Stephen O'Donnell goal and it wasn't until the 84th minute that Brian Gartland's goal confirmed the three points would go to Louth.
That allowed Dundalk to leapfrog their rivals and take the trophy by just two points. Since that night the clubs have been the closest of rivals.
Since 11 July 2016, a period which was 800 days yesterday, both teams have earned the exact same total points in the SSE Airtricity League – 173.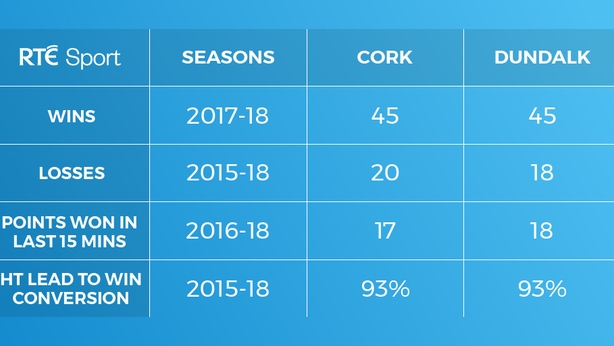 2014 was the first year of John Caulfield's managerial tenure, which brought the club back to national relevance. Relegation in 2009 sent Cork to the First Division for 2010 and 2011.
The uninspiring Tommy Dunne management produced 21 wins in their first two seasons back in the top flight, one fewer than in Caulfield's first season.
Dundalk's revival a year before was even more dramatic. Monaghan United's departure from the league in 2012 meant a bottom-place finish did not lead to relegation. The off-season appointment of Stephen Kenny resulted in a 340% increase in points in his first season.
They matched St Patrick's Athletic for 27 weeks of 2013 until a loss at Richmond Park sent them to a runner-up place by three points.
Including the 2014 league-deciding game, there has been 13 SSE Airtricity League matches between the Rebels and the Lilywhites - they are locked at five wins each to go with three draws. Over the last 14 matches they are tied at 16 goals scored each.
Dundalk had the initial ascendancy, with Caulfield needing eight attempts to score a win over Kenny.
Three wins in a row to start 2016 shifted the balance of power south. They had won nine of 11 before this year's first league battle.
Key to the turnaround was the 2015 departure of Cork's torturer Richie Towell (below). He scored seven goals in seven games against them, including the 2015 Cup final winner to say farewell.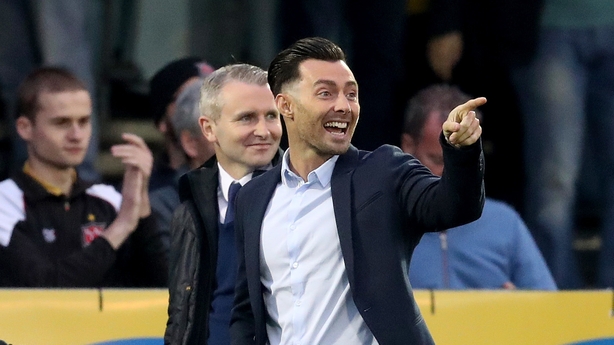 That's 50% of the goals scored by Dundalk in those games. In the eight games after his departure, Dundalk failed to score six times against City. Over this period Dundalk only failed to score in six other domestic games against all other teams.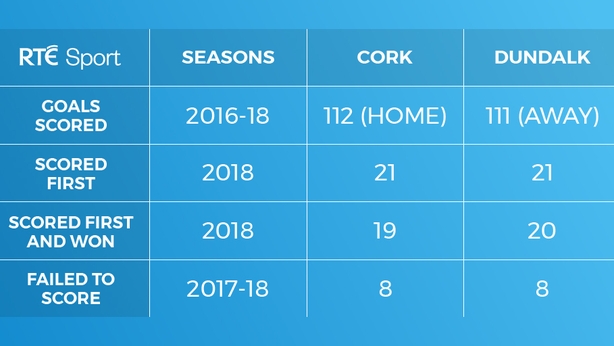 Both sides are led by powerful centre-forwards who have returned to the league this season after spells in the UK. Dundalk's Patrick Hoban leads Graham Cummins in goals scored by 24 to 14.
Hoban has recorded one of the all-time great scoring seasons. He reached 24 goals faster than any player of the summer era and has become just the 14th player in league history to score 20 or more league goals in multiple seasons.

The gap has been expanded by a recent barren run for Cummins, with just two goals in nine. The difference in goals contributed is lessened by factoring in assists, with Cummins in front by nine to two. Cork regularly use his aerial power to make chances for others. His 11 assists mainly coming via flick-ons and nod-downs.
Their consistency has meant other strikers' contributions have been limited with both number nines missing just one game each. Cork's Josh O'Hanlon has yet to start a game but has added three goals from the bench. Likewise, Dundalk's now departed Marco Tagbajumi did not start a game but still contributed two goals.
However neither side has relied on their front men for scoring. Kieran Sadlier has added 12 from out wide for Cork, the same as Dundalk's Michael Duffy. Sadlier is a long-range threat with five from outside the box.
One of the main difficulties in defending Duffy is his ability to score off either side; he has six goals with his right foot and six on his left. Through the middle Garry Buckley and Robbie Benson have nine goals each.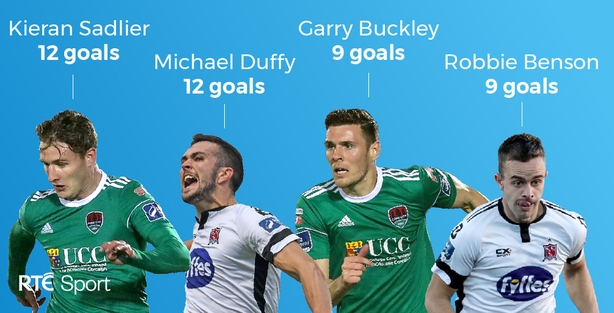 Cork's scoring has come with longer-range shooting. They lead the league with 12 goals from outside the box, Dundalk have seven.
Seven Cork players have contributed goals from distance (Colm Horgan, Buckley, Gearoid Morrissey, Jimmy Keohane, Barry McNamee, Sadlier and Karl Sheppard).
One of them, from Morrissey, was the match-winner on the other meeting of the sides down south this year. See below.
Dundalk utilise the pace of wingers like Michael Duffy and Dylan Connolly to create scoring opportunities from wide positions.
They lead the league in goals scored from crosses (26) and in finishes from inside the penalty area. Ronan Murray created the game-winner in the June game with a deep cross leading to a close-range finish.
Steven Beattie will likely fill the right-back role and be tasked with stopping the League's assist leader in Duffy. In 27% of his starts Cork have kept a clean sheet, this is 67% in starts for his predecessor Colm Horgan (currently sidelined with injury).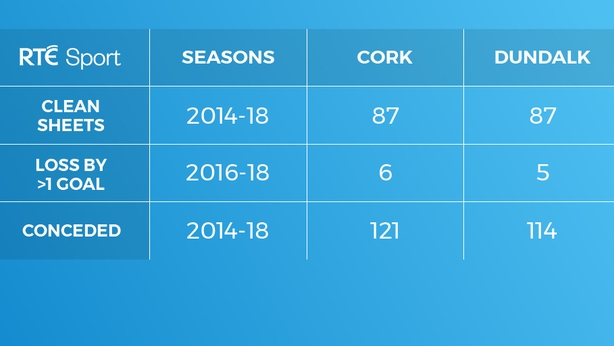 Defensively there is little between the teams. They have combined for 35 clean sheets (16 Cork and 19 Dundalk) this season compared to 66 from the other eight teams combined. At home, Cork are conceding 0.4 goals per game – that's the fewest since Derry City in 2011 and second fewest since 2007.
No team in the summer era has conceded fewer than five in a single season and their current total is six. Their 11 clean sheets at Turner's Cross are already their best of the summer era.
Cork have achieved this despite a lack of continuity in selection in defence.
Various combinations of five central defenders this year have been used staring with Alan Bennett and Aaron Barry before younger duo Conor McCarthy and Sean McLoughlin took over and now Damien Delaney has been introduced.
McLoughlin is the only centre-back with more than 16 appearances (25). But his absence from the last two and the half-time substitution of Damien Delaney last Friday means doubts persist over whether John Caulfield can choose a reliable pairing.
A recent run of five games without a clean sheet, the longest run under Caulfield, has highlighted the issue.
Away from Oriel Park Dundalk are conceding just 0.57 goals per game, the fewest since Sligo Rovers in 2011. The last four matches between the teams at Turner's Cross have given just seven goals so a high-scoring night is unlikely.
But in visits to Cork, they have not kept a clean sheet since February 2002. They have a clean sheet at every other ground this season, except the RSC.

Stephen Kenny's team have also had changes with the absence of Brian Gartland for the first 13 games leading to Sean Hoare and newcomers Stephen Folan and Daniel Cleary filling the void admirably with a run of eight clean sheets to begin 2018.
As a result their goals conceded per game with Gartland in the team is worse (0.65 v 0.31) than when he has played. But their win percentage went from 61% to 88% following his return.
Just five Dundalk goals have been conceded from open play this season – the next fewest is 16. They are:
Away to Cork as shown earlier.
A well-made goal from Ismahil Akinade for Waterford,
Two goals in the second visit to Tallaght were due to a Gary Rogers/Brian Gartland gaff and a long-distance shot rebounding off the post.
Most recently a Chris Shields back-pass error against Bray Wanderers presented a goal to Jake Kelly.
It is fair to say it is a defence which has proved near impossible to cut open.
In eight of Cork's last 11 games they have scored a goal with originated from a set-piece. Both St. Pat's and Shamrock Rovers have recently found a way to do so against Dundalk. This may be key to breaking down the fortress in front of Gary Rogers.
A Cork win this weekend may not be enough due to Dundalk's six-point lead. History of the rivalry is not on their side for the run-in.
In the months of September and October since 2014 Dundalk average 2.18 points per game while Cork are only managing 1.70.
That's a drop of over 0.5 points per game from the rest of the year. Dundalk won six more points than Cork in the final two months of the 2015 and 2016 seasons which helped them clinch league titles both seasons in addition to their final day triumph of 2014.
The recent slip-ups by Cork against Sligo Rovers and Bohemians may already be what ultimately separates the rivals for 2018.
We'll find out more when these great rivals locks horns once more.
Follow Cork City v Dundalk this Friday (kick-off 7.15pm) via our live blog on RTÉ.ie/sport and the RTÉ News Now app, or watch live on RTÉ2 from 7pm.