David McMahon doesn't need to think too hard when casting his mind back to the summer of 1998, a time when he and his U16 Republic of Ireland team-mates ruled European football.
In an unprecedented time for Irish football, McMahon's second-half goal secured a 2-1 victory over Italy, the country's first-ever European title. Remarkably, a second would be added two months later when Brian Kerr followed suit with the U18s in Cyprus.
Shortly after scoring the match-winning goal, the Dublin teenager returned to club duties with Newcastle United.
Alan Irvine, who would later manage Sheffield Wednesday and West Brom, was the head of the Newcastle Academy 20 years ago when McMahon was in the early stages of his professional career.
Irvine offered his congratulations to the jubilant teen upon his arrival at pre-season training that summer, along with a dollop of advice.
"He said, 'you won't understand until you are a lot older as to what you have achieved over there' and he was right," McMahon reflects.
He never made an appearance in the senior squad and a combination of injuries and circumstances meant he was on the football scrapheap at the age of 20.
A little over three years after scoring one of the most glorious goals in Irish football, David McMahon kissed goodbye to a career as a professional footballer.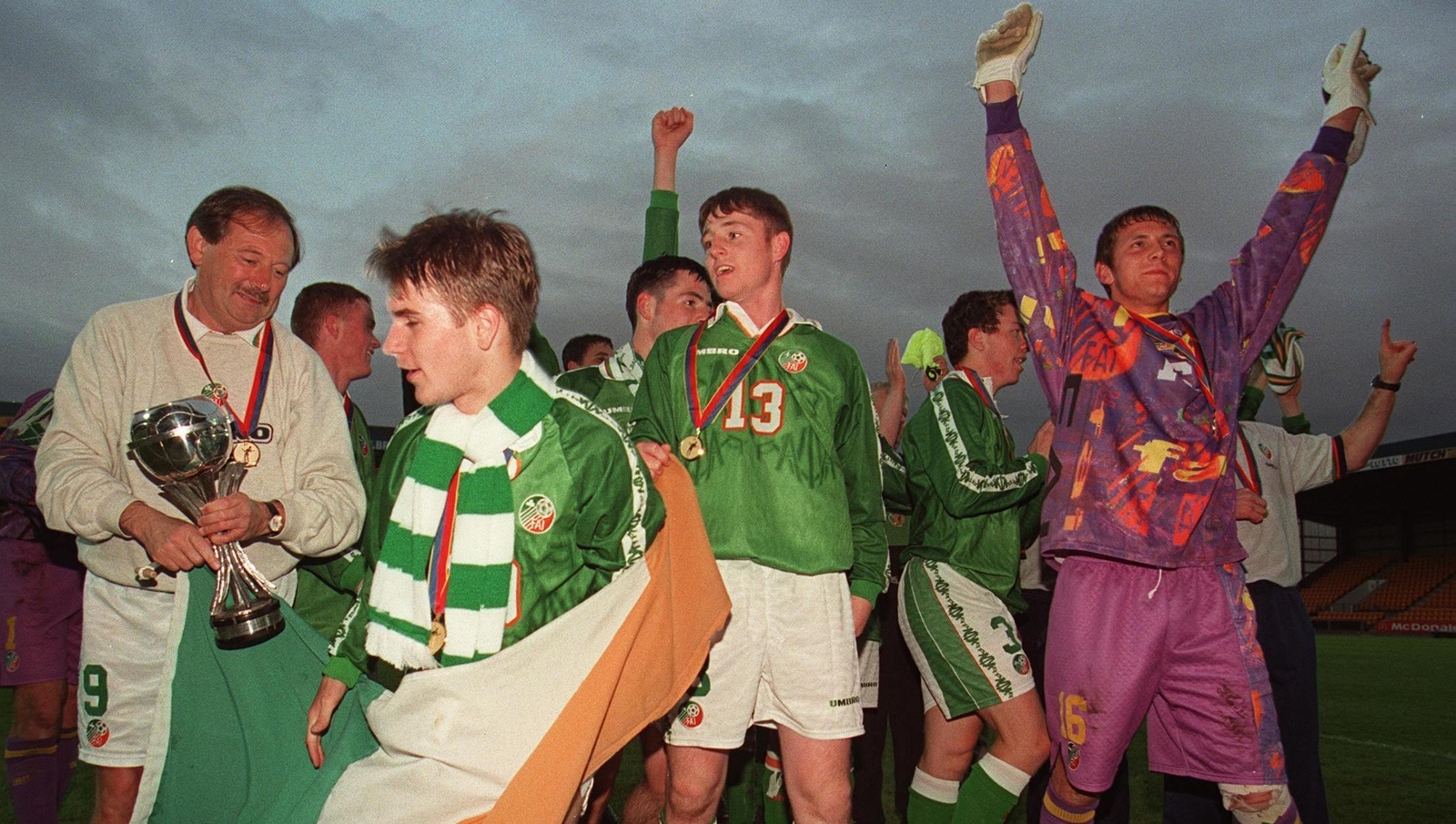 With good reason, David McMahon says the 18-man U16 squad that departed for the 1998 European Championships in Scotland was the most talented underage panel of players ever assembled.
Eight players – John O'Shea, Joe Murphy, Jim Goodwin, John Thompson, Jonathan Douglas, Graham Barrett, Liam Miller and Andy Reid – would amass 184 senior caps between them, while Brian O'Callaghan, Dessie Byrne and Keith Foy carved out decent careers in the UK and in the domestic game.
Back then however, McMahon says they were simply young footballers trying to find their feet.
"At the time there was no pressure. In terms of expectation, I don't think we really had any, partly because we had a pretty tough group."
Defending champions Spain, hosts Scotland and a Finnish side spearheaded by Mikael Forssell joined the Irish in Group C, though the Boys in Green were however formidable opposition in their own right.
Tranmere Rovers' Joe Murphy was number one choice in a side that coughed up just one goal – to Italy in the final – over the course of the tournament, with John O'Shea and Jim Goodwin manning the heart of the defence.
The Manchester United player was an eye-catching performer even in those formative years.
"Josh was the top man in terms of controlling the back four and Jim would have been eager for the battle and doing all the ugly stuff. He always stuck out with how composed he was and never needed to slide tackle. We used always slag him that his shorts were never dirty, but he read the game so well and was a great communicator."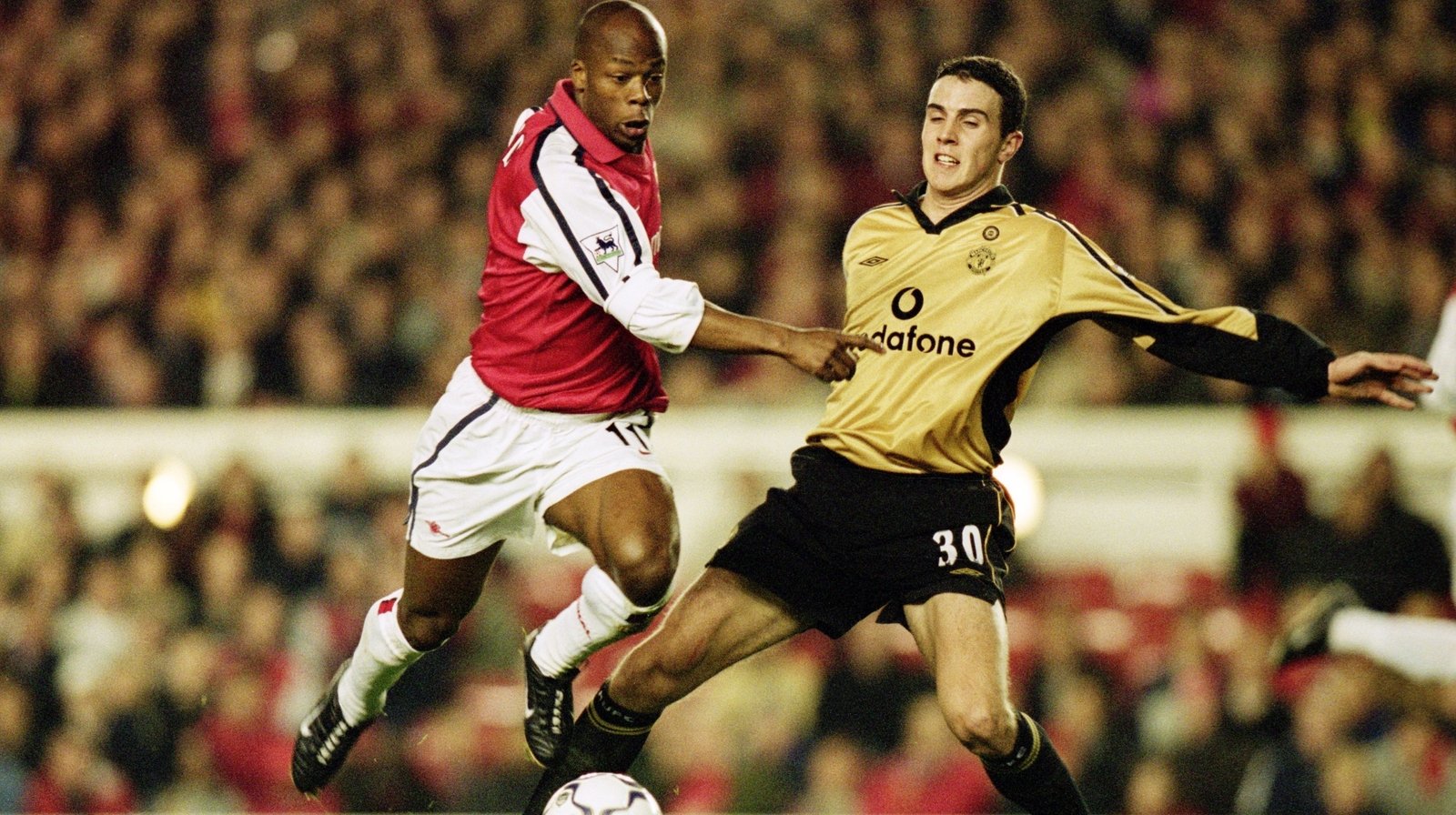 Keith Foy - "he had a great left foot" - and Andy Reid provided real attacking thrust down the left-side, with John Thompson and Brendan McGill stationed on the right-hand side of the Irish team.
Captain Shaun Byrne and Liam Miller set the tempo from the middle of the pitch, with Arsenal's Graham Barrett playing the number 10 role off McMahon up front.
Barrett was making at name for himself at club level, but after missing five months of the season with a knee injury, the Gunners were keen for the forward to remain at home for the summer.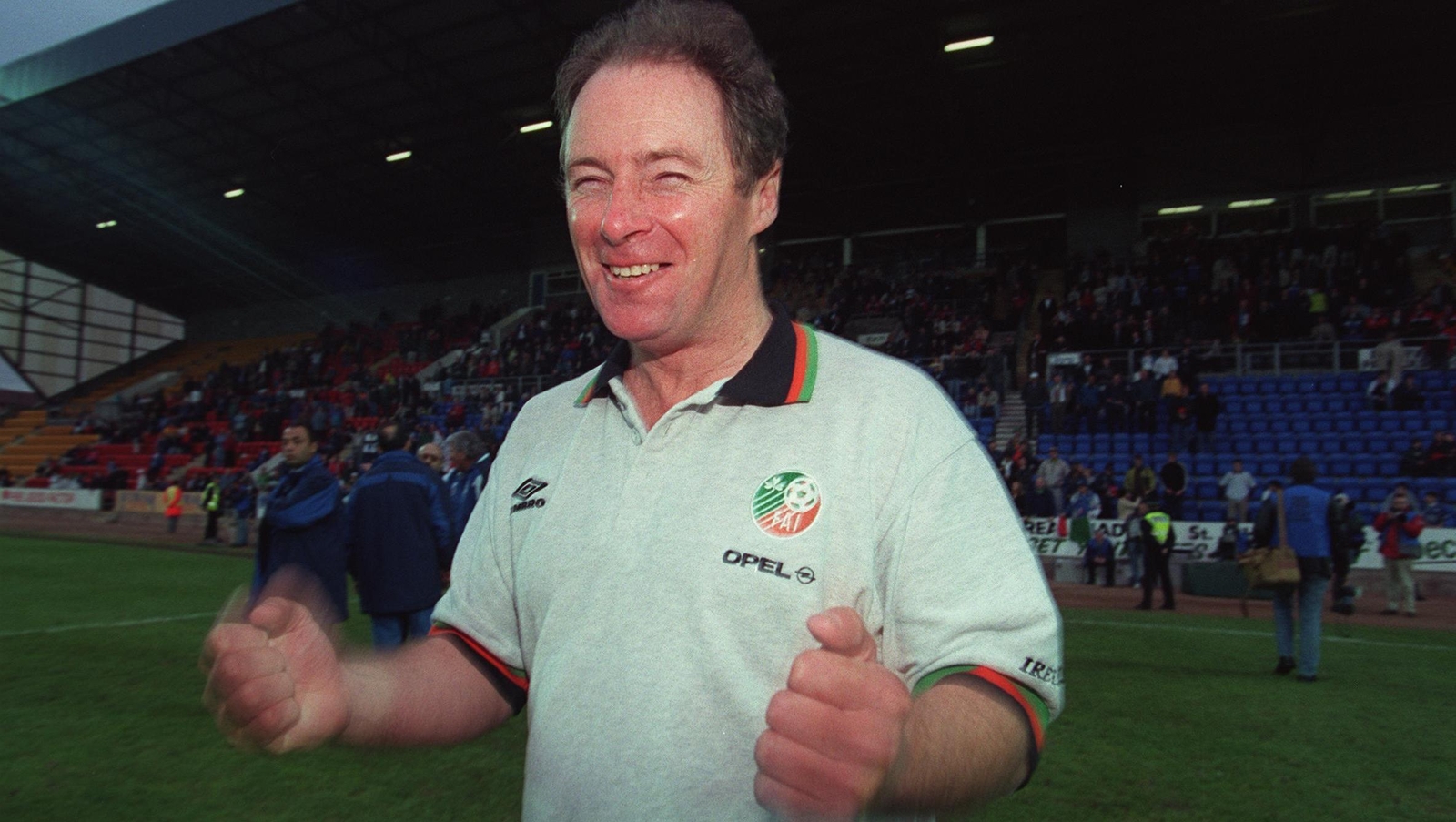 Kerr however assured Academy Director Liam Brady that he would be looked after – Barrett sat out the first game – and the Dubliner travelled.
For a squad shorn of three likely starters in Gary Dempsey, Paul Forsyth and Thomas Butler, it was a huge boost.
First up was a date with the Scots at Stirling Albion.
"The Irish lads were on top throughout and created almost all the clear-cut scoring opportunities, but failed to take any of them. Newcastle United's David McMahon, who otherwise had a splendid game, was the main culprit, missing several gilt-edged chances"

- Irish Independent, 27 April
"It's amazing what you remember 20 years later, and I remember missing those chances," he says.
He can also recall the abuse from Brian Kerr – his club team-mate in the Scottish team, rather than his international manager – when he returned to Tyneside.
Two days later and Ireland knew they were in must-win territory against Finland with Spain to follow. Kerr adopted a more attacking approach, with McGill and Reid pushed higher up the pitch, as Ireland essentially employed a 4-2-4 formation designed to create opportunities. The gamble paid off.
Just four minutes had elapsed when McMahon's header came back off the post, Andy Reid eventually burying the ball from close range.
In a dominant performance, a delicate chip from Barrett sealed a 2-0 win. It then set up a tilt against the highly fancied Spanish.
It was a game that marked the team's coming of age.
Foy went close with an early long-range free, while a defensive mix-up almost allowed McMahon open the scoring, but for large periods it was a test of Irish defensive resilience.
Then against the run of play shortly after the hour mark, McMahon turned match-winner when he met McGill's left-footed cross to steer Ireland ahead.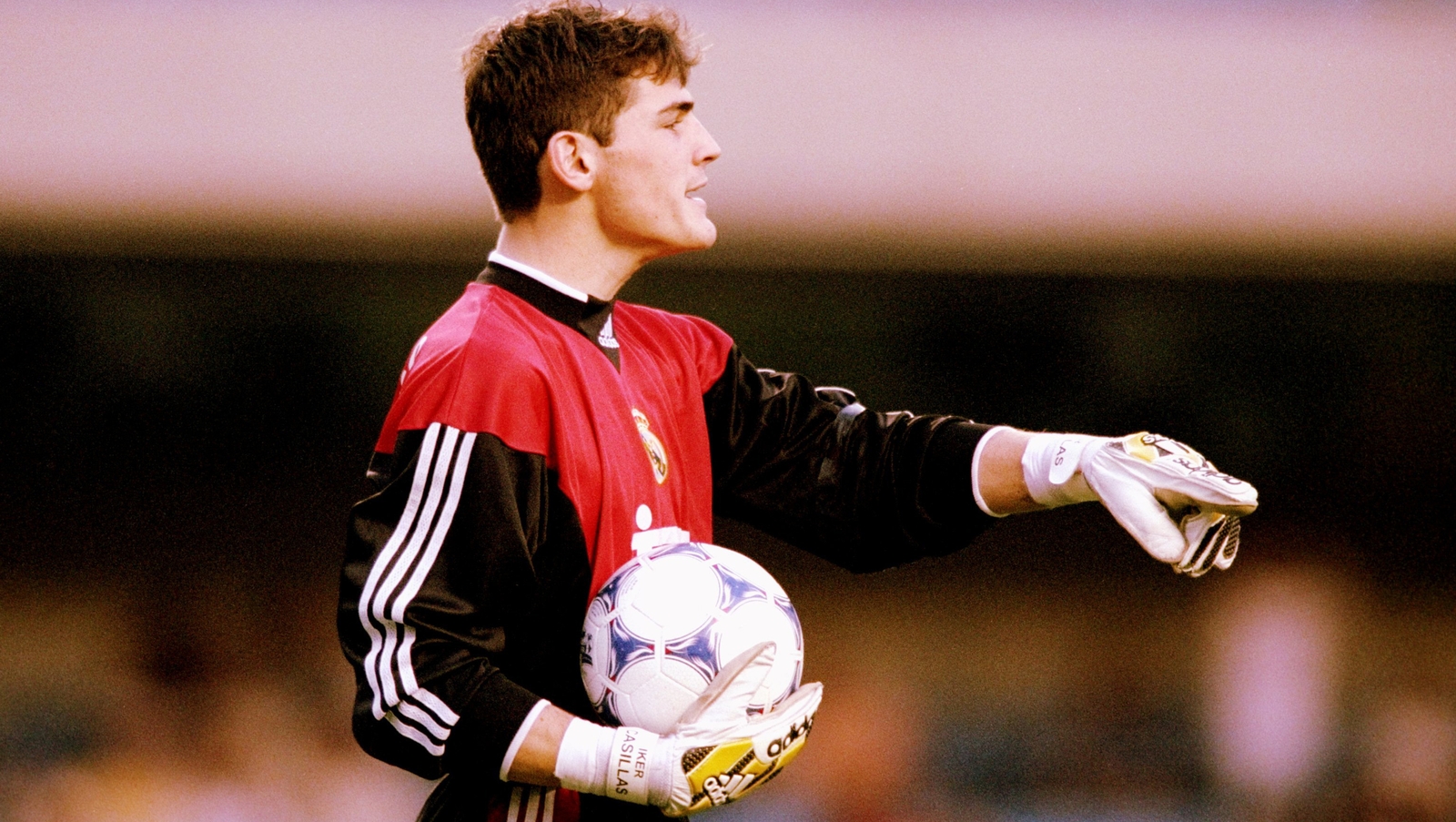 To beat them was a real confidence booster. It was Iker Casillas in goal, but I don't think he went on to have much of a career! - David McMahon
While Spain dictated the play, one Irish player in particular displayed his undoubted class.
"Once again Liam Miller in the middle of the park was superb and how Celtic can seriously consider leaving him go at Parkhead is a mystery," the Irish Examiner's Noel Spillane wrote afterwards.
The composure and execution on the pitch was accompanied by a close bond off it. There was a wide geographical spread of players and the camaraderie had been built-up though the underage structures.
The right notes were being hit on and off the pitch as the guitar was never too far away - "Andy Reid was usually the closest to it" - and management played its part in fostering the team spirit.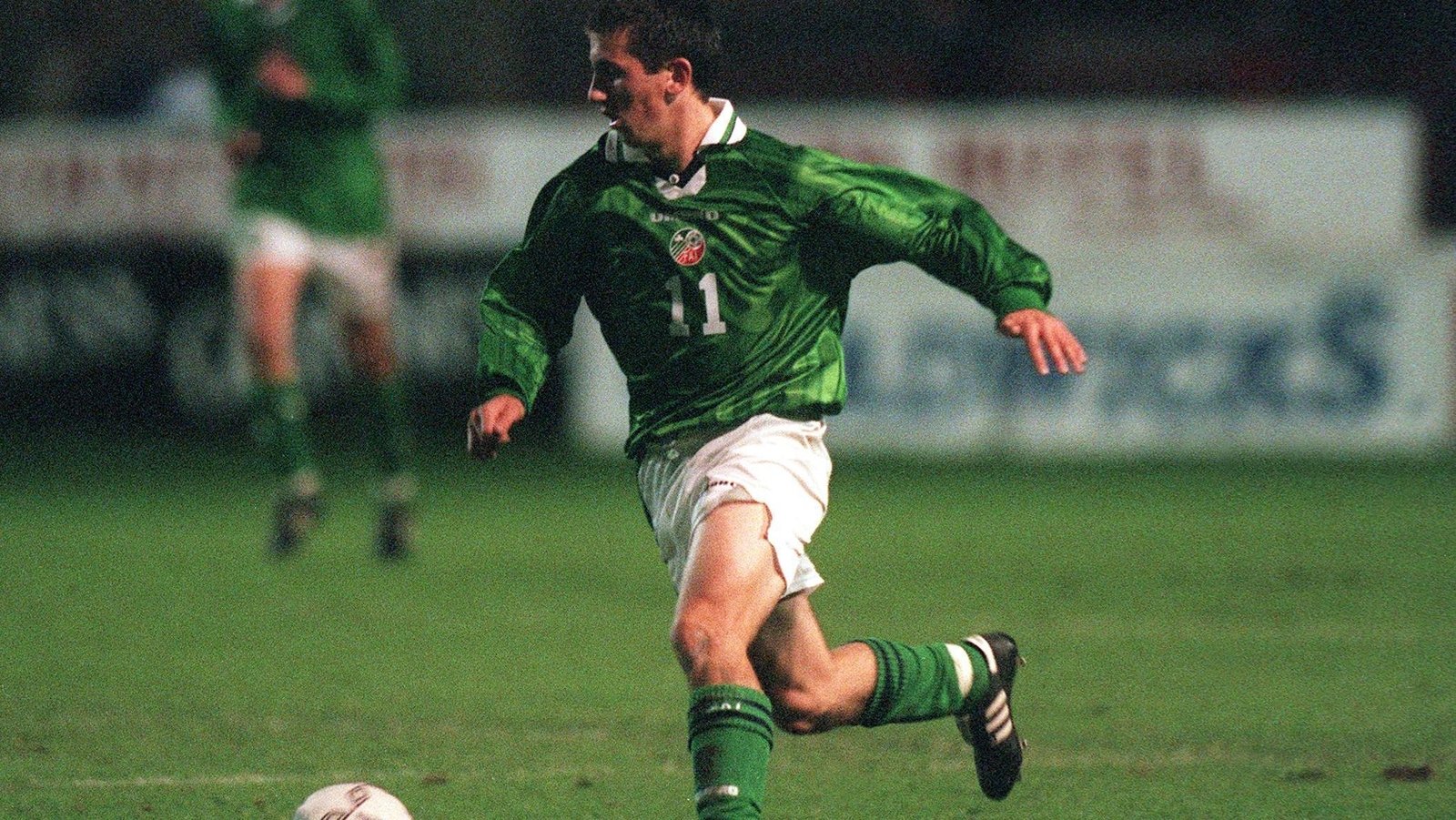 Interest in the Boys in Green was now growing. Goals in either half from Barrett and Byrne helped Kerr's side to a 2-0 win over Denmark in the last eight. The one blot on the copybook was a yellow card for McMahon which ruled him out of the semi-final against Portugal.

Kevin Grogan came into the team and there was a tactical adjustment, but just 15 months after taking charge, Kerr had led Ireland to a first-ever European final courtesy of a second-half double from Byrne.
The captain had gone close twice in the first half before breaking the deadlock in the 53rd minute after goalkeeper Moreira spilled a cross, with the West Ham man in the right place to take advantage.
Ireland soaked up Portuguese pressure, with the sight of the tournament's top scorer Miguel Barros hauled off with a quarter of an hour to go merely strengthening the Irish resolve. The win was sealed in the final minute with Byrne blasting home after quality build-up play from the wide men.
"It must be the best goal in the competition because of the trickery and wizardry of McGill and Reid," Kerr told reporters afterwards.
"It felt at the time a pretty awful situation, sitting in the stand watching," McMahon recalls. "I don't remember much about the game other than Shaun's second goal and the relief that we were going through into the final."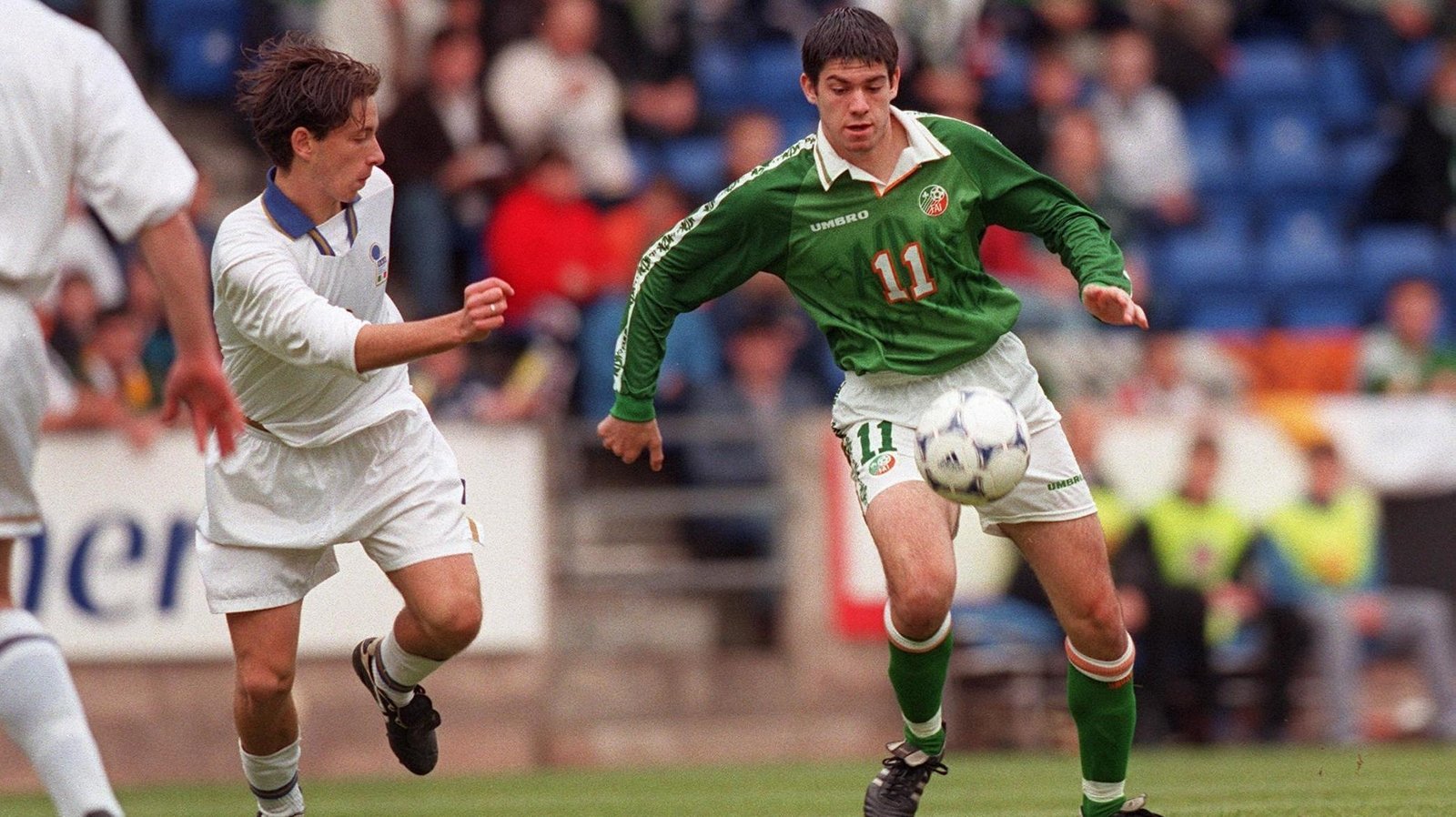 Messages of goodwill flooded the team camp ahead of the decider against Italy. Not surprisingly, green was the dominant colour among the 2,498 that passed through the turnstiles at MacDiarmid Park as McMahon was restored to the starting XI.
Despite a bright Irish opening, Italy's top scorer and future Chelsea player Sam Della Bona should have opened the scoring in the 27th minute. Gaetano D'Agostino spurned a chance 60 seconds later and the Azzurri would pay the price when Foy broke the deadlock with an exquisitely taken left-footed free-kick.
"I watched it on YouTube recently," McMahon says. "I didn't remember it being that high into the top corner at the time. It was a hell of a free-kick."
After more than 450 minutes of tournament football, the Irish defence was finally breached early in the second half when Pagliuchi got free down the left and his low cross was turned home inside the six-yard box unchallenged by Simone Pelanti.
We gave John O'Shea a little bit of stick about it…he had far too much space!
The Italian joy however was short-lived. Five minutes later, Barrett's through ball found Reid in the penalty area. With time and space, the Nottingham Forest man pulled it back for McMahon to tap home from three yards.
"It was relief. I wasn't having a bad game, but I wasn't really involved. It was a defensive display at times. They were good at keeping the ball. There was a bit of luck with the goal; it came across to me a few yards out. It is something I will always cherish."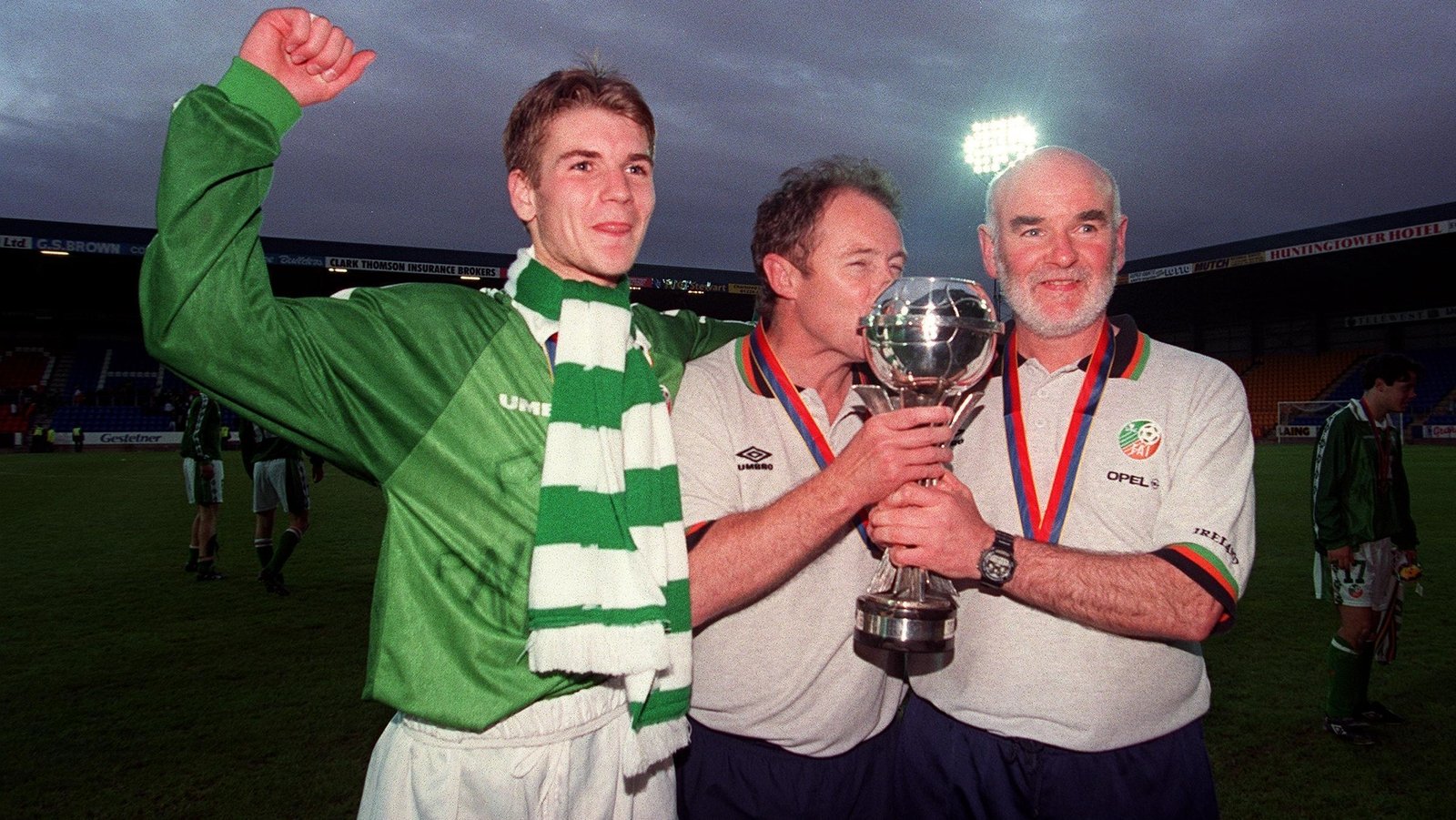 There were a few anxious moments before referee Michael McCurry brought an end to proceedings as Irish delirium took over MacDiarmid Park.
"It is a special moment for Irish football and there should be great joy around the whole of Ireland with this victory. To be honest, I didn't think we had that in us. It was a sensational performance." Brian Kerr said afterwards.
"It was the pinnacle of my career," the match-winner says, but unfortunately for the striker, the downward trajectory of his career was steep and swift.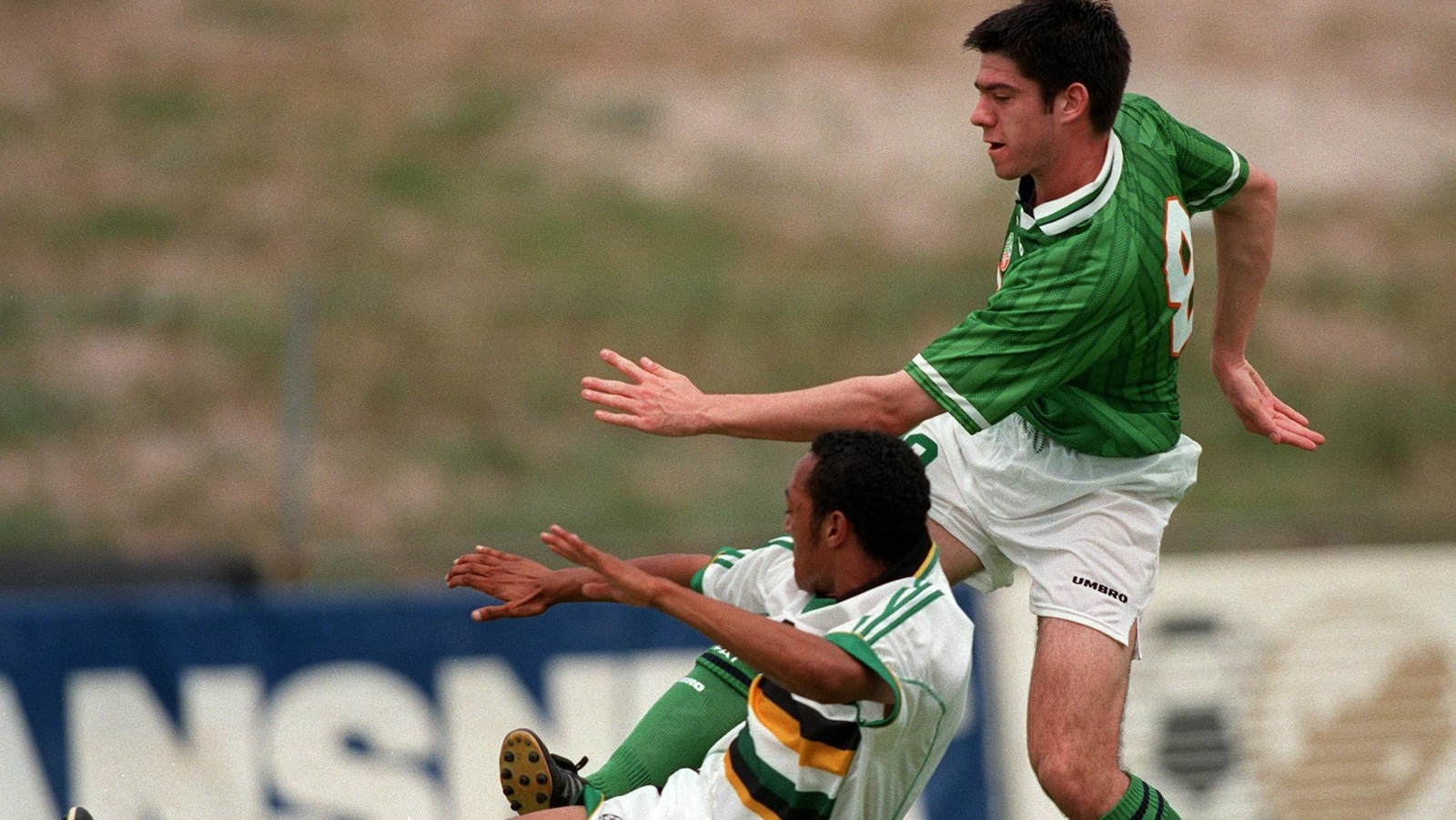 Arsenal and Celtic showed early interest in the Dublin teenager, but the decision to join Newcastle United in 1997 was an easy one. For a die-hard Liverpool supporter, the overtures from Kenny Dalglish were too strong to ignore.
They met after an England and Ireland schoolboys match at Ewood Park and the Magpies manager travelled to Dublin shortly after to seal the deal.
After bedding in during the first year on Tyneside, the second season was his best at the club as the Magpies reached the semi-final of the Youth Cup.
McMahon was now a regular in the side, but the move into the reserves was a far greater challenge. With Dalglish departing from the hotseat, the landscape changed considerably. Ruud Gullit came and went with little affection from the St James' Park crowd before Bobby Robson steadied the ship.
"I wasn't as regular in the reserves team, and I alternated up front with Shola Ameobi, which is never easy. You can never get a run of games. The decision was made by the manager that Shola was the one they were going to look to push on."
He ploughed on and was caught off-guard when assistant manager Mick Wadsworth delivered the news he was surplus to requirements, something which left a bitter taste at the time.
"You would expect a conversation with either the manager, or the coach of the first-team and not in the middle of a training session."
The following season in the reserves he scored twice away at Man City early in the campaign, but it proved to be his final game in a black and white jersey. With no contract on the table, he dropped out of the team.
"I was still joint-goalscorer by Christmas," he recalls.
The rejection hit him hard as the insecurities of professional football swirled around in his head. "It was a pretty devastating time."
Spells at Darlington and Falkirk allowed him gain first-team football experience, but a knee injury meant he never truly got the chance to showcase his talent. He was already faced with the challenge of "resurrecting" a career while still a teenager.
Support from Newcastle may have been thin on the ground, but he retains close ties with players he soldiered with at that period.
Towards the end of the season he moved in with Steve Caldwell, who would make his Scotland debut soon after, but his moment of realisation came after a conversation with the defender's wife.
"I remember she picked me up from Newcastle towards the end of the season, on my last day (living with them). I said, 'I think I'm finished'.
"She said, 'no, you will find another club', but I knew I was finished. I knew I wasn't at the level I wanted to be at."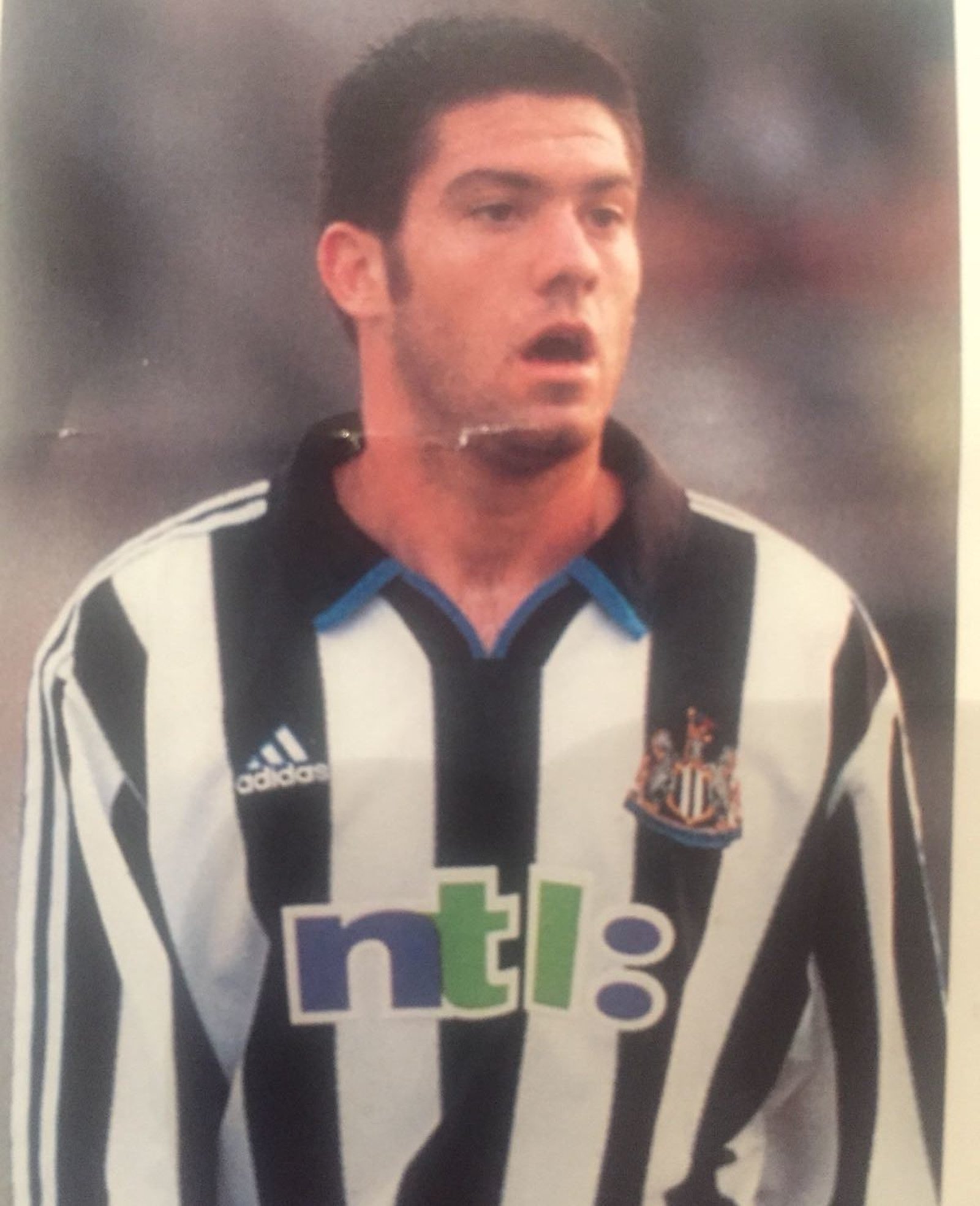 With ITV Digital going bust and clubs not looking to take a punt on a young player with a questionable medical record, the game was over.
Struggling to figure out his path, he returned to Dublin and even trained with Bohemians for a while, but physically he wasn't able. Mentally, the focus had changed.
He returned to the north-east to further his education, with non-league football helping him financially through his third-level days. McMahon obtained a Sports and Exercise degree at Sunderland University, though the anticipated career in physiotherapy never materialised.
Of longer-lasting consequence was a relationship struck up at college with Amanda, his now wife and mother to Isla (6) and Cillian (2).
"My kids are out-and-out Geordies"
McMahon has spent more of his life in Newcastle than Dublin, and is a sales rep in the area for Carlsberg. He slowly lost interest in going to St James' Park, but his affection for the area and its people hasn't dimmed in the slightest..
"I love the area and we're settled here. My kids are out-and-out Geordies."
There was slight nervousness before the 20-year reunion for the European triumph earlier this year in Dublin, but as soon as the group came together, it was just like old times.
John O'Shea had to report for Sunderland duty the following day, but it didn't stop him flying to Dublin for the night.
"I was a little bit apprehensive as to how the night would go. It's amazing, I haven't seen some of the guys in years, but it was a great night."
Back row, left to right: Shaun Byrne, Jim Goodwin, John O'Shea, Joe Murphy, David McMahon, John Thompson.
Front row, left to right: Graham Barrett, Liam Miller, Andy Reid, Brendan McGill, Keith Foy.
U16 European Championship Final 1998
Republic of Ireland 2 (Foy 35', McMahon 57')
Italy 1 (Pelanti 52')
Ireland: Joe Murphy (Tranmere Rovers); Keith Foy (Nottingham Forest), John O'Shea (Waterford Bohemians), Jim Goodwin (Celtic), Thompson (Home Farm); Andy Reid (Nottingham Forest), Shaun Byrne (West Ham United), Liam Miller (Celtic), Brendan McGill (River Valley); Graham Barrett (Arsenal), David McMahon (Newcastle United).