Sligo Rovers manager Gerard Lyttle has described Raffaele Cretaro as a player that "oozes class" after the match-winning contribution for his side against Cork City last night.
Cretaro, who will turn 38 in a few weeks, scored the late goal to give Dundalk the advantage in the title race and all but seal Sligo's place in the Premier Divison. 
The versatile Tubbercurry man notched his first Rovers goal 18 years ago this month and was recently honoured with a testimonial, having become the club's record league appearance maker.
He faced down Mark McNulty in front of The Shed before slotting the ball into the net cooly in the 84th minute of last night's fixture.
Lyttle said: "That's experience for you. That's what he does. We see him every day. We try to manage him as well as we can because we know how important he is to this team. He's just class.
"He oozes class and there is no better man to have the temperament when you have to face the goalkeeper. He was calm. We knew once Raff was in that position he was never going to miss."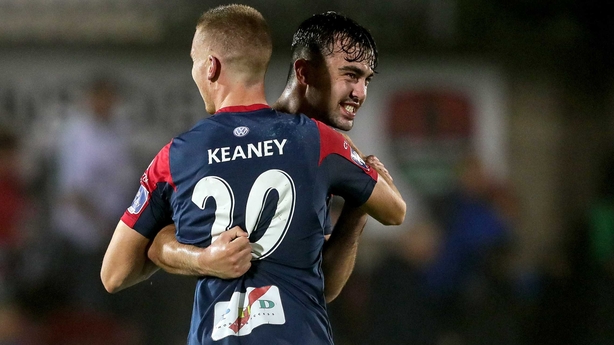 This year has been one of the worst home seasons in Sligo's 90-year history with just nine points from 14 matches. However, on the road, it has been a very different story.
Eight wins from 16 games means Rovers will almost certainly be in the top-flight next season.
The contrast has frustrated their supporters and left their manager wondering just why it has been the case.
"I wish I knew. Obviously it's a mental thing. We believe we can go and win. We're playing well at home. I said it during the week in an interview on our website that I feel the home win is coming. If we can play like that and work like that, it definitely will.
"Our training is through the roof at the minute. The boys are working extremely hard and are determined. Hopefully that will continue for the rest of the season.
"We've been playing really good football and just not getting those breaks. Tonight we got them. We have continuously said to the boys that the harder you work, you will get the breaks. I'm thrilled and proud of them."
Lyttle added that the outcome was no fluke, and his side had played much better football that Cork.
Young Bit O' Red defender John Mahon was also praised by the manager, with the youngster not even born with Cretaro scored his first goal for the club. 
The Sligo boss stated: "I think you saw yourself that we deserved the win. I thought we played exceptionally well. Defensively we were very solid. We were very disappointed to be going in at half-time and to a set-play.
"We're the youngest team in the league and tonight the boys were men. We had an 18-year-old centre-half in John Mahon outstanding along with Patrick McClean.
"At half-time we wanted to keep it at 1-0 as long as possible. For me, Cork had a lot of pressure on them. We knew that would be the case. I think you saw we played all the football.
"We were very good in our compactness when we didn't have the ball. We were able to pick Cork off at the right times and the tactical switch where we put Raffaele up top, and pace on the wings, worked extremely well."