Republic of Ireland manager Colin Bell  is eager to end his side's World Cup qualifying campaign with a win, but already has one eye on booking a place at Euro 2021.
Ireland will take on Northern Ireland in their final qualifier at Tallaght Stadium on Friday evening.
Qualification is beyond Bell's team but they have made significant progress throughout the course of the campaign and the Irish manager is eager to sign off with another win over Northern Ireland, having beat their neighbours 2-0 in Lurgan last September.
Ireland are already guaranteed a third place finish in Group 3, behind group winners the Netherlands and second placed Norway but still expect a real physical test from Northern Ireland.
"It's really important," Bell said to RTÉ Sport. "We're using this to round off the campaign and we want to finish as we started, with three points.
"I expect a really tough, physical and hard match against our neighbours but if we were to beat them then we could say we won 50% of our matches.
"We were able to compete against Norway and the Netherlands in both of the matches so the campaign has been positive. But we want to finish it off with a win and obviously go on from there and keep the momentum up and prepare for the up and coming Euros'.
"We're geared up to giving it another go the next Euros and I know we can use this campaign as the foundation and then use the year preperation to really get stuck in."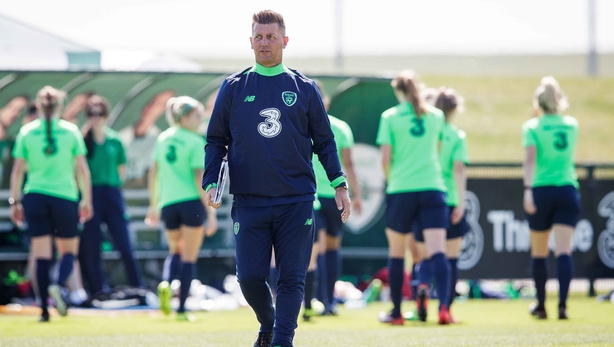 Despite the dead rubber nature of the game, Bell hasn't been tempted into making wholesale changes or to experiment with a new formation or system.
"I'm not a scientist," he explained. "I don't experiment, I just do what's logical, what's plausible and have a strategy to win, so there's no messing around or experimenting in that nature.
"We have a gameplan as usual. We might have to change things during the game, that's always a possibility, but I'm not experimenting."
The Ireland manager has called 16-year-old Shelbourne Ladies striker Jessica Ziu into his squad, while Heather Payne, who recently secured a move to Women's Super League side Bristol City, has returned to the squad following an injury which ruled her out for qualifiers against Norway.
The development of the likes of Payne is another positive for Bell, who believes that progress at club level is a good reflection on the strenght of his squad.
"Even if we look at the last few weeks we have three players that have moved into professional football. Leanne Kiernan to West Ham, Clare O'Riordan to MSV Duisburg in Germany and Heather Payne going to Bristol.
"That's happened in the last year/year-and-half and that's also an indication that we are improving as a nation. These players are now becoming interesting for professional clubs."
What a strike from @kiernan_leanne 😍 pic.twitter.com/Jpqmhoy3Yn

— West Ham United Women (@westhamladies) August 27, 2018