Martin O'Neill said he's "not averse" to giving Troy Parrott, one of Ireland's brightest prospects, a shot in the senior set-up if he continues his steady progress at Tottenham.
Former Belvedere Boys attacker Parrott reached an agreement to join Spurs last year before linking up with the Premier League club full-time in June.
He was superb in May's European Under-17 Championships, scoring three times in the Republic of Ireland's run to the quarters, and had caught the attentions of several clubs including Liverpool, Celtic and Chelsea.
He's on the radar of the Irish boss too, and though O'Neill said he expects the teenager will require more time to fully develop his obvious talent, he admitted he's been keeping a close eye on the Dubliner. 
"Pat Jennings [O'Neill's former Northern Ireland team-mate who still has close ties with Spurs] was telling me Troy does come up occasionally and train with the first team and they've all been pretty impressed with his attitude," O'Neill told RTÉ Sport's Tony O'Donoghue.
"If someone 16, 17, 18 years of age, who you feel is absolutely ready and is good enough and if you're choices are limited, and he's making great progress, I would see no problem in [calling him up].
"I just think there is a little time for development and I don't think, unless it's a League Cup game, that Troy will be involved with Tottenham at senior level for the foreseeable future.
"But it'd be nice to know that he thinks there is a chance of that happening and, more importantly, that the coaching staff think there's a chance of that happening.
"If you're to listen to Pat, he's really well thought of. It's great to see. I wouldn't be averse to [taking a punt on Parrott]. He might just need a wee bit more honing at this moment."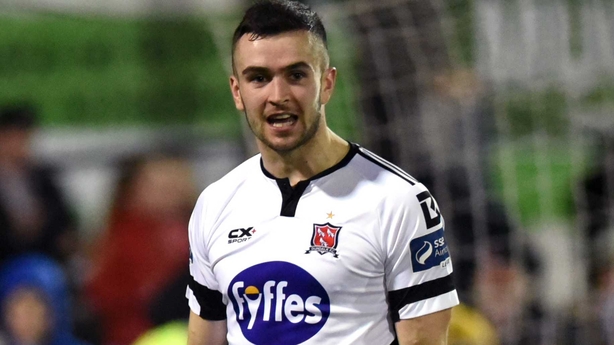 Another man O'Neill is monitoring is his fellow Derryman Michael Duffy.
The Dundalk flyer has played up to U21 level with the North but has expressed his desire to play for the Republic of Ireland and he's done his chances no harm this campaign, turning in several excellent performances for the Lilywhites. 
O'Neill was full of praise for the 24-year-old who could well be named on Monday in the provisional squad for the UEFA Nations League game against Wales (September 6) and the friendly against Poland (September 11).
"I've got a lot of time for him," said the boss. "I think he's an exceptionally talented player. It didn't happen for him at Celtic. He wouldn't be the first young player to have gone over there and not come through.
"He definitely has the ability to go past players, it's nice to see. I've seen him on both types of surfaces - on what I would consider the normal pitches and I've seen him play at Dundalk on the artificial surface. 
"He's a definite talent, there's no question about that."
Preston forward Callum Robinson could also make the panel for the first time.
"It's only paperwork that's stopping that at this moment," added O'Neill. "Sometimes that's a slow process."