Gary Rogers believes Dundalk can still beat Larnaca and progress in the Europa League despite Thursday night's frustrating nil-all draw at Oriel Park.
The Lilywhites were unable to break down the visitors' defence and now have to score in Cyprus when the teams meet next Thursday, 2 August.
Dundalk keeper Rogers is confident of his side's chances of progressing to the third qualifying round and a meeting with either Ajax or Sturm Graz.
"It's always important not to concede at home in European ties. We're in a good position," he said.
"You have to score to win a game so if we can go over there and get the first goal it will ask huge questions of them and it's something we're more than capable of doing. Overall, we're disappointed we didn't win the game, but we're still in a good position.
"They're a good team, they can play football and they retain the ball well – we knew all of that. It's just about how we can deal with that and how we can get at them at the right time.
"We're more than capable of keeping the ball, that's our style of play and the way we go about it. It'll be an interesting second leg, it's all to play for and we're more than capable of going there and getting a goal."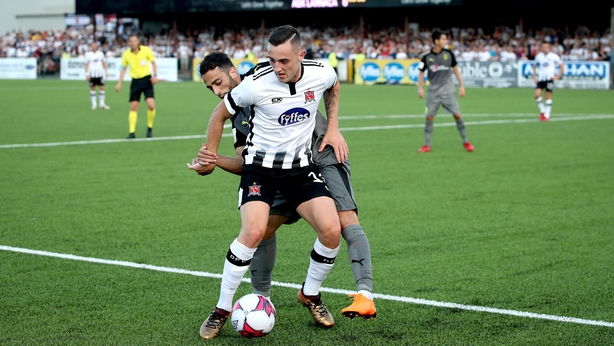 Dundalk nearly scored early on, but Michael Duffy's curling shot hit the far post and bounced out to safety.
Larnaca didn't work many clear cut openings and Rogers was on hand to stop their best chance in the second half.
He admits that both teams were feeling the other out and expects a different second leg.
"There's a lot at stake in these European games and you can't go out and go gung-ho trying to bully teams," he said.
"All these teams are very capable at this level and you have to wait and see how it goes. We played quite well throughout the game and though we could have played better we've put ourselves in a reasonable position.
"Obviously we would like to have scored, but the fact that we're going over there nil-all is far better than one-all. I feel we can score an away goal and possibly win the tie over there.
"We're very good as a counterattacking side, which is something you don't see in League games because we're generally on top, but with the wingers we have and the attacking threats we have it's not a bad thing that they have to come out and try to win the game.
"It's not that we'll try to sit in, but we'll take a different approach to the game and try to counteract what they're going to try to do."