FAI Chief Executive John Delaney insists that the €30m outstanding debt on the Aviva Stadium can be paid off by 2020.
When the revamped Lansdowne Road was opened in 2010 the FAI were saddled with debts of €70m. That figure remained stubbornly above €50m until 2012, but has now dropped to just below €30m.
And speaking to RTÉ Sport, Delaney remains confident that this debt can be wiped off the balance sheet in little over two years time.
"We've announced our accounts for 2017; turnover was €49m, our second biggest in a year we didn't qualify for the World Cup," he said.
"I think the big news for us is the Aviva Stadium, which cost €410m and at one stage we had a debt of maybe €70m on, the debt is now below €30m today, next year it will be €20m or below and by 2020 we have the ability to be debt free.
"I'll outline that to our members next week at our AGM down in Cork."
The FAI made a profit for the ninth year in-a-row in 2017, with a surplus of €2.8m after expenses and grants paid to Irish soccer at all levels.
"It's important if you have a mortgage on your house or your business that you reduce that debt and I think we have demonstrated over the last number of years, while we've been developing the game at grassroots level, international level, all levels, high performance, we've been able to consistently reduce our debt," said Delaney.
"From an investment that required €205m from the FAI, there was obviously Government aid and we had to put €95m of our own money into that and to be announcing today that our debt is below €30m, will be below €20m next year and that the FAI has the ability to be debt-free by 2020 is good news for Irish soccer.
"We're in good shape. It doesn't mean there aren't difficult days, of course there are, but in general this is a good day for Irish football."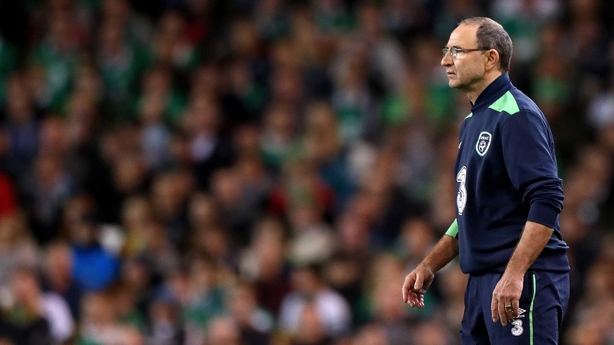 The Aviva Stadium cost €410m to build, with roughly €190m coming from the tax payer and the rest coming from the FAI and IRFU.
The Republic of Ireland start their Nations League campaign in September against Wales in Cardiff. Early this year it seemed likely that Martin O'Neill was set for a return to Premier League management, but Delaney dismissed that as 'speculation'.
He added: "It's a bit of a new beginning in many ways and Martin has outlined that. There are important games coming up in the autumn with Wales, Northern Ireland and Denmark, Denmark and Wales in the Nations League and Northern Ireland in a friendly in November.
"They're important matches and when the (Euro 2020) draw is done on 2 December it will set out our plan for 2019.
"The aim for the FAI and for everyone involved in Irish football is to qualify for major tournaments and if we can make it three Euros in-a-row and get those two home games in Dublin it would be a wonderful prize for us.
"Martin O'Neill is fully committed to managing the Irish team along with his backroom staff and that they're fully committed to getting us to Euro 2020, when two of those games will be held in Dublin."