Mesut Ozil, who today announced his retirement from international football, has defended a photograph in which he was pictured beaming with Turkish President Tayyip Erdogan, saying he was merely respecting the highest political office of his family's country.
Ozil, a member of the 2014 World Cup-winning side who played again in this year's tournament, says he feel "unwanted" by the national team.
The player received criticism at home after he met Erdogan in May. He and Ilkay Gundogan - a team mate also of Turkish descent who likewise posed with Erdogan - were jeered in warm-up games before the World Cup in Russia.
At the height of the row Ozil made no comment on his meeting in London with Erdogan, an outspoken critic of Germany who was campaigning for re-election at the time.
However, in a statement posted on his Twitter account on Sunday, Ozil said if he had not met the Turkish president, he would have been "disrespecting the roots of my ancestors" and it did not matter who was president.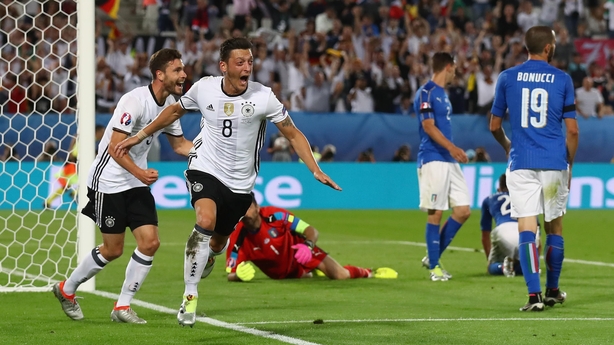 "For me having a picture with President Erdogan wasn't about politics or elections, it was about me respecting the highest office of my family's country," he said.
Ozil said the meeting did not amount to any endorsement of Erdogan's policies and added that they had discussed football.
Relations between Germany and Turkey have soured amid a crackdown by Erdogan's government on suspected supporters of a failed military coup in July 2016.
Ozil said his mother had always told him to be respectful and remember his ancestry, heritage and family traditions, adding: "I have two hearts, one German and one Turkish."
Many fans and politicians in Germany were angered by the photo with Erdogan and it was widely criticised by politicians and Germany's football federation, who argued that Erdogan did not sufficiently respect German values.
The German soccer team failed to make it out of the group stage of this year's World Cup in Russia, making their earliest tournament exit in 80 years.
Ozil said he could not accept "German media outlets repeatedly blaming my dual-heritage and a simple picture for a bad World Cup on behalf of an entire squad".
Earlier this month Oliver Bierhoff, Germany's team manager, said Germany should have considered leaving Ozil out of the World Cup squad following the furore caused by the photo.
III / III pic.twitter.com/c8aTzYOhWU

— Mesut Özil (@MesutOzil1088) July 22, 2018
Ozil said on Sunday night that he and his family had received hate mail, threatening phone calls and social media abuse.
In a statement on Twitter he wrote: "The treatment I have received from the DFB (German Football Association) and many others makes me no longer want to wear the German national team shirt.
"I feel unwanted and think that what I have achieved since my international debut in 2009 has been forgotten."