Eamon Dunphy says he has sympathy for England following their World Cup semi-final defeat to Croatia, but insists the better team advanced to Sunday's decider against France.
Mario Mandzukic scored in the 109th minute as Croatia came from behind to win 2-1 after extra-time as Gareth Southgate's side bowed out of the tournament.
"I thought England's strength of character would be decisive and the exact opposite happened," he told RTÉ viewers. "Croatia are very good footballers and the players they brought on are very good.
"In Luka Modric they probably have the player of the tournament, an outstanding player."
Liam Brady agreed with the assertion that in the end, Croatia's higher calibre of player shone through.
"They have a lot of character in the team. They have shown throughout the tournament their ability to come back. In the second half, they took the game to England.
"England were admirable; for a young team to get to a semi-final was good…but they just didn't have it and they were lacking in midfield.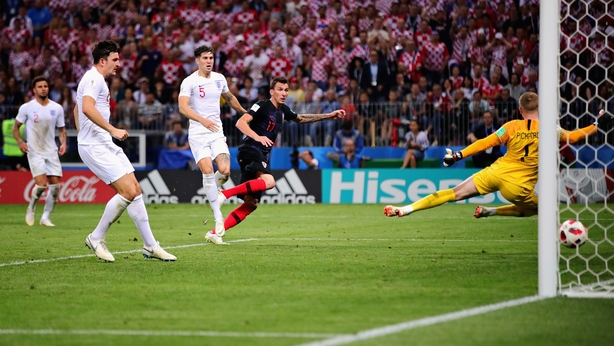 "Nine of their goals came from set plays, while Croatia can score from open play.
"The best team won over 120 minutes."
While Southgate has earned plaudits for experimenting with a new-look defence since taking over, with a back three and Kieran Trippier and Ashley Young as wing-backs, Dunphy said that when it came to the crunch, England were found wanting.
"They are our neighbours, and I feel sorry for them, but you get what you deserve and they didn't deserve to win that game" - Eamonn Dunphy
"England is a rather sad story. Croatia is the best team they have played and the system didn't hold up. The back three of Kyle Walker, John Stones and Harry Maguire was found out, Walker especially for the equalising goal.
"Jordan Henderson, on his own, was not enough [to protect the back four].
"At half-time England had a great chance, but they backed off. They are our neighbours, and I feel sorry for them, but you get what you deserve and they didn't deserve to win that game."
Croatia showed more character and deserve their place in the World Cup final, according to Damien Duff #rtesoccer #worldcup #CRO #ENG pic.twitter.com/r1gW6Nonrx

— RTÉ Soccer (@RTEsoccer) July 11, 2018
Fellow pundit Damien Duff added that the hype surrounding the current crop wasn't justified based on the performances to date and that Croatia demonstrated what guile and quality can achieve.
"England exceeded everyone's expectations, but when you are so close to the final maybe nerves took over and they were sloppy. Croatia showed more personality in how to go win the game.
"It proves that - not us I don't think - but some people get carried away with England. This isn't one of the great England teams.
"In the second half they couldn't keep the ball and take the sting out of the game."