Referees committee chairman Pierluigi Collina has confirmed FIFA cracked down on holding by defenders at set-pieces after a series of early incidents at the World Cup in Russia.
Speaking to reporters at a briefing on video assistant referees (VAR) in Moscow today, Collina was asked why England's Harry Kane and Serbia's Aleksandar Mitrovic were not given penalties for being held during their games against Tunisia and Switzerland, respectively.
Collina explained he would not comment on specific incidents but said: "You might have appreciated that there were some incidents that suddenly disappeared or started to be punished.
"It's impossible to be right from the start but, because we noticed, we intervened and we fine-tuned. I think you can appreciate things have changed during the tournament."
In general, Collina and his colleagues on the committee said they believe VAR has been huge success at Russia 2018.
Having reviewed the first 48 games, Collina said there have been 335 incidents checked - nearly seven per game - with 14 on-field reviews made by referees and three reviews made by the VAR team on factual decisions.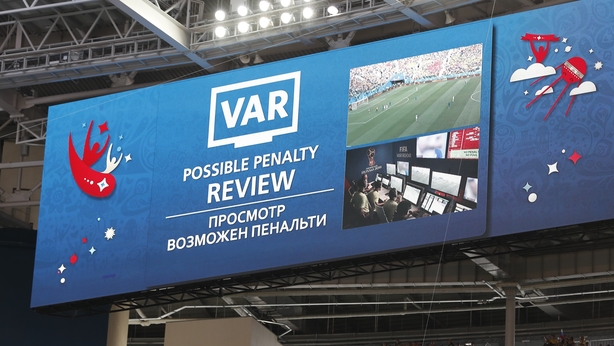 Of these incidents, referees called 95 per cent of them correctly without VAR but video replays improved this to 99.3 per cent by correcting 14 of them - six were penalties awarded after an on-field review, one was a penalty given by the VAR because it was shown the foul occurred in the area, two penalties were cancelled after on-field reviews, two potential red cards were confirmed as yellows, two goals were awarded after potential offsides and one mistaken identity for a yellow.
"We have always said that VAR doesn't mean perfection - there could still be the wrong interpretation or a mistake - but I think you would agree that 99.3 per cent is very close to perfection," Collina said.
To illustrate why FIFA is so pleased with VAR's introduction, Collina showed reporters clips of four contentious moments during the group stage, complete with footage from the VAR control room and the audio of the communication between the VAR and the referee.
Asked if FIFA would consider letting broadcasters use this audio during games, Collina said: "Before running you have to learn to walk. I don't know what's possible in the future but I think it's a bit early for that now. I agree it would be interesting, though, and would perhaps make decisions better accepted by the football community."
Zvonimir Boban, the former AC Milan and Croatia star who is now FIFA's deputy general secretary, added: "That would maybe be possible in a domestic league but would be hard at a World Cup. Which language would we use? There are 32 countries here."