Former Hull City and Cork City defender Brian Lenihan has revealed he attempted to take his own life in a battle with mental illness that led to his retirement from football at the age of 23.
The defender was plagued by injury since joining Hull and announced his retirement in April.
He said at the time: "In light of events late last year, it is with deep regret that I have had to retire from professional football.
"Having to retire at 23 is something I did not foresee... but such is life! This decision does not come lightly but due to the medical advice I have received it is an action that needs to be taken for my own wellbeing.
"Sometimes in life you need to give up on a lifelong dream to ensure you live a happy and more fulfilling life." 
Today he has spoken about mental health issues that forced him to quit game.
The constant injury woes and "not getting reward for the amount of hard work I was putting in" led to stress, pressure and turmoil according to the Cork man. 
The right-back, who played for Hull City in a Carabao Cup game against Doncaster Rovers last August, had been suffering mental health problems since the summer and in December tried to take his own life.
He spent three months undergoing treatment in Manchester and following that opted not to return to the game. 
Lenihan told the Hard Knocks Sports Cork Podcast with Trevor Welsh: "I didn't come out and say why I retired. But the reason I did retire was due to illness, not injury.
"Nobody realises the extent of what you have to do to get back fit. You're in the gym all day, every day. You're not socialising with the team. You're kind of separate to everybody. It's very mentally draining.
"Especially when all you want is to do well and make a career for yourself, sometimes it doesn't work out.
"It was a really dark period in my life from, say, July up until December. I was struggling a lot, with football and with lots of other things, mainly my mental health.
"The reason why I did retire was due to illness, not injury. 
"On 15 December I attempted suicide. I was brought to hospital and transferred to the Priory Hospital in Altrincham. I spent three months there and had 12 sessions of electroconvulsive therapy.
"It's something that not a lot of people know, my mum, my dad, my close friends, but nobody else really knew. I suppose if I can help just one person, make sure that they didn't make the same mistake that I did."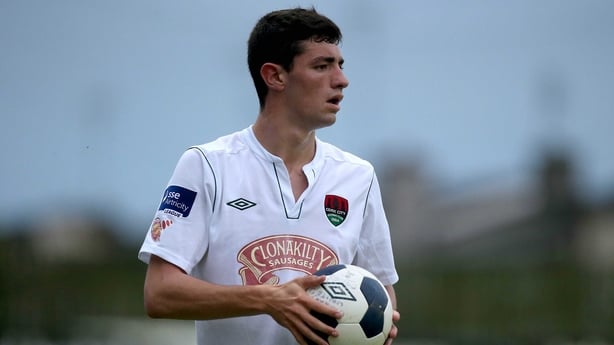 He said that the sport added to his problems as injuries continued to bring setback after setback.
"Football contributed to the stress for me," he said. 
"Not achieving my potential and not getting enough reward for the hard work I was putting in. For the work I put in I wasn't really getting anything in return.
"I'm ashamed of what I did but I believe I would've still ended up at this point. I'm happy now away from football leading a happy life. That's the most important thing.
"The pain and suffering I caused my family from what I did, I feel so lucky to have a second chance at life.
"It's not like I didn't have a close-knit family or a support network. I really did. But when you're in that state of mind I don't think anything can stop you from making silly mistakes like that.
"I got help through the PFA but it's so prevalent if I'm being honest. You can ask people if they're okay but sometimes that's not enough.
"Last month my Mum and lots of my family members did the Darkness into Light walk for suicide awareness and my Mum said that when they got to the finish line there was loads of families there with their yellow jumpers on and pictures of their kids crying their eyes out.
"That hit me hard and I feel lucky to have a second chance at life. Lots of others don't."
We need your consent to load this SoundCloud contentWe use SoundCloud to manage extra content that can set cookies on your device and collect data about your activity. Please review their details and accept them to load the content.Manage Preferences