As we countdown to Russia 2018, we take a look at all 32 teams and suggest a reason to back them. With just the one day remaining to the big kick-off, it's the turn of the final team, Costa Rica.
***
Before the world became smaller and before the European scouting system wrapped its tentacles around the entire globe, World Cups tended to be more exotic affairs.
South American and Central American teams were a genuine mystery to football fans in these parts as so few of their players ventured beyond their own continent.
There was hardly any football on TV either and even less from the far flung places. Anytime a brief clip was shown of a game in Brazil or Argentina, it was like receiving a dispatch from another civilisation.
Therefore, the only time many fans saw the great Brazilians and Argentinians was every four years during the World Cup.
Nowadays, most of the big names, and even the ordinary names, are snapped up by the European super clubs. Only four of the current Brazilian squad are playing outside Europe now and one of those is in China.
But there are a couple of countries who boast a majority of players from the Americas. Panama lead the way but they're no hopers.
No, the Costa Ricans are a great shout here if you want to some variety in your life. 13 of their 23 man squad have resisted the siren call of Europe - or else not been lucky enough to get that call.
They have players like Bryan Oviedo at Sunderland and Christian Gamboa at Celtic, while their star man and captain Bryan Ruiz is currently employed at Sporting Lisbon.
But there's also players from the likes of Saprissa, Alajuelense, and Herediano. They're Costa Rican teams, in case you were wondering. Their manager Oscar Ramirez is also a product of the local league, having never played or managed outside the country.
Also, through their exploits in 1990 and 2016, Costa Rica has become a byword for World Cup overachievement.
The anti-Scotland, if you will.
Historically, they may not have made the big summer carnival too many times but when they do, they usually make it count (their winless campaign in 2006 excepted).
And it was Scotland whom they humbled in their first ever World Cup match in Genoa back in 1990.
Ireland didn't notice of course, as we were busy having our own bit of fun that year but the Costa Ricans, expected to be whipping boys, only went and reached the last-16.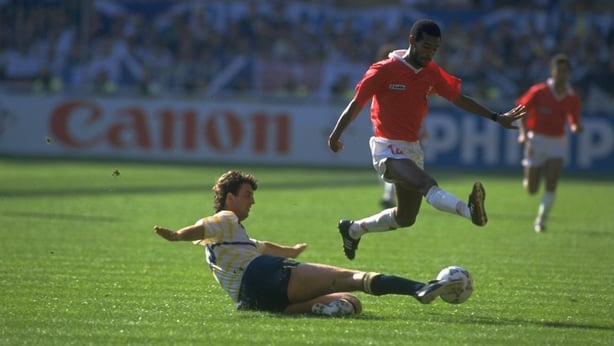 Scotland's World Cup history exists now mainly as material for self-deprecating Scottish comedians wanting to make English audiences laugh - and nothing makes them laugh harder than the loss to Costa Rica in Italia 90. It was a quite beautifully worked goal that won it for them too.
Another win over Sweden and the unfancied Costa Ricans somehow escaped the group phase before receiving a pasting from the Czechoslovakians.
They surpassed themselves four years ago, topping a group containing Italy, England and Uruguay. Ruiz's goal just before the break against the Italians in the second game convinced everyone that big things were happening in Group D.
The Italians are always good for tossing in the odd ignominious first round exit and, sadly for lovers of drama, latin romance, and long defunct Channel 4 programmes, they appear to have gone one better this time. Therefore, the obligatory second team of a large proportion of the population are nowhere to be seen, necessitating this series.
But no matter. Four years ago, the Brazilians adopted the admirable Costa Ricans as their second team. With no 'first team' to embrace again this year, Irish fans would do worse than get behind 'Los Ticos'.
You can follow the FIFA World Cup from 14 June with RTÉ. Live blogs of every game on RTÉ.ie and the News Now App, with 56 games live on RTÉ television and all 64 games available on the RTÉ Player.