As we countdown to Russia 2018, we take a look at all 32 teams and suggest a reason to back them. With 12 days to the big kick-off it is the turn of Belgium.
***
Discussions about Belgium's prospects in a major tournament are likely to prompt traumatising memories for Republic of Ireland fans.
After playing out a somewhat disappointing draw against Sweden in the opening round of their Euro 2016 campaign, Martin O'Neill's side faced a Belgian side peppered with Premier League heavyweights including Eden Hazard, Romelu Lukaku and Kevin De Bruyne.
For 90 minutes, they plundered Ireland's defences and Lukaku finished the slaughter with two goals with De Bruyne and Hazard providing the assists for each.
Hazard and Lukaku combined for the final goal, and one of the abiding images from that day was of Ciaran Clarke sliding across the surface in an effort to stop the Chelsea star who was gliding down the wing. Luckily for Clark, his tackle was horribly mistimed, as he would surely have sent Hazard into compound fracture territory had he made contact with the Chelsea star.
Axel Vitsel provided the second goal from a free header and Ireland were left humiliated in Bordeaux.
Of course, Ireland recovered from that to produce one of the team's most memorable performances against Italy to send us through to the last 16 of the tournament.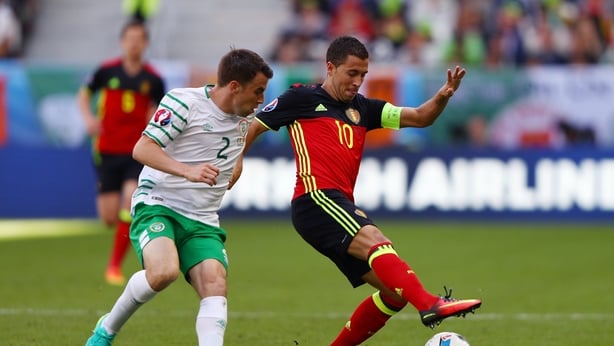 That triumvirate of Lukaku, De Bruyne and Hazard continue to lead the charge for Roberto Martínez's side gear up for the World Cup, although fans might have some concerns about the country's record goalscorer Lukaku's poor club form since transferring to Man United. He finished with 16 goals this season, 14 behind top-scorer Mohamed Salah.
Hazard has also been underwhelming on the club front this season, although that can be viewed in the overall context of Chelsea's dramatic deterioration as they lost their Premier League crown. Additionally, they also missed out on Champions League football for next season with a disappointing fifth-place finish on the table.
Chelsea shot-stopper Thibaut Courtois is their number one choice goalkeeper while Man City's Vincent Kompany and Jan Vertonghen (Spurs) are the chief defenders in the side.
Vertonghen's clubmate Toby Alderweireld is also a regular for Belgium and is currently in talks to leave Spurs after failing to break back into the starting 11 after struggling with injuries.
Belgium's path to Russia was largely straight-forward as they topped European Group H as unbeaten winners. They finished the qualification campaign with 28 points and 43 goals from 10 games.
With Panama, Tunisia and England awaiting Belgium in Group G, Belgium will be expected to advance to the knock-out stages of the competition along with Gareth Southgate's side.
You can follow the FIFA World Cup from 14 June with RTÉ. Live blogs of every game on RTÉ.ie and the News Now App, with 56 games live on RTÉ television and all 64 games available on the RTÉ Player.