Former Liverpool midfielder Jason McAteer believes the lack of an 'Anfield factor' at the Champions League final will give an experienced Real Madrid side a slight advantage when they face the Merseyside club in Kiev on Saturday.
Playing the decider as a one-off game at a neutral venue could, says the ex-Republic of Ireland World Cup defender, give the 12-time champions the upper hand when they take on Jurgen Klopp's side this weekend.
"I'm a bit apprehensive," McAteer, who spent four seasons at Anfield from 1995, said.
"I had been quietly confident. Against Man City and Roma I thought they were excellent and I know everybody says in a one-off game Liverpool can beat anybody, but so can Real Madrid.
"I think a two-legged affair psychologically is better for Liverpool. I always think Liverpool at Anfield, certainly this season where they've been unbeaten in the league, they've got a great advantage.
"They can play there first and do a job on a team, or get them back there and turn it around. So I think psychologically two legs are better for Liverpool," added the 46-year-old, who also had spells at Bolton, Blackburn, Sunderland and Tranmere.
"But even saying that, a one-off game against Real Madrid - who are going for a treble and accustomed to those surroundings and that situation - is going to be a big ask and Liverpool need bring their 'A' game or I can only see one winner.
"Liverpool, time and time again this season, have brought their 'A' game in big moments."
Liverpool won 12 and drew seven at Anfield during a Premier League season that saw them finish fourth in the standings, while Klopp's side were also unbeaten on home turf throughout the Champions League campaign.
The unbeaten run in Europe includes big wins over Manchester City and Roma in the quarter and semi-finals respectively.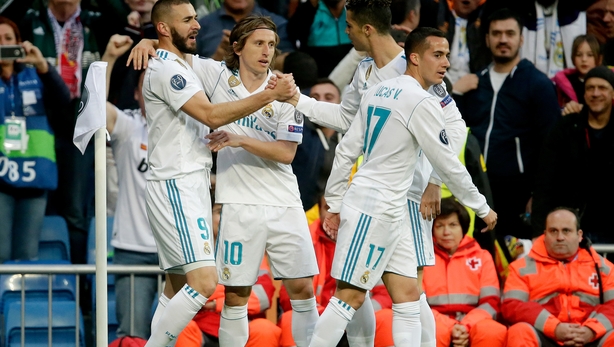 Real Madrid's form, meanwhile, has been patchy, with a third-place league finish meaning Zinedine Zidane's side will be even more determined to win a third straight European title, and McAteer expects to see an entertaining game as a result.
"The Liverpool players have stood up and been counted," McAteer added.
"We've had Mo Salah, who has had the season of his life. Roberto Firmino has been brilliant and the loss of Philippe Coutinho hasn't really affected them. In fact, it's probably made them better. Sadio Mane's had a great season.
"The three lads in midfield are very industrious and workmanlike. They'll do a job against Madrid, but it's at the back where you have to worry about Liverpool and Real Madrid.
"There's an argument for and against both teams to be honest. The weakness in both teams is at the back. With Real Madrid you have two fantastic full backs but that could be their weakness.
"With Marcelo, and if Dani Carvajal plays, they play very high and if you leave that space and you get Sergio Ramos and Raphael Varane isolated with those three front players, they can cause havoc against anybody.
"I will be interested to see how they go tactically.
"It's set up to be a classic and let's hope we get it."