Tottenham manager Mauricio Pochettino has said his team will die trying to get in the Champions League.
Spurs' pursuit of a top-four spot looked plain sailing a month ago as they led fifth-placed Chelsea by 10 points, but they have hit choppy waters in recent weeks.
Saturday's defeat to West Brom meant they have taken just four points from the last four games, while Chelsea have taken 12 following their win over Liverpool on Sunday to cut the gap to two.
Spurs remain in pole position, knowing they will finish above both Chelsea and Liverpool if they win their remaining two games of the season.
The first of those is against Newcastle at Wembley on Wednesday and Pochettino insists his side will give everything to get the job done.
"To play Champions League is the dream of everyone and for me it's impossible to think and not give your best when it depends on you to win," he said.
"It's massive because the Champions League is the best competition, with the Premier League, in the world.
"It's in our hands. We need to die to try to achieve that. It's not, 'We need to play like this, with two centre-backs or two strikers or two keepers'. It's about the players dying trying to achieve it.
"If we cannot, we cannot. That's different and we need to analyse why. Now it's to be altogether and fight with our fans and create a good atmosphere tomorrow and Sunday and try to achieve altogether to play Champions League football in the new stadium. That will be fantastic."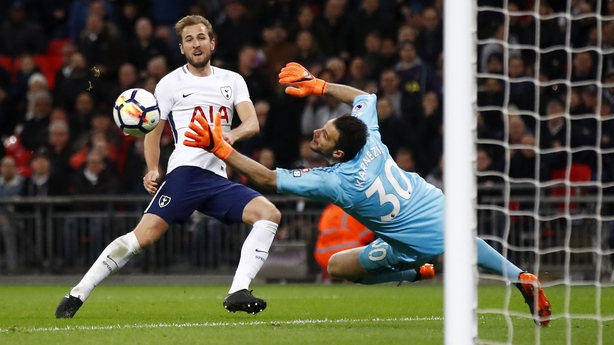 After seeing their lead over Chelsea whittled down, Spurs fans are beginning to feel nervous at the prospect of missing out on the top four next season.
Pochettino understands their concerns, but reiterated the progress his side have made in recent years.
"The fans are the fans. The fans are always going to support the team," he said.
"Of course, they're disappointed because they were close to winning. To be second is a massive disappointment to our fans.
"To repeat, when we arrived four years ago, the team was sixth in the table and the gap to the top four was massive.
"The dream is to fight and reduce the gap and four years after we are there. But I understand. To win is not an easy thing to achieve like like magic.
"It's about being second, third, to fight for the top four and if you keep going, keep going, taking the right decisions, you'll be close to winning.
"The problem is to be up and down, up and down. You need a lot of coincidences to win some trophies.
"We're in a good race to win some titles some day."
Spurs will have to do without Eric Dier (illness) and Mousa Dembele (ankle), though both could be back to face Leicester at the weekend.
Jan Vertonghen is fit after shaking off a knock.