It was 11.15pm, 40 minutes after the final whistle blew in the Stadio Olimpico and the chanting from the Liverpool fans, still enclosed in the away end, had started to fade.
Some corporate guests had kicked mini Champions League footballs into the crowd and a game which resembled volleyball was taking place among the 5,000-strong Liverpool fans.
Even though there were plenty of people congested in one area of the stadium, there was an eerie feeling under the black Italian sky as the last few Roma fans trickled out.
There was a stillness and a quietness in the air as people took some time to reflect on a great night for a great club.
But then out of nowhere the silence was broken, when Liverpool manager, Jurgen Klopp, emerged from the tunnel and sprinted down the track like he was completing the last lap in a 5,000-metre Olympic final. The fans burst into life, arms open welcoming their leader.
"Jurgen Klopp na na na," they sang in unison.
Klopp after the Roma game pic.twitter.com/zlnsqOlwVr

— Marie Crowe (@mariecrowe) May 5, 2018
When Klopp reached the away end he gave a dramatic fist pump. The crowd went wild.
It was magical and in that moment the frustration of being locked in an empty stadium was forgotten. Each and every person in the Stadio Olimpico felt special and part of something. That connection is everything, Klopp gives back what he gets.
He stood in front of his followers, hands aloft, directing the orchestra and reflecting his boundless energy right back at them.
Rome is synonymous with great warriors and leaders and as Klopp stood in front of those who had made the journey it was hard not to be reminded of the greats generals who had gone fearlessly into battle to protect their city. The Liverpool fans weren't allowed to leave the stadium but Klopp was right there with them. Their general, their leader.
It was a surreal end to a strange day.
Walking around the streets of Rome earlier was an unusual experience. There were no Liverpool jerseys in sight and little evidence that a Champions League semi-final was set to take place.
There were, however, plenty of tourists with Scouse accents, dressed in their civvies, keeping a low profile and for good reason too.
Warnings had been issued all week about the dangers that lurked in the Italian capital.
Directives were given from the powers that be in Liverpool and Roma, advising fans that under no circumstances should they walk to the ground. It seemed overly cautious but there was logic for the extreme measures of security.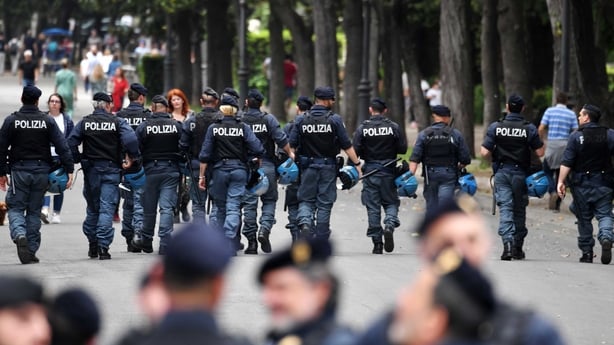 Ahead of the first leg in Liverpool last week, football paled into insignificance as Sean Cox was brutally attacked by Roma fans outside Anfield. He remains critical, fighting for his life in a Liverpool hospital. The gravity of what happened the Irishman was lost on no one.
The build-up to the game in Rome was far from a regular football-going experience. Meeting points were pre-selected, determined to be safe zones.
Fans kept their location in the city under wraps on social media for fear of alerting the Roma ultras to their whereabouts. There was no big rendezvous or pre-match party just feelings of fear and apprehension.
The main meeting point as directed from the club was the Villa Borghese, a large park in the centre of the city, with several entrances and exits.
From 3pm fans started to arrive, they were greeted by over 100 Italian police officers, some in their riot gear, some in plain clothes and others in uniform. Anyone who was carrying alcohol had it confiscated, so many who arrived left again in search of a bar.
There were ten riot vans waiting for anyone who put a foot wrong and also several officers on horseback were on standby. TV camera crews and reporters milled around in case anything kicked off.
Buses lined the road waiting to transport fans to the stadium. Official Liverpool stewards were also on hand to help coordinate the operation. They brought a calmness to the area and they communicated brilliantly with everyone in situ.
Getting the fans to the stadium safely was the key objective but the park looked more like a crime scene than a pre-match meeting point.
When supporters arrived at the park they were herded into a designated area and forced to wait in the afternoon sun, requests to leave to get water in the cafe close by were denied.
Conditions were uncomfortable but their spirits never dimmed. Once in the enclosure there was no leaving until the buses were ready to depart.
At 5pm the police started to get people moving. Access to the bus meant displaying passports and tickets, opening bags and being patted down by officers in riot gear. It was a very intimidating experience but the chants continued.
The buses were given a police escort to the stadium. Along the way, fans hung out the windows singing, "bring on your Internazionale, bring on your Roma by the score."
Got strange mixed feelings after tonight. Elation at the outcome but disturbed and depressed at what happened pre match. A European Cup semi final is a wonderful occasion but how can it be that 5,000 fans can face such challenges just to get into the ground?

— Tony Barrett (@TonyBarrett) May 3, 2018
Officers on horses were strategically positioned along the route and some roads were blocked off by lines of police officers, leaving no opportunities for ambush. Armoured police vans accompanied the convoy, one positioned between every bus.
Upon arrival at Stadio Olimpico the buses were met by another wave of police officers and security, all on hand to escort the Liverpool supporters into their area.
There was no avenue in for unwanted fans and no way out for those looking to make a nuisance of themselves. Passports and tickets were requested several times, the names had to match. One man had his wife's ticket but the Liverpool steward vouched for him and he was allowed access.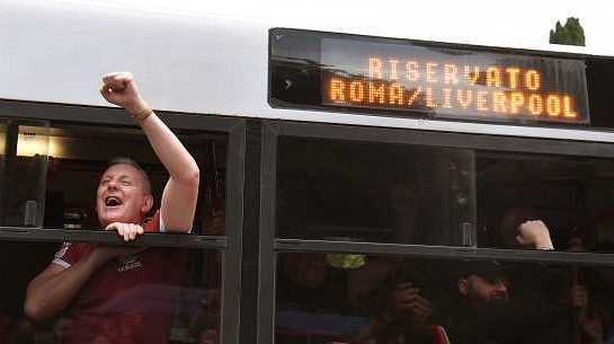 Once inside the fear subsided as the police presence melted away and football took centre stage. The game was still over two hours away but the atmosphere was electric from the off.
The Roma fans arrived early and they brought with them an unrivalled presence and energy. Even when the Liverpool fans sang "Lazio, Lazio, Lazio" and reminded them that their former player Lucas Leiva now wears sky blue there was no edge to be felt. Stadio Olimpico was like a cauldron and it was a joy to behold.
Roma fans pre match pic.twitter.com/XApgUMRGwE

— Marie Crowe (@mariecrowe) May 5, 2018
And as the songs filled the stadium the unsavoury scenes of a week ago seemed like they were from the distant past.
But they weren't and tributes to Sean Cox could be seen on banners brought from Liverpool. He was never far from everyone's minds. The fans were representing him and they honoured him in spectacular fashion.
The game got off to a blistering start when Sadio Mané found the net. The away end erupted and Liverpool fans dotted around the home sections couldn't hide their glee.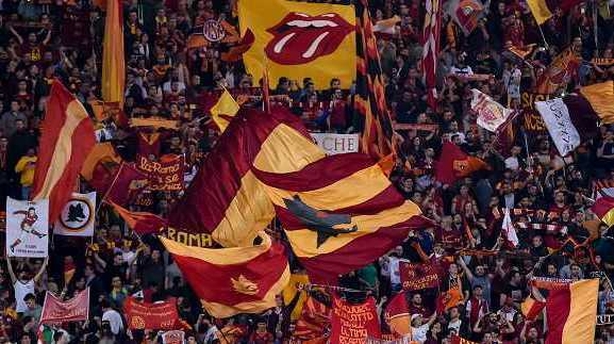 Roma were up for the fight though and with unwavering support from their fans they brought it and earned a 4-2 victory but the margin wasn't enough to secure a spot in the final
That went to Liverpool and when the final whistle blew they celebrated like the world wasn't watching.
The players led by Virgil van Dijk, bounced, jumped, hopped and fell as they made their way down to share the experience with their fans and families.
"We've conquered all of Europe and we're never going to stop," sang the supporters.
It was electric and when Jordan Henderson took hold of the flag paying tribute to Sean Cox the emotions really flowed.
All thoughts switched to a man who they'd never met, never seen or never spoken to but that was irrelevant because he was one of them and he was part of their moment.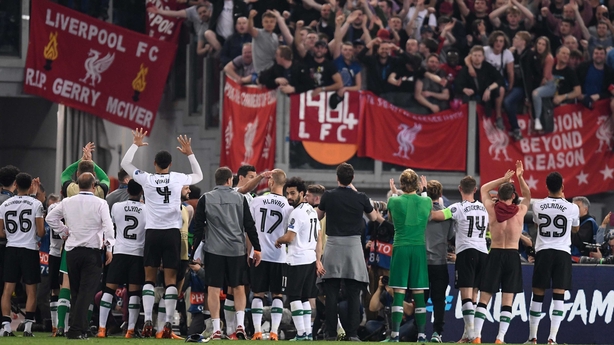 There and then the players and fans were connected by more than just a game. It was special.
Their journey isn't over yet, next stop is Kyiv and hopefully Sean Cox will get to see it too. Allez Allez, Allez.