The buzz is well and truly back at the new Brandywell and how proud the late great Ryan McBride would have been to captain his beloved Candystripes at their fantastic new home.
Kenny Shiels' team are fifth in the league, they've won five games in a row, and have beaten every team who have travelled up their new home.
I've often asked myself just how they've managed to do it. To have to deal with Ryan's death just a few games into the new season, to have to get back on the pitch and win enough football matches to finish in the top four was incredible.
Only the people involved will have the answers, but for me, it's truly inspirational.
Life goes on, and the matches keep coming for Derry City. They host table-toppers Waterford on Friday before Keith Long's Bohemians arrive on Monday.
Their recent good run of form has given them a good foundation to build on heading into the second series of fixtures, trailing league leaders Dundalk by just six points.
More home points in these matches will again confirm their title as European contenders.
With Cork City, Dundalk, Shamrock Rovers and Waterford making the headlines in the first months of the season, Derry have gone about their business with a very definite playing style, which has brought huge rewards so far.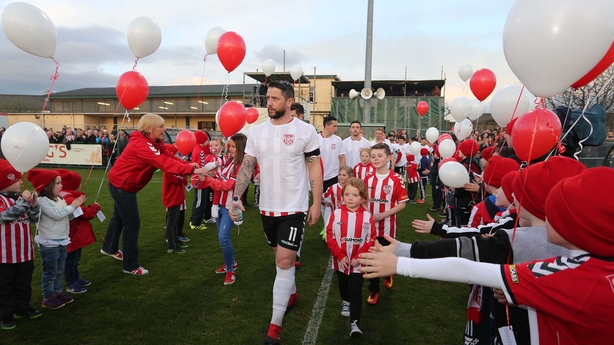 Bounce-back-ability
Having witnessed Derry's 6-1 hammering at the hands of Shamrock Rovers back in early March, I was openly critical of the performance, application and set up of the Candystripes.
They made horrendous mistakes while trying to play out from the back in the game leading to most of the Rovers' goals, it had me fearing the worst for Derry's 2018 campaign.
Whatever conversations or adjustments that were had post match, seem to have worked as this youthful Derry side have really clicked into gear since.
Shiels asks his team to play brave passing football, so at times they will make mistakes and lose the ball in critical areas of the pitch, but when it works, which it has done for the most part since then, it is fantastic to watch.
The fluency and energy that they are now playing with is causing opposition defences problems. They've scored 16 goals in their five wins in a row, naturally leading to a huge amount of confidence and belief amongst this very young side.
Consistency will be key and there are tougher tests ahead with fixtures against Waterford, Dundalk and Shamrock Rovers all in the next three weeks.
Their back four and passing style will be tested more than they have been in recent weeks, how they try to work things out will be fascinating to watch.
The Main Men
The excitement at the Brandywell on a Friday night has been matched with exciting young players on the pitch, which makes them so attractive to watch.
Ronan Curtis, Aaron McEneff and the Hale brothers have really lit up the league in recent weeks with their energy, creativity and eye for goal.
Curtis has been a standout performer for Derry for over a year now with his incredible work ethic and pace.
I have seen noticeable improvements in his game this season, in particular with the timing of his runs, his decision making on the ball and his composure in front of goal.
In my opinion, he has what it takes to go to the next level and with four goals already this season, should he continue to progress it won't be long before he makes that next step.
What drama! Pat's nearly gain parity but Derry survive to take the points #rtesoccer pic.twitter.com/3fWMgofmkD

— Soccer Republic (@SoccRepublic) March 30, 2018
Momentum
Momentum is huge in football and in any sport, and Derry City have a huge amount of it at the moment.
Their supporters have turned out in huge numbers to their home games so far, and have enjoyed the type of attacking football discussed above.
For the players, the buzz of the crowd will help roar them on in the tighter games, and that cannot be underestimated either.
Cork City, Dundalk and recently Waterford are good examples here of strong provincial clubs with good players, doing well.
It shows the locals will lend their support if the product on show is good enough.
Derry's product is certainly good enough, their new stadium rivals any in the league and the people have come in their thousands, that combination is very dangerous for visiting teams.
One Derry man who tragically can't make the games in the stadium just yards from his front door is Ryan McBride, but he's looking down on his old friends in their new home with pride.