St Patrick's Athletic have announced proposals to build a new 12,000-seater state-of-the-art stadium in Inchicore, Dublin.
The Inchicore Arena would be part of an overall City Development Plan that would include new houses, a shopping complex and an underground car park.
The Saints said: "The stadium development will be financially independent and will not be reliant on receiving any Government grants."
It would be part of a huge development in the St Michael's Estate area of Inchicore.
St Pat's estimate the development, which will be project managed by FESP International Ltd, would take about two years to complete. 
The stadium has been designed by David Mizrahl, the lead architect with Santiago Calatrava on the Samuel Beckett and James Joyce bridges in Dublin. 
"It will be a new town centre for Inchicore," club president Tom O'Mahony told RTÉ Sport's Darren Frehill. 
"It will have major retail facilities, community facilities and so on, but sitting on top at first-floor level will be the new St Patrick's Athletic Stadium.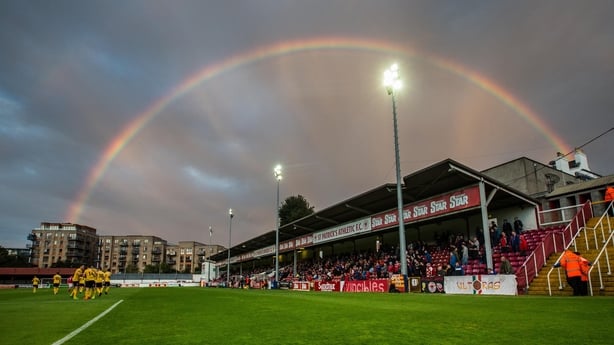 "It will be a unique model for Ireland but this is not unusual in Europe; you do have soccer stadia essentially on top of shopping malls and retail facilities.
"What will happen over the next few months is the City Council will have to decide exactly what process they're going to use, what kind of tender or bidding process for this redevelopment, and we are signalling here that we are going to be in there because we think we can deliver what would be the best - not just for St Pat's - but for Inchicore.
"The main funding for all of this comes from the fact that it has a major retail facility. That enables us to put a financial package together with investors, which we have absolutely no reservations about our ability to do.
"Once we have planning permission, we believe we can have this constructed, up and running, two years from then. You could conceivably have St Pat's playing in that stadium in 2022."