Republic of Ireland manager Colin Bell declared himself disappointed by his side's 2-0 World Cup qualifying defeat to the Netherlands, and insisted that expectations have to be raised among the players and supporters.
Ireland were well beaten by the European champions in front of a record attendance of 4,047 at Tallaght Stadium.
A first-half opener from Lineth Beerensteyn and Sherida Spitse's questionable penalty made the difference between the group's joint-leaders on a night when Ireland were unable to frustrate the Dutch as they did in November's scoreless draw in Nijmegen.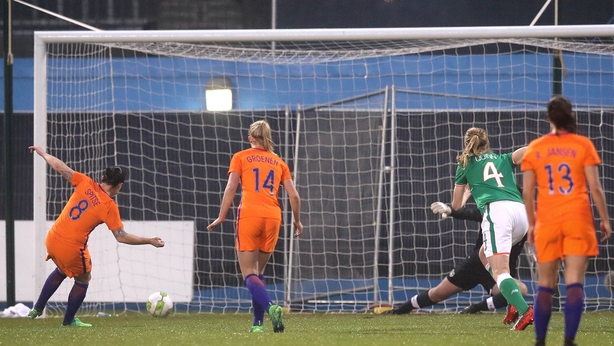 Ireland were much improved in the second half but there was no moral victory to be found for Bell who claimed that it's no longer good enough for his side to settle for second best.
Speaking to RTÉ Sport, he said: "I'm very disappointed. The girls worked really hard, gave everything. The second half, I think it was an even contest and the crowd got behind us fantastically.
"But I'm trying to get away from this mentality; 'we only lost 2-0 against the European champions, who are probably the best team in the world'. I have to get away from that."
Bell believes his side are good enough and had been set-up in such a way that they should have claimed a point from the game.
"We should, with our strategy and the way we set up, be getting a 0-0 out of this at least," he insisted.
"Unfortunately we conceded a silly goal in that period where we were doing well in that period where we were doing well actually.
"[We were] getting forward, had a great chance with that free-kick and we wasted that unfortunately, so these are the details.
"Yes the performance second half was closer, we were able to compete, we had a few chances, more ball and more action but you have to take those moments, that's the difference."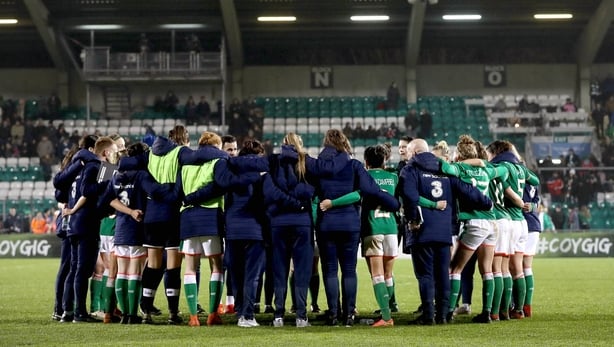 The Ireland manager is now looking ahead to a double header with Norway in June which should go a long way to deciding who finishes runner-up in the group behind the Dutch.
The Norwegians beat Northern Ireland 3-0 this evening and are now a point behind Ireland with a game in hand.
Bell has targeted those two games and wants to see improvements in his team's fitness and desire before those games roll around.
"First of all everybody has to come into camp top fit," he said. "Everybody has to be ready to go for two matches at that intensity.
"That's going to be important now looking for the Norway matches. That means also that players need to be playing for their clubs, they can't be settling for two or three minutes a game.
"They should be knocking on the manager's door or doing more to get themselves into the team. If that's not possible get a transfer, make sure you're playing because that's what we need.
"Also the home-based players need more training and the elite players have to do better in the future.
"Like I say, the girls want that, they're doing well but we have to set out expectations higher. So I'm not accepting a 2-0 as a great, honourable defeat."