Pep Guardiola has fanned the flames ahead of today's Manchester derby by claiming Paul Pogba was offered to Manchester City by his agent in January.
The City boss made the astonishing declaration after being asked about his differences with agent Mino Raiola, with whom he has significant history, at his pre-match press conference.
The future of midfielder Pogba at Manchester United has been the subject of considerable speculation in recent months after an apparent rift with manager Jose Mourinho.
Guardiola also claimed Raiola offered City the services of Henrikh Mkhitaryan before the Armenian subsequently left United for Arsenal as part of the deal that took Alexis Sanchez to Old Trafford.
It's Manchester derby day... #MUFC pic.twitter.com/NgZoW7Gn9r

— Manchester United (@ManUtd) April 7, 2018
"Two months ago he offered Mkhitaryan and Pogba to play with us," Guardiola said.
The background to the extraordinary claim lies in incendiary remarks by Raiola last month, when he criticised Guardiola for his handling of another of his clients, Zlatan Ibrahimovic, when the pair were at Barcelona.
"Pep Guardiola, the coach, is fantastic," Raiola said. "As a person he's an absolute zero. He's a coward, a dog."
The Spaniard said: "I have many (rivals), especially agents. I have a lot. I am a big boss."
Asked if one of those agents was Raiola, Guardiola initially refused to answer but then sarcastically said: "Finally, the people discover my secrets, I am a bad guy. I'm a coward. I don't understand why I am a so bad guy.
"I never speak with him so his influence on my opinion... I don't know, maybe Ibra explained many things about me."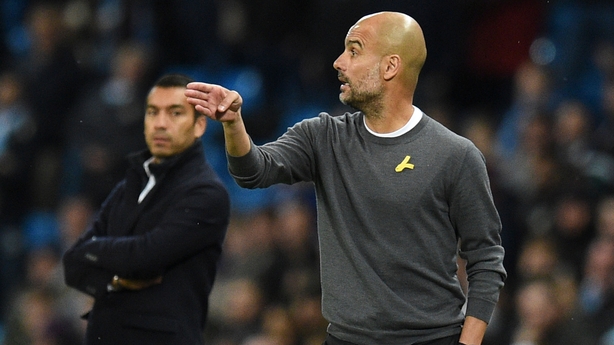 At this point he made the Pogba and Mkhitaryan revelation before claiming he was surprised Raiola could have done this, given that he apparently has such a low opinion of him.
Guardiola said: "Why he offer? He was interested in Mhikitarian and Pogba to play with us? I'm surprised, because I am a dog, he wants his players to come to here."
The claims add considerable extra spice to the derby at the Etihad Stadium. Premier League leaders City will clinch the Premier League title with a victory.
Pogba appeared surprised by the claims, tweeting "Say what?" soon after they were published.
Raiola told the BBC: "I never spoke to Pep Guardiola. I would not speak to him about players, I would speak to Manchester City. They are a fantastic club with a fantastic manager."
Guardiola claimed he turned Raiola down.
"I said no," he said. "Pogba is an exceptional player, a top, top player. But we don't have the money enough to buy Pogba because he is so expensive."
City would win the title in record time, with six games to spare, if they beat United (5.30pm) but Guardiola says such dominance will not be repeated.
He said: "Next season will be so complicated for us. That is not going to happen again. It's impossible."