It's exactly a year since more than a dozen members of the Ireland Women's National Team side went public, angered at their treatment by the FAI.
A lawyer, speaking on their behalf, described the women as "being dirt on the boot of the FAI". There was talk that the side would boycott an upcoming game against Slovakia.
There was also the prospect that FAI CEO John Delaney would have to appear before an Oireachtas Committee for questioning.
Eventually, all parties sat down and a deal was thrashed out for basic entitlements, including tracksuits, gym membership and match success fees.
A year on and the vibe is in stark contrast as Colin Bell's side prepare for two key World Cup qualifiers against Slovakia and the Netherlands at Tallaght Stadium.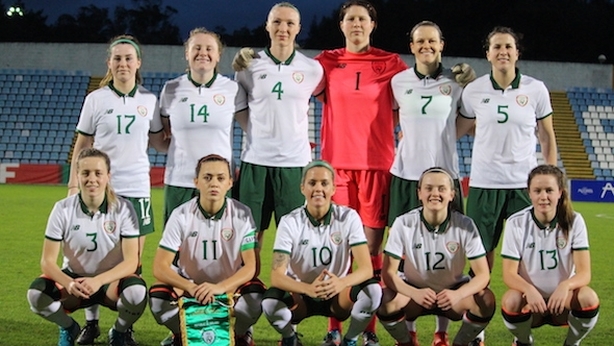 Wins away to Northern Ireland and Slovakia, and a priceless point against the European champions in Nijmegen, has the Irish well placed as they strive to make the finals in France next year.
"If you get stuff that you didn't have it gives you more confidence as a team"
Speaking at an event where Aviva Ireland announced their sponsorship of the women's side until 2021, Arsenal's Katie McCabe told RTÉ Sport that last April's stance has definitely benefited the squad:  "It was a massive achievement for us in a sense," she said.
"It has made the group stronger and I think we've shown that on the pitch.
"Also, women's football at the grassroots level is really starting to grow. We're expecting full houses for both of the games in Tallaght. I urge people to come and see us."
Denise O'Sullivan, who plays with North Carolina Courage in the USA, echoed McCabe's sentiments when also speaking to RTÉ Sport.
"If you get stuff that you didn't have it gives you more confidence as a team," she revealed.
"It was important for us to get what we needed. So now we have new gear, a new sponsor and are getting better results. We are in a comfortable space now and are totally focused on what lies ahead."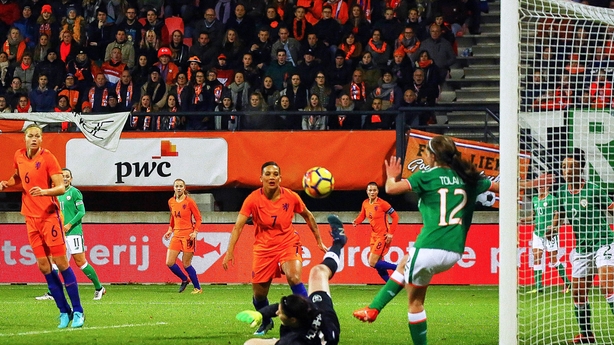 The draw away to the Dutch was one of real courage, as Ireland soaked up a lot of pressure to force a 0-0 stalemate. The perfect outcome as the Slovaks (Friday) and Netherlands (Tuesday) arrive in Tallaght, says O'Sullivan.
"That point has given us so much confidence going into these two games," the Cork native added.
"There is a great sense of excitement around the camp and Colin is doing is a terrific job. We know the Netherlands are an amazing but we feel we can get something on Tuesday night. "
In terms of daring to dream and captaining an Irish side at a World Cup, McCabe said:
"That's what you play the game for, to play in the biggest tournaments. I'm from Tallaght and I get to play in front of my own people. Leading out Ireland at a World Cup would be the next best thing."