Colin Bell always wanted a national team job in women's football. So when the Republic of Ireland job came up he didn't hesitate in putting himself forward.
He was well qualified too, a former professional footballer at Leicester City who had coached in both the men's and women's game at elite level and who'd worked with some of the top coaches in the game, including Jurgen Klopp.
However, it was the women's game where he really made his mark, leading Frankfurt to the Champions League title in 2015.
So he filled in the application form online and waited to hear from the FAI.
Two interviews followed, almost six hours were spent presenting his plans and vision for the women's game to the interview panel including FAI High Performance Director Ruud Doktor.
An anxious wait ensued and then the phone call he was hoping for to tell him he had been selected for the position.
Germany based Bell was delighted and couldn't wait to take up the role as head coach of the women's team.
Back in Ireland things were far from rosy. The women's team were unhappy with the way they were being treated by their association.
And just weeks after Bell was announced as their new head coach, 14 members of the women's international squad stood shoulder to shoulder in Liberty Hall to fight for the future of their game.
It was a powerful and defining moment that captured the attention of the nation.
Bell waited in the wings.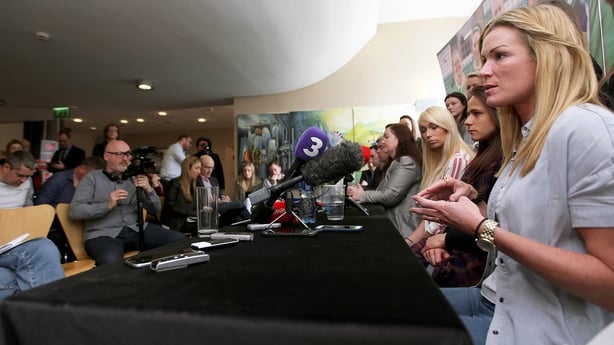 "I was informed that there were issues to be dealt with and that they would be dealt with," Bell told RTÉ Sport.
"At that time I was interested in getting to know the players, getting on the pitch and starting to play."
But was he surprised when he heard what the girls had to deal with including gear, access to key services and gym memberships?
"The things that were brought up I could identify with. In general, women's football has to improve and become more professional.
"When I took over Frankfurt, they had 12 German national team players and they didn't have a physio at training.
"So I wasn't really surprised at the situation and I thought I'll help deal with the situation and the more information I got the more I was prepared to help.
"The first major change the FAI had already achieved was appointing me head coach.
"The first professional head coach in history. That was a big signal to the players and outside that we are going to change something."
During this turbulent time the team were set to play a friendly game against Slovakia but, as protracted negotiations between the squad and the FAI took a few days to conclude, there was concern that the game would not go ahead.
"I was never worried, the FAI took care of me and I had some great conversations with the girls.
"I was always on top of things; my job was to bring everyone together and understand the points of view of both parties and ensure that the football stays in focus.
'We need to qualify for a tournament' - Colin Bell tells @mariecrowe of his pride & ambition at managing the Republic of Ireland women's team #RTEsoccer pic.twitter.com/9c59RvZ8GM

— Soccer Republic (@SoccRepublic) April 2, 2018
"Everyone should be proud to play for their country. I was confident it would be solved."
It was solved, the squad got to work, their main aim was to try and achieve qualification for a major tournament.
They opened their World Cup qualification campaign with wins over Northern Ireland and Slovakia and then drew with European Champions Netherlands.
The squad were determined and executed their game plan well. Bell likes them to be organised and against Netherlands they certainly were that.
The European Champions threw everything at the Irish team but their defence was immense and they earned a point.
"In that game, we were total outsiders. I honestly thought we could get something. I thought if we can do things correctly we have a chance of getting a result.
"We hung on with our lives and everyone appreciated that you could see that the girls were giving everything they got.
"We need to improve the way we play when we have possession but that will come in time. We need to keep that attitude determination and belief.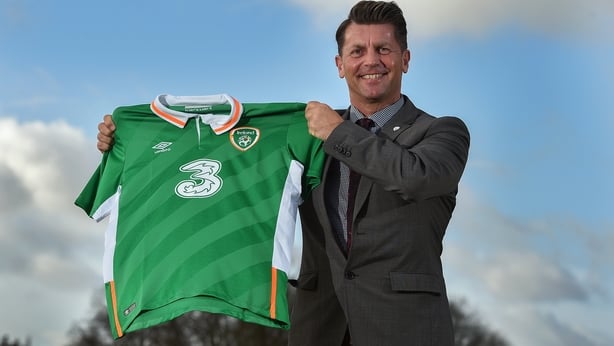 "I want them to think about winning every time they play a game. It's a lot of organisation.
"It's being fit, proactive and reacting to various situations quickly and you need the analysis on the pitch.
"I want them to get down to the nitty gritty, keep it tight, if we don't concede we only need one to win.
"I want to instil that belief, I want them to go onto the pitch to win, I don't care who we play I'm not interested in losing 4-3 and playing brilliantly.
"I know we are not at the level yet but we are moving in the right decision."
The Ireland women's team are currently second in their group, level on points with Netherlands.
They have two crucial qualifiers to come in the next few days, Slovakia on Friday followed by Netherlands on Tuesday, both set for Tallaght.
When it comes to upcoming games, Bell isn't looking past Slovakia. But he is also thinking about the bigger picture regarding the women's game in Ireland.
"If we want to give women's football a boost we need to qualify for a tournament. I'm confident in my tenure we will qualify for a tournament maybe it will be this one maybe it will be the next one.
"We also need to we need to change the structure of underage football and change the structure of the Women's National League and this will then improve the structure of the national team.
"The girls need more football and coaching and they need to be playing five days a week to be able to match the quality of their opponents.
"It's about getting to the grassroots and that's why I'm pleased and proud to be coach of under 17 team too.
"But the door opener is qualifying for a tournament, I want to leave something behind and that's the biggest thing I can do for my team."
Follow Republic of Ireland v Slovakia via our live blog on RTÉ.ie/sport and the News Now App, from 5.45pm on Friday.