Jurgen Klopp insisted Saturday's Premier League trip to Crystal Palace is of equal importance to the Champions League quarter-final against Manchester City that follows four days later.
With the biggest two games of Klopp's reign at Anfield coming up over the next fortnight, the German could be forgiven for having at least one eye on the tie, but he insists that is not yet the case.
He said: "It will be very important then but not at the moment. There's no balance (to be struck), we play Crystal Palace with all we have, with all intensity, with all concentration.
"For a player or a manager of Liverpool, everything is about qualification for the Champions League and both games are about qualification for the Champions League. One is for next year and one is for this year, that's the only difference, they have the same importance."
Liverpool have a seven-point cushion over Chelsea in the race for the top four while Palace halted a poor run of results that had seen them slip back into the relegation zone by beating Huddersfield last time out.
Palace's difficult run saw them lose narrowly to Tottenham, Manchester United - where they led 2-0 - and Chelsea, and Klopp has been impressed by their progress under manager Roy Hodgson.
He said: "I saw the full 95 minutes against Manchester United and other games as well. Only Arsenal were quite comfortable.
"They had a lot of key players out and I think we all agree if they had been all together constantly on the pitch and a little bit of luck, they would be in another position.
"They are in good shape, even when they lost a few games, you can see Roy is doing a fantastic job there. They fight for the league, we fight for the Champions League, and hopefully everybody can see that we fight for the Champions League."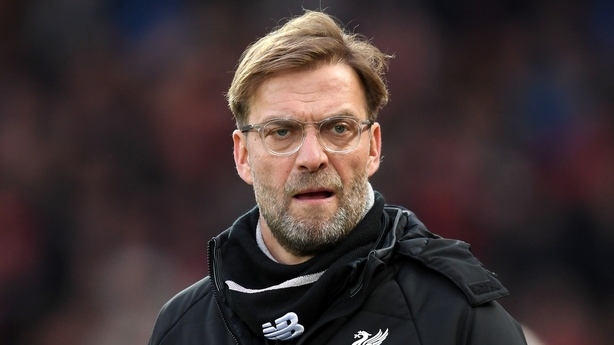 Klopp will be without right-back Joe Gomez and midfielder Emre Can, who has not yet recovered from the back problem that ruled him out of international duty with Germany.
Speculation about his future continues to grow, with Can out of contract at the end of the season, but Klopp shrugged off rumours of excessive wage demands by the 24-year-old.
"As long as nothing is decided, it's open, and we are in talks with him," said the Reds boss. "All good so far apart from that he hasn't signed a contract for us."
Gomez suffered an ankle injury early in England's friendly against Holland last Friday and Klopp was relieved that scans have shown he should play again this season.
Gomez's absence opens the door to two potential England challengers in Trent Alexander-Arnold and Nathaniel Clyne, who returns to the squad for the first time all season following serious back issues.
Klopp said of Gomez: "It could have been everything and from all the bad news we could have got, we got the best. It's always difficult to give a time schedule for that but we hope that he's back at least in training in around three or four weeks.
"But Clyne is fit now, that's good. He played during the international break for the Under-23s, he's in good shape, so he will be part of the squad for tomorrow.
"With expectations for the England squad, I cannot think too much about it. What we can guarantee is we'll make them all as fit as possible and Gareth (Southgate) can make the choice.
"Three of the most interesting full-backs are obviously in our squad, that's nice for us, but they cannot all play together."