RTÉ soccer analyst Richie Sadlier was left struggling to see any on-pitch changes in Ireland's performance in their 1-0 international friendly defeat to Turkey.
Much of the talk in the build-up to the game was of a new era under manager Martin O'Neill, and his pre-match decisions gave credence to those hopes as he handed Declan Rice and Scott Hogan their first Irish caps while Sean Maguire made his first start.
There was promise in the formation also as Ireland lined up in a 3-5-2, with O'Neill explaining before kick-off that he hoped to use Seamus Coleman and James McClean as support for the front men
If O'Neill's talk in the build-up to the game led fans to believe they'd see a new attacking Ireland side, they were disappointed as many of the old flaws came back to present themselves again, with the visitors struggling for possession and feeding off scraps up front.
Afterwards, Sadlier struggled to take the positives from the game, although he did hail the performance of man of the match Rice and praise O'Neill's willingness to try new players.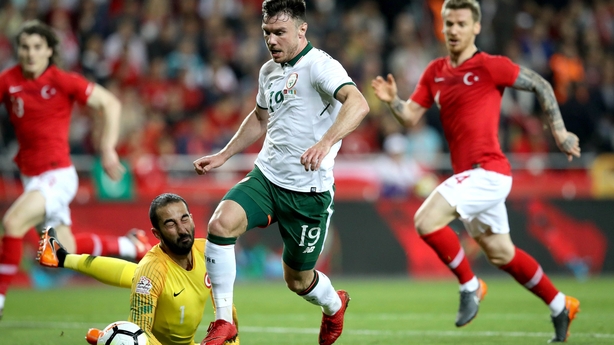 "I don't think results are the important thing in a fixture like this," the former Ireland international said.
"It would have been nice to lift spirits, the way the (World Cup) campaign ended, but the key thing I was looking at was the performance of individuals, and there were some positives.
"Rice, we'll talk about him a lot, and there were a lot of players there who wouldn't normally get game time got it tonight so there were a lot of pluses."
"There were some concerns in that there was no obvious difference in that Ireland performance with a back three than there was with a back four, the same things that we were concerned about were there," he added.
"[It was] really hard for us to keep the ball and very few players had composure on the ball. We created very few opportunities going forward."
Sadlier was disappointed by the impact Coleman and McClean had as wingbacks.
"We were lead to believe from Martin pre-match that the plan would be to get the two wide players in advanced area and attack from them, there was no passage of play in the game that would suggest that was something they worked on because it didn't happen.
"So the same concerns with the performance but the introduction of a lot of new faces was positive, Rice was outstanding, but a lot of the same complaints."