Eamon Dunphy believes Jose Mourinho is "past his sell-by date", claiming his his "old-fashioned and redundant" style of play has left Manchester United miles behind Europe's best teams. 
Mourinho went on a lengthy and passionate defence of his record at Old Trafford on Friday in the wake of the shock Champions League defeat to Sevilla.
They are second in the Premier League and play Brighton in an FA Cup quarter-final tonight but Manchester City's swagger and style has made United look conservative, while the likes of Spurs and Liverpool also play far more expansive games.
For Dunphy, the writing is on the wall.
"I think when you are making self-serving remarks attempting to defend yourself and you are the manager of Manchester United, it is never going to work," he said on RTÉ Game On.
"He made some very clumsy and tasteless remarks after the Sevilla game on Tuesday and did the same again (on Friday), so I think Jose is in trouble.
"He has not improved the team and continues to make mistakes. He has stabilised things somewhat, but I don't think any believes he has done a good job at United. He changes his team every week, no one has a clue who his best team is and I think a lot of Manchester United fans are already fed up with him.
"To start with, Mourinho is responsible for the signing of Paul Pogba, which is the biggest waste of €100m that there has ever been in soccer. He will have to answer for that and it doesn't stop there.
"The other night, he played (Marcus) Rashford in his wrong position. He scored two goals in his best position off the left against Liverpool last weekend, but he moved him to accommodate Alexis Sanchez, who looks tired and burnt out and didn't play well.
"To have (Marouane) Fellaini instead of of Juan Mata suggests you are going for a crude, physical way rather than a football way, which is not the Manchester United style traditionally."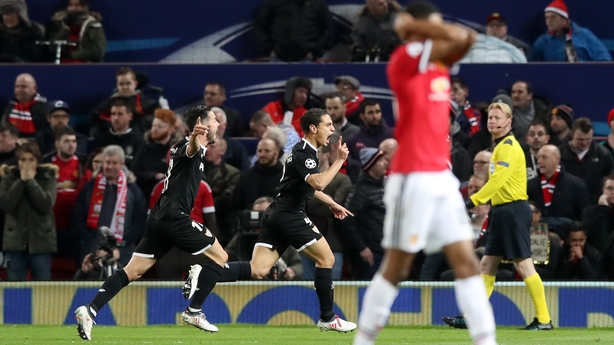 Some supporters have grown frustrated at the tactics on show. Mourinho won the Europa League and the League Cup in his first season - he may yet add the FA Cup to that this campaign - but having watched Alex Ferguson's swashbucking sides for 25 years, they expect a more attacking approach.
It's unlikely they're going to get it under the pragmatic Portuguese coach.
"I think the fans are sick of it now, the real Manchester United fans," Dunphy added. 
"Going back to Roy Keane's 'prawn sandwich brigade' remarks, it's hard to fathom or sort out the real fans from the tourists. It's a fact. That's why they're the wealthiest club in the world.
"But it's been a long time now since they've had a team that would reflect that wealth. They have two converted wingers at full-back, they have Chris Smalling at centre-back and if it wasn't for their goalkeeper David De Gea, they would be in bigger trouble than they are.
"They don't really have good players. They are million miles away from Real Madrid, Barcelona and Bayern Munich. If they Premier League was starting again tomorrow, you'd handicap them with 20 points against Manchester City. 
"He's not the right guy. There is an argument to say his style of football now is old-fashioned and redundant, a little bit like Martin O'Neill, although he's a much better manager than Martin O'Neill is. I think he's past his sell-by date."