Paris St Germain forward Neymar has undergone "successful" foot surgery.

The Brazil forward sprained his right ankle and cracked his fifth metatarsal during last Sunday's Ligue 1 victory over Marseille.
PSG will assess Neymar in six weeks to establish a possible date for his return to training, with reports suggesting the 26-year-old could be out of action for around three months.

A statement on the club's website read: "Neymar Jr underwent surgery today at the Materdei Hospital in Belo Horizonte.
"The operation, conducted by Doctor Rodrigo Lasmar, was successful. The operation consisted of the laying of a screw associated with a transplant fixed at the level of the lesion of the fifth metatarsal of the right foot.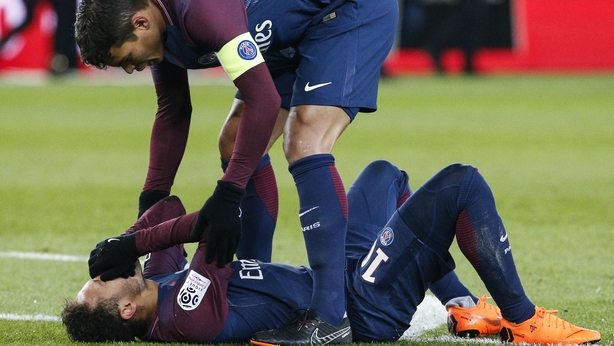 "Re-education will begin immediately under the direction of a club physiotherapist. Neymar's injury will be assessed in six weeks' time to establish a possible date for his return to training."

The injury has triggered concerns for the player's availability for this year's World Cup.
Brazil's national team doctor, earlier this week said the former Barcelona marksman faced up to three months on the sidelines.
Quoted on Brazilian newspaper O Globo's website, he said: "The recovery takes from two and a half months to three months.
"Neymar is sad, but understands that he has no alternative (to surgery) now. He will devote himself to being well as soon as possible. We will do our best to get him ready as soon as possible."
The lay-off could rule Neymar out for the rest of the Ligue 1 season, putting his fitness in doubt for this summer's showpiece in Russia which gets under way on June 14.