The use of video replays to help referees make key decisions was approved by soccer's rule-making body IFAB on Saturday, opening the way for the system to be used at this year's World Cup.

Soccer's world governing body FIFA has said the Video Assistant Referee (VAR) system will be used at the World Cup in Russia if approved, while its European counterpart has said it will not be deployed in next season's Champions League.

Critics say VAR has led to confusion in competitions where it has been used, especially for spectators in stadiums who are often unaware that a decision is being reviewed.

The International Football Association Board (IFAB) statement described the move as an "historic step for greater fairness in football."

According to IFAB protocols, VAR should only be used in four key cases: goals, penalties, direct red cards and mistaken identity.

A trained referee with access to a video monitor, and in constant communication with the main match official, checks all such decisions.

If a "clear and obvious" mistake is spotted, the incident can be reviewed and changed. The referee, who has access to a pitchside monitor, can also initiate a review himself.

The implementation of the VAR system has been one of FIFA president Gianni Infantino's main projects since he was elected in February 2016.
"As of today, video assistant referees are part of football and this is certainly very important news," said FIFA president Gianni Infantino, who chaired the meeting.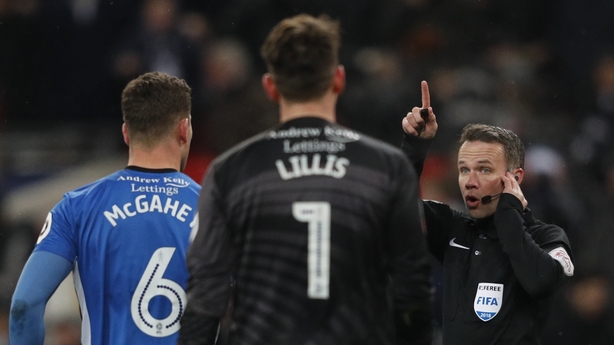 The VAR trials in England have thrown up a number of controversies, with particular criticism over how long decisions take and the fact the crowds are not kept informed as to what is going on.

The system was labelled "embarrassing" by Tottenham boss Mauricio Pochettino earlier this week after his team's FA Cup fifth-round replay against Rochdale was delayed several times by VAR interventions.

Football Association chief executive Martin Glenn acknowledged: "Communication to the crowd has to be better because people aren't really sure what's going on."

He continued: "I'm not going to ignore the criticism, but I think we have to put things into context - it's only been 10 games... FA Cup games, some EFL Cup games.
"We need more games until we get the sort of quality we see in Italy, Germany, Portugal, but we will."

Infantino added: "We can see in the matches, where the game is being interrupted, this creates even an additional moment of tension where everyone is waiting.

"But at the end of the day, what is more important for us is that we can help the referee to take the right decision. We bring more fairness in the game with this.
"One clear mistake that the referee does every three games... we can limit this to once every 19 games. That must be the main objective."