Paul Corry has revealed the extent of the knee injury that ultimately ended his football career last year.
The RTÉ Sport columnist damaged his knee during training with Northampton in September 2015.
"I hyperextended my knee over the outside of my ankle. My lateral cruciate ligament snapped," he told the new Soccer Republic Extra podcast.
"Your body's natural reaction is to send the knee back the other way so I hyper-extended it again and that snapped my anterior cruciate ligament.
Subscribe to Soccer Republic Extra on iTunes
"The diagnosis was a ruptured ACL, a ruptured LCL and a grade three tear on my medial collateral ligament. A rupture of the meniscus, a severe tear of the cartilage and throw in some bone bruising as well.
"When I went in to Dr Andy Williams, who does the majority of the Premier League footballers, rugby players and athletes in the UK, he said 'It's one of the worst I've ever seen'.
"I didn't realise what was ahead for me. I thought the pain associated with sustaining the injury was going to be the hard part but the pain of the operation, being couch-bound and the journey you go on to get back to full fitness... I don't think you can ever articulate or empathise that to someone who works a 9-5 job.
"I don't think any fan truly understands the heartache and pain you go through when you're injured."
Dubliner Corry joined Shamrock Rovers for the 2017 season, confident he could make a full recovery, but only managed two appearances before being forced to hang up his boots.
"I just recently turned 27," he said. "I feel as if the best part of my career was taken away through injury. That's probably the hardest part to take.
"Coming back from the UK, despite having had the injury, I felt I was in a very good position to further my career.
"I was injured, I got back and then I slowly, steadily realised that I wasn't going to be able to play because the damage that had been done was so substantial.
"I don't miss pre-season but I miss the camaraderie, I miss the day-to-day training and match nights. Having that taken away is quite difficult. I've come to terms with it but it was a process."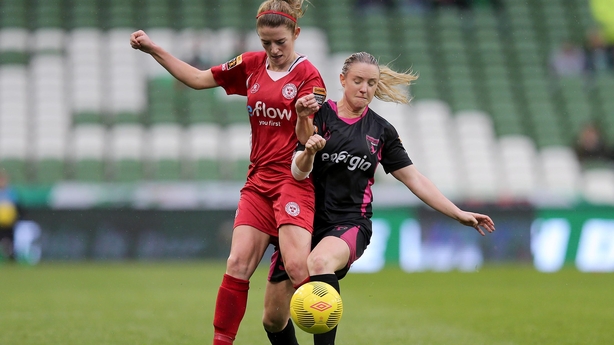 Joining Corry and host Adrian Eames on the podcast was Ruth Fahy, an FAI Cup and Continental Tyres Women's National League winner with Wexford Youths.
Fahy suffered a similar blow to Corry in June 2016, when she tore her ACL and MCL.
The Galway native has been out since and revealed that she is now also considering calling it a day.
"I'm verging on retirement," she said. "I haven't made my complete decision yet.
"I'm looking at the possibility where I could be back for the latter half of the season. If I could have got a whole season out of this year, my mind might have swayed towards going back but if it's only going to be half a season and you're looking at challenging to get back on the pitch.

"In the women's game we give equal time commitment. Travel and everything is so time consuming. You're living like a student.
"At 29, I want to look to the next stage of my own alternative career. I'm looking to go into law.
"I think it'll be the case where I just can't commit the same time and effort that should be there. The standard is rising in the women's game and to be the best you do have to treat yourself as professionally as possible.
"I had always wanted to play my final year with my home side of Galway. I'm not sure if that's a realistic ambition but perhaps in the future I could be involved as a coach or a manager."
Soccer Republic Extra will be available to download every Monday, on iTunes, Soundcloud or wherever you get your podcasts.