Sixty years ago today, British European Airways Flight 609 crashed on its third attempt to leave an icy Munich runway, a disaster which claimed 23 souls and injured 21 more.
It was a tragedy that forever scarred Manchester United, robbing the club of a truly great team that hadn't even entered its prime. Brilliant young men died in Germany on their way back from a European Cup tie against Red Star Belgrade, and they left behind a legacy that endures to this day.
Among them was Liam 'Billy' Whelan.
Here, RTÉ Sport remembers the tall, athletic Dubliner who, in just three seasons wearing the famous red shirt, achieved immortality.
'TALL, UNGAINLY... BRILLIANT'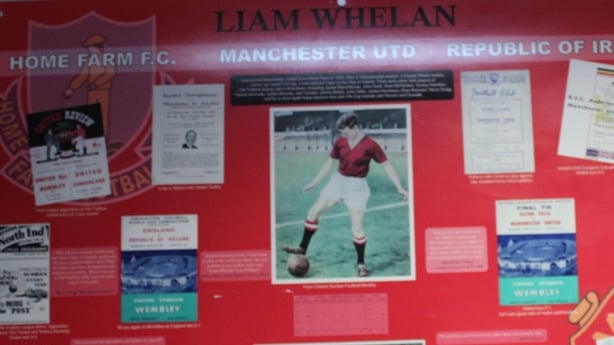 Liam Whelan honed his prodigious talent on the streets of Dublin. Born in Cabra, an inner-city suburb teeming with soccer-mad working-class children, he first really caught the eye at famous schoolboy nursery Home Farm.
In the days when most teams played with an attacking five, he shone as an inside forward, in today's parlance, a 'false 9'.
A rangy and sinewy young man, Whelan's ability stood out a mile.
These were tough times. The Second World War had not long ended, and luxuries were few and far between. Sport was a refuge, though soccer was widely frowned upon.
The 'English game' was given short shrift by the Christian Brothers (John Giles has since said that he didn't consider himself to be Irish in school such was the criticism he took from his teachers for being so drawn to the beautiful game), but Whelan was a natural. And his talent could not be dimmed.
We need your consent to load this SoundCloud contentWe use SoundCloud to manage extra content that can set cookies on your device and collect data about your activity. Please review their details and accept them to load the content.Manage Preferences
Fiachre Forde (childhood friend and former Home Farm team-mate): "There were no subs in those days. If they got a call from some family to say, 'Joe is injured', I'd walk into watch the match and be told, 'go home and get your gear!'. I played with Liam.
"He was a great guy. He really looked after me. He was U17 and I was U15. He took to me anyway, and he was special. He was a daily Communicant, very religious without stamping it on anybody. He was a superb player, absolutely brilliant.
"He had all the skills in the world. Once I said, 'Liam why did you pass that ball to me?' 'Ah I just wanted to bring you into the game' he said! That was him."
Alf Girvan (former Home Farm team-mate): "He was a year younger than us so when we were U16 he was U15. The first time I actually saw him play was when he came up to our minor team for the minor cup games. One night he were having a practice game and the coach said, 'we'll have the forwards against the defenders'.
"So I'm a defender, Liam is a forward. He's coming at me, and I'm saying, 'now take it easy on him Alf, he's a year younger, don't hurt him'. I'm ready to tackle him. And I'm just about to go into the tackle... and he's gone. He was around behind me and I hadn't the faintest idea how he got there."
Roy Cavanagh (author of Whelan biography Hold Onto Your Name): "He was a beautiful footballer. Tall, looked a bit ungainly but actually had fantastic control. He also looked slow but he was the quickest sprinter at Manchester United. A great goalscorer. My immediate comparison would be Harry Kane. As he is put in the £200m category, that gives you food for thought!"
Johnny Lyons (Home Farm FC treasurer): "I saw him score a goal once with his instep... thud! He was like a colt. Cabra in the 50s was renowned for football; Crumlin, Drimnagh. Oh, he was skilful. You could call him 'the shadow'. Brilliant."
'IF THIS FELLA DOESN'T COME TO ME I'LL DIE'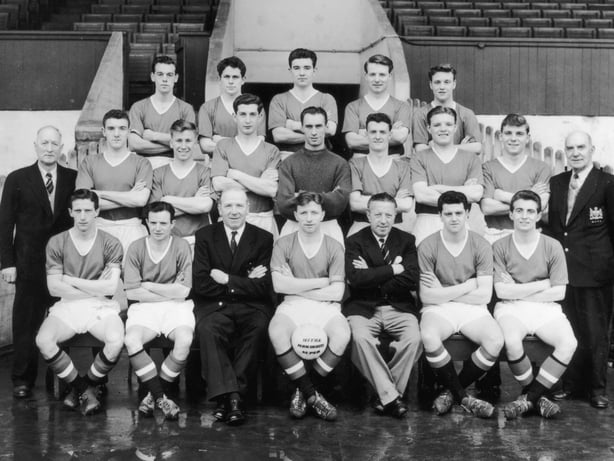 It was inevitable that Whelan would turn the heads of scouts from across the water.
Having been brought over to Manchester United so they could get a closer look at the promising attacker, he shattered any lingering doubts with a fantastic performance in an FA Youth Cup clash against Wolves. The move was secured.
"Don't stop me mammy," he told his mother when the Red Devils came calling. "Let me go."
Roy Cavanagh: "He was on the United radar but still pending when John Doherty, a very good inside right, had a bad knee injury on the eve of the first ever FA Youth Cup final in May 1953 against Wolverhampton Wanderers.
"This was a two-legged tie and United went straight over to Dublin and signed Billy as a full-time professional. United won the first leg 7-1 with Billy scoring a goal, and then drew the second leg 2-2 to win the first ever youth cup.
"I think he was a bit overwhelmed at first of Manchester, although the final was in May so he came home to Dublin for the summer. He didn't settle when he returned in July but friendships with some local priests gave him a lot of comfort. He eventually moved in with an Irish family near Stockport which helped. He did struggle though."
Fiachre Forde: "Jimmy Murphy was the Manchester United assistant manager and he swore by him. 'If this fella doesn't come to me I'll die', he said. I'd say he's the best player Home Farm has ever produced. Others would say Ronnie Whelan, but it's a matter of opinion. He was huge in Manchester, huge. They loved him, thought he was amazing. They thought the sun, moon and stars shone out of him. He'd be worth more than £160m today."
Johnny Lyons: "Bobby Charlton was only coming through then and he reckoned he'd never get in the team as long as Liam Whelan was there. It would be very hard (to compare him to a player today).
"It was a different era, a different type of football. Ronnie Whelan... he was one of the best. The best little player I saw as a schoolboy was Johnny Giles. They're in the same mould. Liam would glide across the pitch."
Despite initial home sickness, Whelan soon took to life at Old Trafford. He was a regular goalscorer and established himself in a team that was beginning to dominate England.
League titles in 1956 and '57 followed as he settled into life across the Irish Sea.
Harry Gregg (former Manchester United team-mate, speaking to RTÉ Radio 1's Sunday Sport): "There were three of us: Gregg, Blanchflower and Whelan. And we were all Paddies whether we liked it or not! In those days you were allowed two stand seats, and two terrace tickets for your family and friends.
"But I didn't know you were allowed to purchase ten tickets. So I'm training it with Liam Whelan, and he said, 'what did you do with your tickets?' I said, 'I gave them to the family'. He said, 'what about the other ten?'. I said, 'I let the lads...'
"'Jesus' he said, 'you don't do that, you could live off them for a year!' I was as green as grass. Don't let anybody kid you that Liam Whelan couldn't take care of himself!"
We need your consent to load this SoundCloud contentWe use SoundCloud to manage extra content that can set cookies on your device and collect data about your activity. Please review their details and accept them to load the content.Manage Preferences
United were top of the tree and Whelan was one of their stars. Still, it was impossible for him to rest on his laurels.
Such was breadth and depth of talent at manager Matt Busby's disposal, Whelan would find his spot under threat. Competition was intense. And rising stars were in abundance.
Roy Cavanagh: "Billy had won two league titles, played in an FA Cup final and a semi-final of the European Cup before he started coming under pressure.
"Two months before Munich, Matt Busby decided to shake the side up and dropped Ray Wood, Johnny Berry, David Pegg and Billy for Harry Gregg, Ken Morgans, Albert Scanlon and Bobby Charlton.
"The team then went undefeated up till the Belgrade game and Billy, with the others, were in the reserves. I cannot believe either Charlton or Whelan would have been regular reserves, but in saying that where could you fit all the players such as Berry, Morgans, Charlton, Whelan, Taylor, Viollet, Pegg and Scanlon into four forwards?"
'IF IT HAPPENS, I'M READY'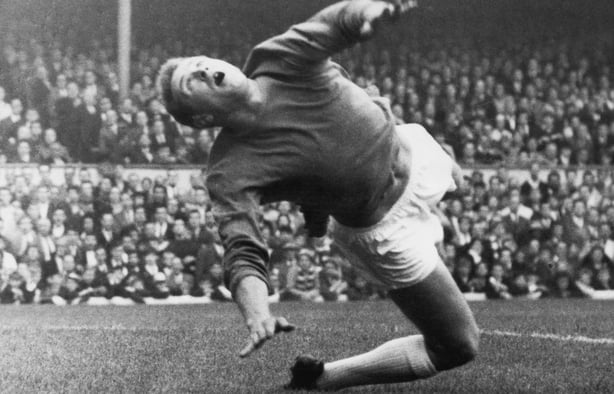 In the days before substitutes, and with his wedding on the horizon, Whelan was not keen on travelling for the European Cup clash against Red Star Belgrade. He knew he wouldn't be playing, and also had a bit of flu, but Busby wanted his team all together as a show of unity.
United had won the first leg 2-1 and had a request to delay the league fixture after the trip to Belgrade turned down. Busby had wanted more time for his players to recover. For that reason, they would fly, rather than sail, back to England.
Having earned a 3-3 draw that ensured their progression, the squad began the trek home.
A pit stop in Munich was required to refuel the plane, but conditions in Germany were dreadful. Freezing temperatures and heavy snow made the runway an ice rink.
One takeoff was abandoned; a second failed effort led to the plane being emptied and the passengers returning to the airport.
When another take-off was attempted, the pilot lost control, crashed through a fence and collided with a house close by. The tail was ripped off and the aircraft exploded.
Goalkeeper Harry Gregg escaped but ran back to the scene to haul several people from the wreckage, an act that greatly reduced the list of fatalities. Twenty people died on the scene, and two more in hospital.
It was devastating.
Harry Gregg: "We were playing poker. I can see them now. I'm winning. I'm winning everything. I'm taking the mickey. We went down the runway the first time... and the plane spun from side to side.
"Behind the six-seater card school where I had moved across from was a lady and a baby. After the second (attempted take-off) we went back to the terminal.
"Some of the press guys were sending stuff home, bought some stuff, cards, got back on the plane again. I'm saying to you now exactly what Johnny Berry said: 'We're all going to get effin' killed here'.
"And Liam Whelan said, 'well if it happens I'm ready'."
John Giles (Speaking in 2017 documentary Giles): "It was a Friday afternoon. We'd finished training. The impression was, the plane had crashed but there was no harm done.
"It was only when I walked back to my digs that the news had come that a lot of players had actually been killed. That was an awful time in Manchester. It was a tragedy for everybody.
"These lads weren't even in the prime of their lives. They'd just won the league twice on the bounce. They were leading the league that year and the average age of the team was 22. I'd say they would have dominated for probably ten years. We were told to stay away from the ground for two weeks.
"There was nothing you could do. I was 17 at the time. You were just going to funerals. Before the Munich Air Disaster you had a surplus of young players brought through in the Busby way.
"I was pushed forward really after the Munich Air Disaster. I don't know what would have happened if there hadn't been a disaster. I don't know what progress I would have made. Nobody knows."
'WHATEVER YOU DO, HOLD ON TO YOUR NAME'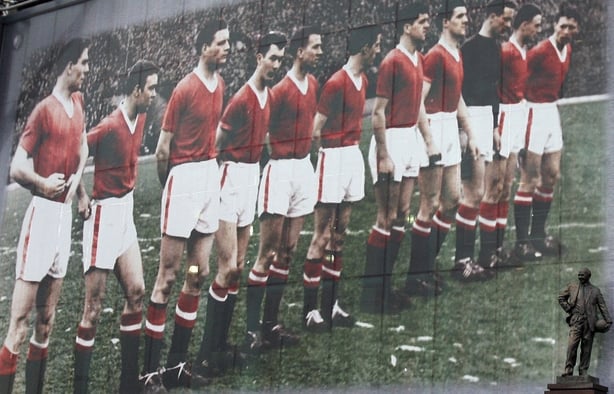 The Busby Babes have passed into folklore. Tragedy has immortalised their youth, talent and phenomenal potential. And within that is Liam 'Billy' Whelan, the quiet, humble 22-year-old Dubliner.
Fiachre Forde: "It had a shocking effect. There was a hush around the town. The funeral was enormous. It had an awful effect on me. I didn't go to school for a week after it. I just couldn't concentrate, there was no point in going to school.
"I got my father to go in and tell them I wasn't able. Coláiste Mhuire is very much a Gaelic school and when he went in and told them I was upset because Liam Whelan, a soccer player, had died... all hell let loose. He was a huge loss."
Alf Girvan: "It was horrible. Everyone was dumbstruck. Because he died very young, it would be hard to put him at the very,very top. But I think that's where he should be. At the very, very top. God bless him. I'm sure he's in heaven now looking down on me. Apart from his talent, he was just a nice guy. It's lovely to be able to say that."
Roy Cavanagh: "The funeral was nearly of state proportions and Billy had made himself the star of the Irish game. Johnny Carey (another Home Farm graduate who was coming to the end of his Manchester United playing days as Whelan was starting his) had already become an Irish legend, but it is fair to think that if Billy had survived, as we moved into the different world of the 1960s, his popularity would have soared.
"In saying all that, his religion meant so much to him and I often wonder how he would have wanted his life to go."
Johnny Lyons: "They didn't live long enough to get the recognition they would have got. They were young. We thought Shamrock Rovers were the best. Then you saw these fellas... my God. He's revered. It's 60 years and we're still talking about him."
Roy Cavanagh: "He was a vital part of one of football's greatest ever sides who were cruelly wiped out in a terrible disaster. His name is never forgotten in Manchester.
"A little story. The first person Billy met when he arrived in Manchester was Johnny Carey. Now of course, his name was actually William, the last four letters become Liam in Ireland, while all Williams are called Billy in England. Johnny Carey had plenty of time to recall how his name got moved about so he said to Billy, 'whatever you do, hold on to your name'."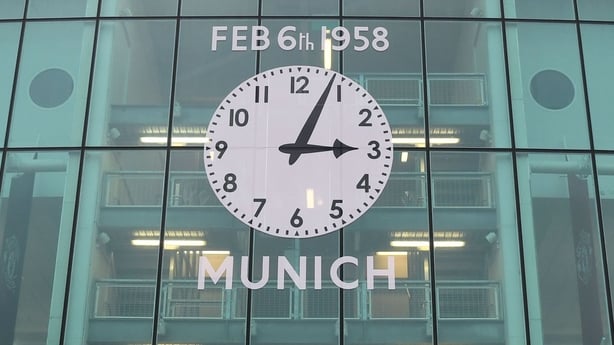 Home Farm FC will host a special night of commemoration tonight for Liam Whelan at their ground on the Swords Road, Whitehall, Dublin from 7.30pm. All members of the public are welcome.