England's first ever UEFA Nations League trip will be played behind closed doors as Croatia complete a stadium ban for having a swastika on their pitch.

The group draw for the new competition took place in Lausanne last week, with Gareth Southgate's men pitted against Spain and Croatia in Group A4.

The Three Lions kick off with a home match in Spain on September 8 and then travel to Croatia on October 12 - a match UEFA has confirmed will be played behind closed doors.

A statement from European football's governing body to Press Association Sport read: "UEFA can confirm that the UEFA Nations League group stage match between Croatia and England scheduled for 12 October 2018 will be played behind closed doors.

"This relates back to a decision taken by the UEFA control, ethics and disciplinary body on 23 July 2015 which ordered the Croatian Football Federation (HNS) to play its next two home matches in UEFA competition without supporters in the stadium."

Croatia were sanctioned by European football's governing body after a swastika symbol became clear on the touchline in their Euro 2016 qualifier against Italy. That match was played behind closed doors in Split after a previous instance of racist chanting by supporters.

They served the first game of the ban against Bulgaria in October 2015 but there have not been any UEFA-run qualifiers since, meaning the Nations League match against England is the second match of their suspension.

The Croatian Football Federation reported the incident to UEFA at the time and described it as an "act of sabotage", with press officer Tomislav Pacak adding: "A chemical agent was used on the field 24 to 48 hours before the kick-off, timed to be visible during the qualifying match."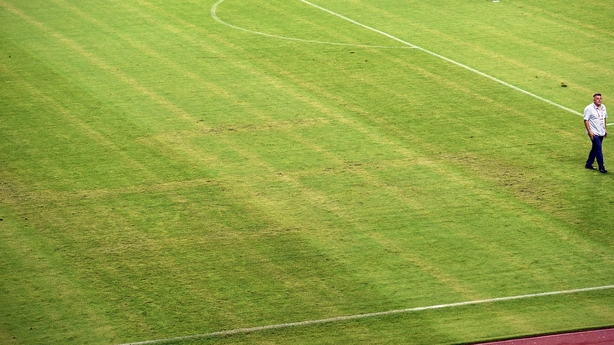 UEFA imposed hefty sanctions for the "racist behaviour" by docking Croatia a point in Euro 2016 qualification, handing down a 100,000 euros (#87,000) fine and ordering for their next two home matches in UEFA competition to be played behind closed doors.

The prospect of missing the game has not gone down well with England fans who have already booked flights and accommodation in Croatia.

The Football Supporters' Federation has highlighted the financial impact on those fans and urged the Football Association to lobby UEFA to grant admission to England followers who have already paid to go.

"Collective punishments, such as playing games behind closed doors, punish innocent fans every bit as much as those who have committed crimes - and in this case England away fans could end up seriously out of pocket," a spokesman for the FSF told Press Association Sport.

"There have been precedents for UEFA making exemptions for away fans who can prove they've already paid for travel.

"We want the FA to lobby UEFA intensely to try and ensure that England fans are allowed into the game.

"The FSF is also affiliated to Football Supporters Europe and we'll be speaking with our friends across the continent to lobby UEFA in the coming weeks and months."