Ireland's first competitive fixture of 2018 will take place in early September and Martin O'Neill will find out his side's opponents later this morning for the inaugural UEFA Nations League.
O'Neill's side have been seeded in League B for the draw, which will produce four respective three-team groups. As a result, a schedule of four games for each team will be confirmed, taking place from September to November later this year.
The draw itself takes place in Lausanne in Switzerland from 11am.
Ireland's League B is the second-tier of this new UEFA venture, and O'Neill's side find themselves in the draw with World Cup play-off victors, Denmark, qualifying opponents, Austria and Wales, and 2018 hosts, Russia.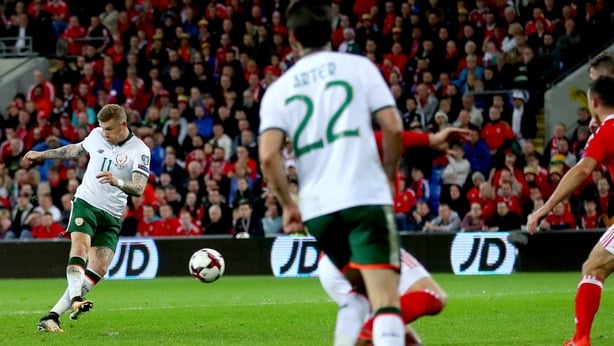 Michael O'Neill's Northern Ireland will also join the Republic in League B, alongside Slovakia, Sweden, Ukraine, Bosnia and Herzegovina, Czech Republic and March friendly opponents Turkey.
Ireland have been placed in Pot 2 for the League B draw, which takes place at the SwissTech Convention Centre in Lausanne, meaning that they cannot meet fellow Pot 2 sides, Sweden, Ukraine or Bosnia-Herzegovina in this year's competition.
Austria, Wales, Russia and Slovakia are the teams in Pot 1, while Northern Ireland, Denmark, Czech Republic and Turkey are in Pot 3.
Russia and Ukraine cannot be drawn in the same group.
So how does it work?
There are four Leagues A,B, C and D, with teams placed according to their UEFA ranking, and in Ireland's League B, as mentioned, the teams will be split into four groups of three.
The four group winners will be promoted to League A, with the four sides that finish bottom relegated to League C for the next competition, to be played in 2020.
The top four-ranked League B teams that do not qualify for Euro 2020 will enter play-offs in March 2020, with one finals place on offer.
?? UEFA #NationsLeague draw ??

??? Weds 24 Jan
? 12.00 CET
?? https://t.co/Y4kHmBPiKI
???? Lausanne pic.twitter.com/rJ7bSrmUfh

— UEFA Nations League (@UEFAEURO) January 18, 2018
Nations League Format
Ireland will play both sides in their group home and away between September and November, and the top spot in the group will guarantee a place at the March 2020 play-offs, if required.
The back-door route into Euro 2020 allows UEFA to make the actual qualifying process for the multi-city hosted tournament to be more straightforward with two teams from each of the ten groups automatically qualifying for the event.
League A consists of the top-12 ranked sides in Europe and the four group winners will then compete in a play-off to determine the overall Nations League champion.