You bring a date to a party. One of you makes a pass at a stranger in front of the whole room, gets rejected and then slinks back into the car for the drive home. Who's more embarrassed?
Martin O'Neill's public flirtation with Stoke City has created a very awkward scenario; for the manager and his back-room team, and for the FAI, who have allowed his contract to run down with only the delicate safety net of a handshake as protection.
The association's blind faith was (eventually) rewarded 16 months ago when the 65-year-old stayed true to his word and put pen to paper on a deal he'd agreed on the eve of the team departing for Euro 2016.
Their faith looks foolish this time round; foolish and naive.
The bright lights of the Premier League turned O'Neill's head and had the Potters opted to really chase what was viewed in their camp as a steady if unglamorous appointment, then it's extremely likely Ireland would be looking for a new management team right now.
Instead, the position is now Quique Sanchez Flores' to turn down. The Espanyol boss is believed to have been promised money to spend by Stoke and time to get it right - even if that means getting it right in the Championship.
O'Neill was looked upon as an experienced general to steady the ship, with the Stoke board keener on putting longer-term faith in the younger, more exotic Spaniard.
What the FAI made of reports that the former Leicester City, Celtic and Aston Villa boss was ready to take up the challenge of keeping Stoke in the top flight is unknown – they have yet to comment publicly on the matter – but it's fair to assume they'll feel let down.
No comment from the manager or his assistant upon their arrival at the Soccer Writers' Banquet #rtesoccer pic.twitter.com/8xlda5VIUZ

— RTÉ Soccer (@RTEsoccer) January 12, 2018
As for the manager and his assistant Roy Keane, they also had nothing to say when they arrived for the 2018 Soccer Writers' Banquet in Dublin on Friday night. 
The FAI's verbal agreement with O'Neill and his Keane was built on a strong relationship of trust. That trust was vindicated in the resolution of their last contract renewal.
On the eve of Ireland's departure to France for Euro 2016, it was announced that the management team were staying on for the Russia World Cup qualification campaign.
"The contracts are there to be signed at this stage, it's only a matter of Martin and myself meeting up to sign them together," FAI CEO John Delaney said a month later when it became clear that this deal was verbal only.
"We have shaken hands and that's good enough," O'Neill added. "I think John wanted to do that (the announcement of the deal) and I'm pleased to follow suit."
It was the following September before it was confirmed that pen had been put to paper and O'Neill and Keane were officially locked in for another campaign.
Flash forward 12 months and the same scenario materialised. In the run-up to the crucial double-header against Moldova and Wales – two games Ireland had to win to make the play-offs – O'Neill said in an interview with FAI TV that a fresh deal had been agreed.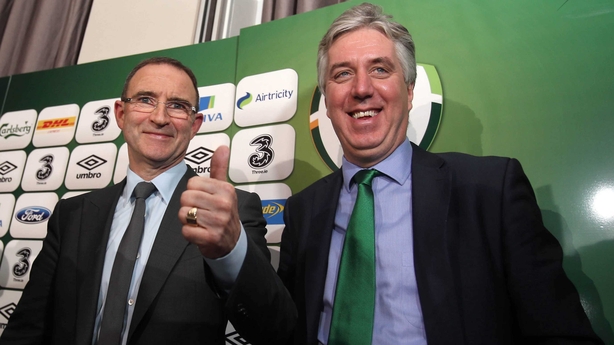 "I spoke to John (Delaney) very recently and he said, on behalf of the board, they would like to extend my contract for another couple of years, obviously with the (2020) Euros coming up, and I have agreed to do so.
"I'm delighted, I have enjoyed it immensely."
It later transpired that that deal, once again, was a verbal one. It meant there was uncertainty about the Derryman's future as the play-off with Denmark loomed.
Speculation inevitably mounted that he might call it a day if Ireland failed to make it to Russia, though when any time the question came up during that period O'Neill shut it down 
Ireland's disastrous home thumping at the hands of the Danes inevitably shone the spotlight on O'Neill and Keane's futures again, though, perhaps because they eventually signed on last time, there was a general feeling that they'd ultimately sort it out.
As soon as the managerial merry-go-round started to spin a little faster across the water however, rumours started to fly.
The odds were slashed on O'Neill taking over at Everton in November after Ronald Koeman got the chop. Sam Allardyce ultimately took the hit seat but, with O'Neill technically a free agent, he was always going to be linked with any struggling top-flight club given his track record of rejuvenating less fashionable sides.
You never have to wait long for a fresh casualty in the ruthless waters of a league so swamped with cash that time is a luxury no boss is given.
Mark Hughes' departure freed up a spot in the west midlands, and O'Neill's was once again heavily linked with a move back to England - only this time with much more fervour. 
His obvious attraction to the job has thrown up some really awkward questions for the FAI. It also leaves O'Neill in an uncomfortable spot. To walk away now would leave him out of work and damage his reputation. If he's staying put, then he's got some sweet-talking to do.
Right now three things could conceivably happen:
The FAI initiate a break-up, deciding that the relationship is dead in the water and beyond repair.
O'Neill will cut his ties, accept that things have turned sour and that it's best for him, and the team, to make a clean break.
Or, both parties pretend this never happened; that mistakes were made but is it best for everyone to compose themselves, put on a poker face and return to the party.
That seems the most likely occurrence now as Stoke close in on Sanchez Flores.
Ireland's next game is a March friendly in Turkey. A relationship fractured but not broken, O'Neill and the FAI will try to get get back to the way they were.