An angry Jurgen Klopp claimed his Liverpool team had been robbed by the penalty decision which allowed Everton to take a 1-1 draw from the Merseyside derby at Anfield.
Liverpool led through a superb first-half strike from Mohamed Salah, but they failed to capitalise on a string of chances to add to their lead and were pegged back when Dominic Calvert-Lewin went to ground under minimal contact from Dejan Lovren and Wayne Rooney lashed home his first goal in a Merseyside derby.
Speaking on Sky Sports, Klopp said: "I saw only one team today to be honest, only one playing to win for sure, I thought we have to make more... I can't believe with all the challenges, we gave no fouls, again there's (Gylfi) Sigurdsson with a foul that should be a red card. Always there is one really nasty challenge.
"But there is only one team playing and you give such a penalty, unbelievable. Yes. Calvert-Lewin makes a step in this direction and even then there is nothing. You give the penalty then one team can celebrate and we can't.
"I told the referee I didn't understand this, I didn't use one swearing word, but I can't believe in a game like this, with one team trying for 95 minutes, everything to win and the other team are not even in our box, I don't know if they had a shot aside from the penalty. Then you open the door for them like this. In my understanding it is not okay."
When the interviewer suggested the decision might have been 'soft' but correct, Klopp said: "Then we can stop the interview. I only want to talk to people with some understanding of football."
Klopp did apologise at the end of the interview.
Everton manager Sam Allardyce unsurprisingly, had a different view as Everton picked up a point.
When asked if it was a penalty, he replied: "Yes. Don't put your hands on a forward when he's in the box. Don't mess with him, push him or shove him. He had no need to do it. Credit to Craig Pawson for giving it at Anfield."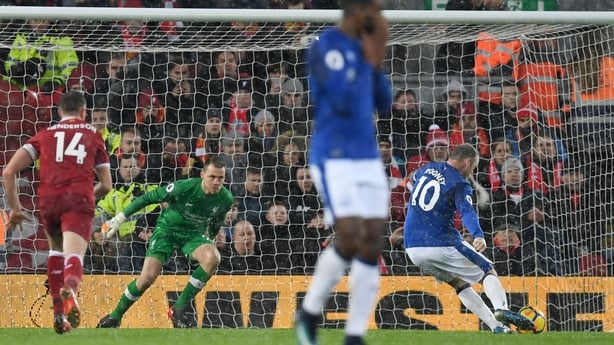 Goalscorer Wayne Rooney was also emphatic about it being a penalty.
"I think it's a fantastic point for us," Rooney said. "Liverpool are a fantastic team with very good individual players. We knew it would be a difficult game. We had to be patient, keep our shape.
"We knew they would have a few chances, every game they've been scoring goals. We defended brilliantly and had two or three moments on the break. We had to make the most of them and thankfully we did with the goal.
"I just had to keep myself composed. I think Lovren kicked the ball away so I had a bit of time to compose myself. I knew where I was going. I practiced penalties yesterday and thankfully I caught it right. It looked a clear penalty, he pushed him over. The referee made a great decision."