What was he thinking?
For a player supposedly lacking in confidence, where did the sudden burst of self-belief arrive from to inspire Christian Benteke to demand that he take Crystal Palace's last-minute penalty against Bournemouth on Saturday.
The former Liverpool striker has made 11 top-flight appearances for Palace this season but has yet to hit the target in the Premier League, and the Belgian must also have been hit by a sudden bout of selective amnesia as Benteke has actually missed three of his five Palace penalties.
And if ever a footballing situation was mis-read, it was at Selhurst Park on Saturday, as Roy Hodgson's side were looking to continue their recent run of good form and continue to climb towards safety in the Premier League.
Victory would have actually lifted Palace out of the relegation zone for the first time this season, albeit on goal difference, so with the game delicately poised at 2-2 and the 90 minutes already played, Palace surely needed someone firing on all cylinders to take this most important of spot-kicks.
And that's what happened. The first time around.
Luka Milivojevic had already scored a first-half penalty and was all set to take the injury-time effort that could have secured a 3-2 victory and vital three points in the process.
But up stepped the big Belgian. A quiet word in the ear, and the obliging, if unhappy, Serb stepped aside.
Benteke, of course, proceeded to take one of the most woeful penalties in recent memory, which made it a straightforward save for Cherries keeper Asmir Begovic.
"We expected Luka to take it, he's our designated penalty taker," said Palace boss Hodgson after the game. "For some reason Christian persuaded him to let him take it, and then he missed it.
"I think Christian is stunned, shocked and very disappointed. He's put himself in a bit of a black hole with Palace supporters because he's missed."
Benteke now has seven months to practise his spot kicks, just in case his services are required for a Belgium penalty shoot-out at the World Cup. Perhaps not.
Palace get an injury time penalty. Milivojevic, who scored comfortably from an earlier penalty, stands on the edge of the box with hands on hips watching Benteke take an appallingly bad spot kick. Bizarre.

— Gary Lineker (@GaryLineker) December 9, 2017
Back at hotel after that fab game 👏🏾👏🏾 it had everything. It goes without saying from a Palace point of view that Milivojevic should have took the 2nd Pen & even though it didn't look like it 😡don't forget Benteke took the pen because he wanted to be the hero & not the zero

— Chris Kamara (@chris_kammy) December 9, 2017
Just interviewed Roy Hodgson for #motd - he's livid with Benteke for "unilateral decision" to take the penalty. He hasn't scored since May and Milivojevic was the designated taker #CPFC

— Jacqui Oatley (@JacquiOatley) December 9, 2017
Not a single person in that stadium thought that Benteke would score that. Ruined what was his best performance in a while.

— RedNBlueArmy.co.uk (@RedNBlueArmy1) December 9, 2017
Benteke is such a dreadful penalty taker. He always tries to do that stupid run up and it rarely works.

— Tim Stillman (@Stillberto) December 9, 2017
The Palace striker, of course, is not the first and is unlikely to be the last footballer to attempt to grab the limelight by taking a penalty in such circumstances.
Five More Infamous Penalty Strops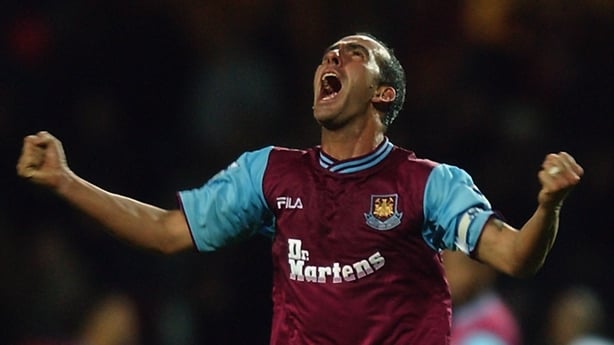 Paulo Di Canio pulls rank on Frank
When he wasn't pushing referees over, scoring ridiculously stunning strikes or stopping his own side from scoring a certain goal due to an opposing player being down injured, former Lazio frontman Paulo Di Canio still had time to cause a commotion within his own team.
Trailing 4-2 at Bradford, West Ham were handed a lifeline to get back into the game, and when young England star Frank Lampard put himself forward to take the kick, he probably wished that he didn't.
Di Canio grabbed the ball out of the emerging midfielder's arms, while gesticulating furiously for emphasis and effect before going on to score the penalty.
Steve Lomas attempted to get involved but thought better of it, while Uncle Harry looked a bit bemused looking on from the sidelines.
The Italian scored, grabbed the ball and ran it back to the half-way line to get the game restarted quickly, while also managing to scold the petulant youngster en route back to his own half.
The Hammers went on to win the game 5-4.
Do not mess with Paolo di Canio.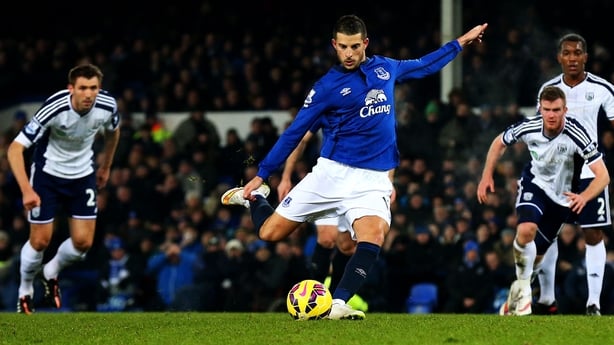 Sticky Toffees as Baines bumped by Mirallas
Such a furore from this incident, that Everton attacker Mirallas was branded "despicable" by television commentator Gary Neville.
It was a Monday night live match on Sky Sports and when Everton were awarded a penalty, the entire stadium and millions watching on television would have assumed that renowned spot-kick king Leighton Baines would take and convert.
All but Kevin MIrallas, who threw the mother of all wobblers in order to take on the responsibility of handing Everton the lead during this scoreless draw with West Brom.
The Belgium international proceeded to smash the ball wide and was duly substituted at half time.
"Kevin was feeling his hamstring and straight after the penalty for a couple of moments, he was not moving freely. That was the reason behind the substitution," said manager Roberto Martinez after the game, tongue planted firmly in cheek, no doubt.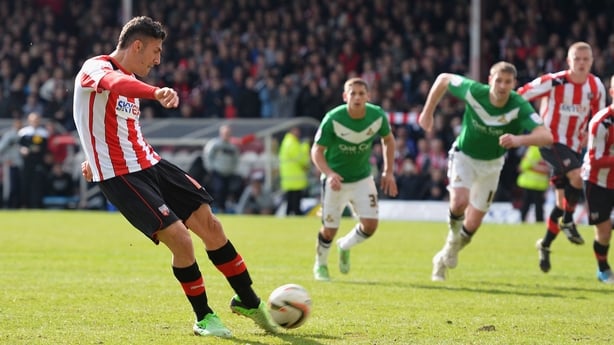 Trotta stings promotion-hunting Brentford
One from the lower leagues, this, yet perhaps the most memorable of misses as Brentford sought promotion from League 1 to the Championship.
Victory over Doncaster would have sealed promotion for the Bees, and when they were awarded a stoppage-time penalty, things were looking good for the west London side.
Marcello Trotta decided that he was the man to take the buzzing Bees into the second tier of English football, despite the fact that club captain Kevin O'Connor was the designated penalty taker.
The striker, to his credit, hit the ball with absolute conviction only to watch the ball smash off the underside of the crossbar and away to safety.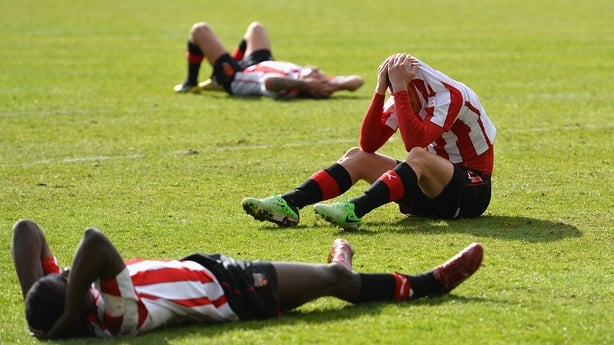 The former Italy Under-21 international was actually on loan from rivals Fulham, and while the supporters of his parent club, no doubt, took great delight from the situation, the home fans would surely prove a lot less forgiving.
Brentford had to take the play-off route and while they reached the Wembley final, they missed out on promotion, losing 2-1 to Yeovil.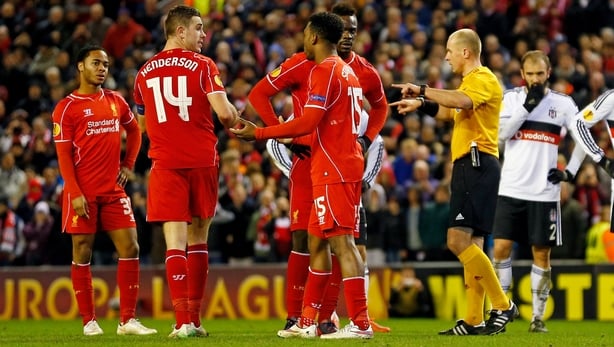 Why Always Me? Balotelli's lasting Liverpool legacy
Chief mischief maker Mario Balotelli will be remember for many reasons by Liverpool fans, but one that will remain high on that inauspicious list will be the snubbing of captain Jordan Henderson to take a vital penalty.
The Reds were playing Besiktas in a European encounter and with the score level at 0-0, Liverpool were awarded a spot-kick.
Henderson wanted to take the penalty but Balotelli had the ball in his hand and would not back down, while Daniel Sturridge even got in on the action, visibly fuming with the Italian.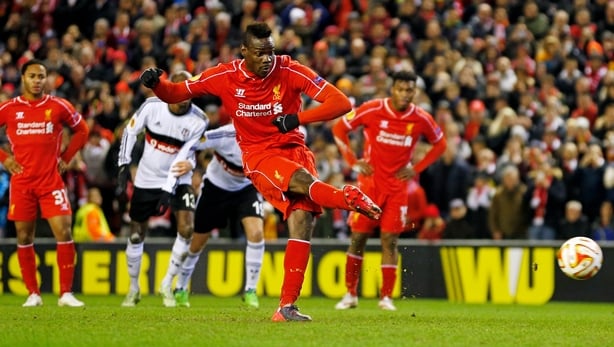 "Jordan should have taken the penalty. Rules are rules. It should have been Henderson. Mario has been a bit mischievous. Jordan is the captain and Mario showed Jordan a bit of disrespect there," said Steven Gerrard after the match.
Balotelli, of course, scored the resulting kick and took to social media to calm things after the game.
'Thank you hendo for let me take the penalty.. Stop drama now. We won that's what it count. We are a team and expecially we are Liverpool. Come on guys,' said the Italian striker on Instagram.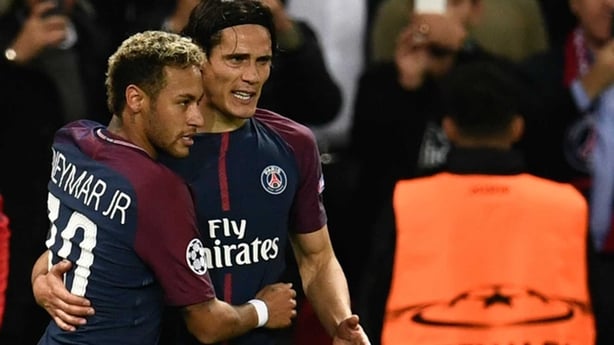 Pressure on Cavani to placate newbie Neymar?
What do you do when you are the recognised penalty taker at your club but then the €222million new arrival decides that he actually wants to wrest that responsibility away from you?
Arriving at PSG during the summer, it did not take Neymar long to assert his influence and the Brazilian playmaker decided to do it in public, as Edinson Cavani got set to take a penalty.
Neymar approached with an air of authority but Cavani marched straight past, and slammed the ball home.
But that was only the start of it, as some weeks later, in a clash with Lyon, another penalty was awarded and this time Neymar was a bit more forceful with his intentions.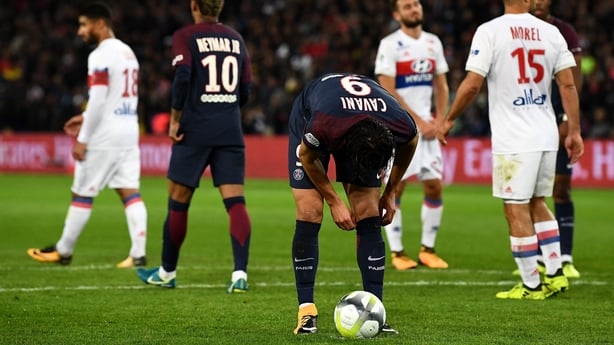 Cavani again held firm but this time the penalty was saved adding to the widely reported feud within the dressing room.
Another rumour doing the rounds is that Cavani wants to keep taking the penalties as he gets a €1million bonus as top scorer.
The solution from the PSG money machine? Offer Cavani €1million to, literally, play ball with Neymar. Allegedly.