As Irish football fans confront another World Cup summer with their noses pressed against the window, tourists in other people's joy, one thought stands out above all. Namely, that all those Italia 90 documentaries have a lot to answer for.
The tournament evidently left such an impact on the Irish psyche that recreating that summer has appeared to be the be-all and end-all for the past 27 years.
The sum total of our ambitions seems to be giving Irish fans a knees up in a foreign field every second year.
This national obsession and the grimly competitive mentality that has accompanied it has often enabled Ireland to achieve results against more technically accomplished but less obdurate opposition.
The Scots, who have almost uniformly negative experiences of competing in major tournaments, failing to escape the group stage in seven attempts, don't appear to have the same desire to sneak into the summer jamboree by whatever ugly means necessary.
Gordon Strachan's men played more pleasing football than Ireland in both Glasgow and Dublin in Euro 2016 qualifying and yet, in the final shakedown, were pipped by a dogged Irish team for the final playoff spot.
So while this mindset has sometimes enabled Ireland to tough it out against silkier opponents who, in Gilesy parlance, just don't fancy it, it has also bred a short-termist attitude, inhibiting the development of the national team over the long, and even medium, term.
Ireland could do with a campaign where the thought of qualifying recedes to the back of their mind and they concentrate on re-learning how to play football.
The alternative is to continue hammering and hoofing and clogging away in the hopes of willing ourselves to the next 'festival of football' in 2020.
The Republic might look north of the border for inspiration, not something we've had much cause to do for the past thirty years.
Northern Ireland may have missed out on the World Cup too but the manner of their failure was far more gallant and impressive - particularly so given that they have arrived from a place much further down the international football ladder.
Four years ago, Michael O'Neill managed Northern Ireland to a 3-2 defeat away to Luxembourg in 2014 World Cup qualifying, a result which prompted UTV to run a news segment ruminating on the possibility of an all-Ireland team.
In his first campaign as manager, O'Neill's team trailed in the wake of such international footballing titans as Israel and Azerbaijan.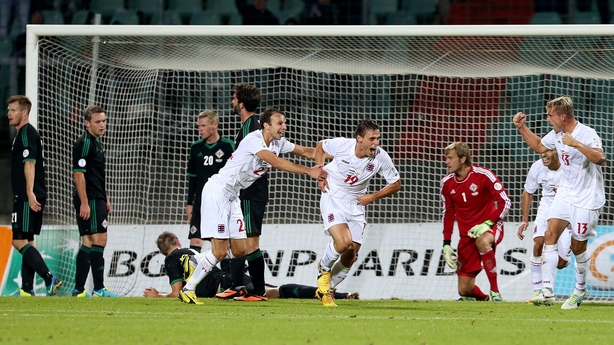 They finished second bottom of their group and won one game from ten, amazingly a home victory over eventual table-toppers Russia. By November 2013, that was O'Neill's only win in fourteen games as manager.
It is inconceivable that a Republic of Ireland manager could survive in the job after such a campaign.
The IFA, well acclimatised to dealing with failure and not labouring under delusions of grandeur, were sober enough to offer O'Neill a two-year contract extension.
To outsiders, O'Neill's words on gratefully receiving the extension might have sounded like the standard, plaintive self-justifications of the under-performing manager.
"I think there has been a major transition in the team — it's a very young squad, but a squad which has developed during the last campaign, with several young players of quality emerging," he said at the time.
Yada, yada, yada, people thought. Wasn't that the line Steve Staunton tried?
Two years later, Northern Ireland not only qualified for their first major tournament in thirty years, they did so while topping the group.
Is there already a template in the history of the Republic of Ireland team?
The Mick McCarthy era - whose achievements were often grudgingly received by the public at the time - has been retrospectively upgraded to the status of a golden age, thanks to the struggles of his successors.
Assuming the role after Charlton's ageing team abruptly collapsed in a heap down the final stretch of Euro 96 qualifying, McCarthy was faced with a big rebuilding job.
He spent the first half of 1996 losing friendly match after friendly match. The new manager lost five and drew two of his first seven matches in charge.
In fact, the nine games without a win between Lisbon in October '95 and the US Cup in the summer of '96 is Ireland's longest stretch without a victory since the period between 1968 and 1971 when not a single international match was won.
Ireland, with a rotating cast of youthful and unproven players, made uncertain progress through the World Cup '98 qualifiers. They only reached the playoffs thanks to an unusually tame group in which they finished a very distant second to the hardly world-beating Romania and a mere one point clear of Lithuania in third.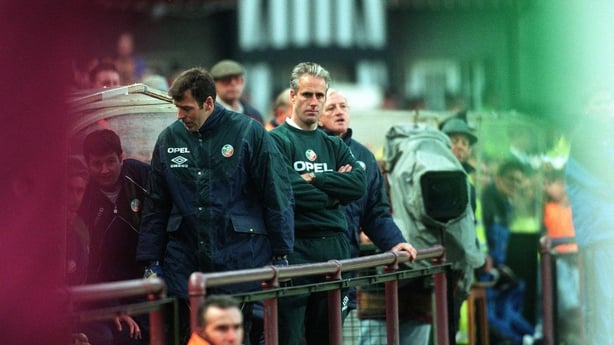 But gradually, aided by the arrival of young talent from Brian Kerr's championship winning underage sides, things began to come together.
The 1999 to 2002 period was the time when Ireland came closest to marrying a relatively appealing style of football and good results.
Revisionists can justly point out that Ireland weren't exactly Barcelona during Mick's tenure and, at moments of acute need, they still relied on the long ball up to Quinny.
They were also desperately lucky to take four points from the two home games against Portugal and Holland in 2002 World Cup qualifying. The visitors were denied clear penalties in both games and Ireland could just as easily have taken zero points from those matches.
But Irish players back then didn't look so ill-at-ease on the ball. They didn't resemble a dog attempting to walk on hind legs when attempting to stroke a few passes to one another.
Mick's Ireland probably hit their peak in the 2-2 draw against Holland in Amsterdam in September 2000. The game is one of the most historically undervalued of all Irish performances, partially because an angry Roy Keane discouraged everyone from regarding it as a moral victory akin to one of the famous Charlton era draws.
This was the Celtic Tiger era when the nation decided 'dat dere's more to Ireland dan' the old disheveled underdog routine and started affixing the 'world class' prefix to all promised projects, whether it be in the realm of sport or infrastructure or the health service.
The official pop narrative was that the Keane-McCarthy divide in the country at large was one between ambitious, new Ireland modernisers and the 'happy-out', give-it-a-lash old-timers who took their cue from humbler times.
This writer suspects that the surest marker of where one stood on the Saipan issue was whether you were a Manchester United fan or not.
Either way, it took a long time for McCarthy's achievement to be fully acknowledged, partly because of the aftertaste of the Saipan business, but also because the still fresh Charlton years had altered our perception of our standing in the world.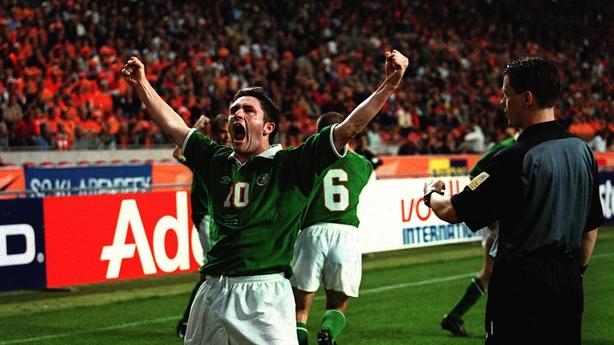 McCarthy enjoyed clear natural advantages over Martin O'Neill or whoever manages Ireland into the next campaign. He had a decorated crop of younger players coming on stream and the vast majority of his playing staff were with Premier League clubs. He also had Roy Keane, who is probably more effectively deployed as a player than as an assistant manager.
But he still had to manage the bumpy transition between the creaking Charlton side and the younger band of relative nonentities.
Russia 2018 is the fourth World Cup in a row that Ireland has missed. In June and July next year, the Walkinstown roundabout will serve its original purpose, namely, that of a roundabout, rather than as a site of congregation for jubilant football supporters.
The only tournaments that Ireland has qualified for since Mick McCarthy departed were Euro 2012, when we were gifted with the jackpot draw in the playoffs, and Euro 2016, when the tournament was expanded to include 24 teams.
The position of Martin O'Neill is almost beside the point in all of this, though there could be an argument that it's time to freshen things up, and that the incumbent's track record doesn't suggest he's the man to effect a change in approach.
Ireland effectively wasted a qualifying campaign by limping on with Giovanni Trapattoni after Euro 2012, when it was clear that whatever wave we've surfed with the Italian had long ago crested. We had the worst of both worlds. We made an unusually abject stab at qualifying and didn't even learn or try anything new in the process.
Regardless of the manager, what the Republic of Ireland probably needs is a campaign where scraping our way into the next tournament isn't the sole objective.
The FAI insist they don't budget on the basis of qualifying for major tournaments, a point which is typically stressed whenever Ireland miss out on qualification. But there's no question that qualification delivers a huge financial boon to the FAI.
Are they willing to jeopardise that boon by allowing a manager to tinker around with the team and playing style and the expense of the next result? And are they, along with the fans and media, capable of being as patient with a manager as Northern Ireland were with Michael O'Neill?