Ireland's next competitive match occurs in September 2018 in the inaugural UEFA Nations League - though there is a reasonable chance that fans will be slow to assimilate the notion that these games are in fact 'competitive'.
These matches do actually offer a pathway to the 2020 European championships but ruminations on these possibilities is for a later date. 
After that, our next qualifier for a major championship will fall on March 2019, when our Euro 2020 campaign will get underway. 
With the average age of the Irish squad long a matter of concern, it is safe to assume that at least a few will step away from the international scene in the coming months. 
It's arguable whether any players will actually formally announce their retirements. John Giles, for instance, never understood retirement announcements and innocently believed that you played on as long as you were needed - which in his case was until he was nearly 40. 
Nevertheless, here are five players who may make the 2018 qualification campaign their last. 
John O'Shea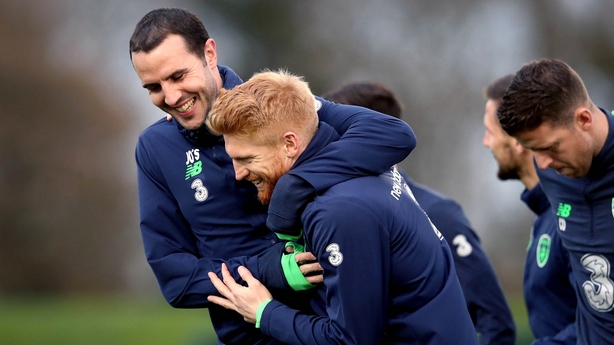 Already inhabiting the role of benched elder statesman that Robbie Keane performed during the 2016 campaign, O'Shea hasn't played for Ireland since the ill-tempered qualifier against Wales in Dublin last March. 
O'Shea made his Ireland debut in a friendly against Croatia in August 2001 but Mick McCarthy omitted him from the 2002 World Cup squad and he wouldn't become established as a Manchester United first-team regular until the following season. 
He has now assuredly missed his last chance to travel to a World Cup as part of a Republic of Ireland squad. 
O'Shea will be 37 by the time of Ireland's next competitive match and will be 39 when the Euro 2020 finals commence. 
His international retirement can't be too long in coming and may well be announced at some time in the next few months. 
O'Shea earned his 100th cap in a memorable night in Gelsenkirchen in October 2014, when he scored a final minute equaliser against the world champions. 
He has made 117 appearances altogether and is Ireland's third most capped player after Robbie Keane and Shay Given. 
Wes Hoolahan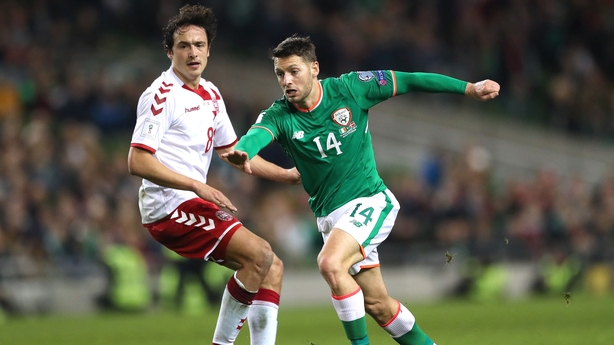 Though he often seems to have the public profile of someone much younger, Wes Hoolahan will be 36 years of age by time Ireland next play a competitive match.
And his age has long been a rejoinder to the romantics who point to him as the solution to Ireland's footballing problems.  
First called up to an Ireland squad aeons ago, when Don Givens was caretaker manager for a friendly against Greece, he wouldn't make his debut until a Craven Cottage friendly against Colombia in 2008. 
And after that, he didn't get a proper run of games with the team until Martin O'Neill was manager, by which point he was already in his 30s.
He immediately replaced Andy Reid as the darling of those embarrassed by Ireland's style of play. He has earned 40 caps altogether, a fair portion of them as a substitute.
His finest moment in an Irish jersey was scoring an excellent goal against Sweden in the opening game of Euro 2016. 
Daryl Murphy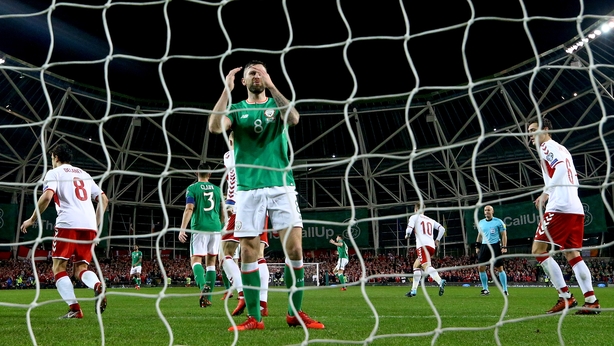 Another late bloomer at club level in England, Murphy only became a prolific striker after signing a permanent deal with Ipswich Town in 2013, by which point he was already 30 years of age.
However, the goals didn't arrive for Ireland in anything like that frequency. It wasn't until his 23rd appearance that he finally scored at senior international level - a late equaliser against Serbia at the beginning of this campaign. 
His elevation to first-team starter in the latter stages of the 2018 campaign was largely a consequence of Shane Long's scoring draught and Jonathan Walters injury. 
Murphy turns 35 in March and thus will be a 37-year-old striker if he ever does get to lace up for the national team at the Euro 2020 finals. 
Jonathan Walters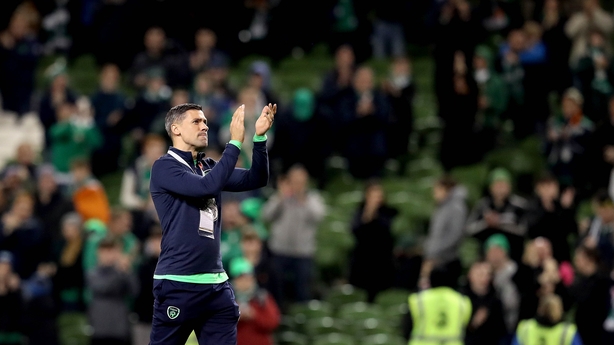 The striker only turned 34 at the end of September and thus could conceivably attempt to give it another whirl for Euro 2020. 
However, with injuries becoming steadily more frequent, he may decide to concentrate on his club career, having just signed a two-year contract with Burnley.
Walters has been a towering and selfless figure in the Irish attack ever since establishing himself as a frontline player in Ireland's 4-0 playoff win in Tallinn in November 2011.  
He has frequently delivered on the biggest nights, scoring both goals when Ireland beat Bosnia 2-0 to reach Euro 2016.  
He has scored 14 goals from 51 appearances for Ireland, his most recent strike coming in the home qualifier against Austria in June. 
Glenn Whelan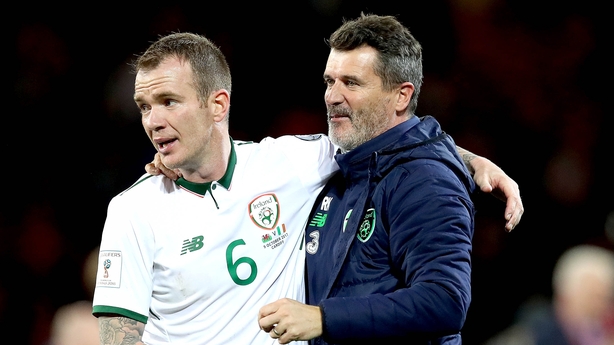 Whelan turns 34 in January and will be 36 by the time Euro 2020 commences. He may opt to remain around the international scene for another campaign but with the arrival of the much younger Harry Arter and David Meyler, he will likely find his playing opportunities more limited. 
The midfielder made his international debut in Giovanni Trapattoni's first game as manager against Serbia in Croke Park.
In a very short time, he became identified as the Italian's favourite son and also a whipping boy for those who despised the tactics deployed by the new regime.
However, successive managers, both at club and international level, appreciated Whelan's unflashy qualities.
His form at international level would eventually catch the eye of his club manager (not an unheard of phenomenon with Ireland players). A year after establishing himself as the first name on Trapattoni's team-sheet, he would do the same at Stoke.
He made over 300 appearances for Stoke City between 2008 and 2017, retaining his status as a first-choice midfielder from a host of high-profile challengers. 
He has earned 83 international caps over the past nine and a half years.