England boss Gareth Southgate hailed his side's defensive qualities as they held Brazil to a goalless draw at Wembley.
It was the second match in a row at Wembley that saw a stalemate, following the 0-0 draw with Germany on Friday, and Southgate is taking the positives from keeping Neymar, Philippe Coutinho and Gabriel Jesus quiet.
"In terms of heart, resilience and spirit it was up there with anything I have been involved in," Southgate told ITV.
"Young players digging in, we just couldn't move the ball as well as the other night.
"Tonight we just showed resilience, guts and some really outstanding defending against a top, top side. I am incredibly proud of what the players have done.
"It is a base to work from"
"We had the best defensive record in qualifying, we have just played the best two teams in the world and managed to keep two clean sheets, which gives us something to build on.
"We know we need to be better with the ball, I thought we were a bit anxious, but even then when you dig in like we did you get half-chances at the end, which could win you the game.
"It is a base to work from."
Liverpool defender Joe Gomez was making his first start and particularly impressed.
Southgate added: "I thought all of the defending was outstanding, but him in particular, to come in for a game like that, with little experience, it was a really top, top performance."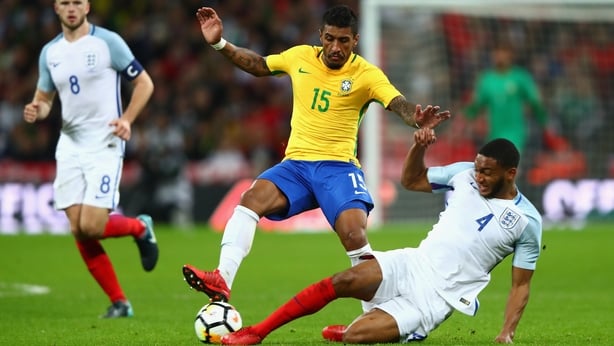 Goalkeeper Joe Hart, back in the team after Jordan Pickford played against Germany, also praised the players in front of him as Brazil drew a blank.
"We were playing the best team in the world at the moment, I thought they were brilliant," Hart said. "We had a game-plan to play in the first half and they made that hard for us so we had to adapt on the pitch and we did.
"As much as they had, I thought the back-line were absolutely phenomenal.
"Joe (Gomez), I can't speak highly enough of his performance, he was playing against one of the hottest players and he did well against him.
"It's not a win but it's a good performance. We have played against the best two teams in the world. We didn't win, but we didn't lose."
Gomez added: "It's a great experience to play at this level, especially against a team like Brazil with all the individuals they have.
"We are happy with the clean sheet, it was a team effort. The whole team defensively put in a good shift."