Martin O'Neill admitted that Ireland must be more creative and may need to score at least two goals on Tuesday night if his side are to progress to the World Cup.
Ireland were outplayed for large periods of the first leg in Copenhagen yet managed to prevent Denmark from scoring thanks to several vital saves by keeper Darren Randolph.
O'Neill lauded his side's efforts throughout the gruelling encounter in and will look for the positives to take into the return fixture on Tuesday night in Dublin.
"I think with the players that they possess, I believe that they are capable of scoring a goal, so it means we might have to score two to win the match," said O'Neill in the post match press conference.
"That's the way I am looking at it, and we will have to show a bit more creativity during the course of the game at the Aviva. But I think we are capable of doing that.
"The players put a big effort into the game. It would have been great if we scored a goal but I think the game is evenly poised for the second leg.
"I believe that they are capable of scoring a goal, so it means we might have to score two to win the match."
"It was a real physical battle and it was tough going but we've just got to win the game now on Tuesday night."
O'Neill feels that his side needed time to get used to the "awkward" pitch and believed that his players coped throughout, despite Denmark creating the better chances.
"I thought the pitch was really awkward tonight – I saw that from last night, even though it was under a closed roof.
"It might not have been the best, but overall we adjusted and we coped for the most part.
"They had a good chance to score – I think it was the little lad Sisto who put it wide – and Cyrus made some in-roads, particularly the one towards the end of the first half.
"But we have to score a goal, we have to win a game and that's really it."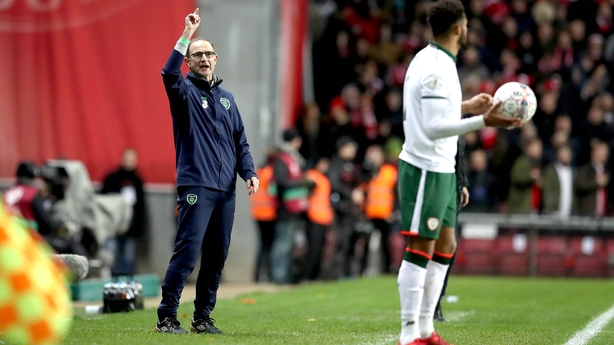 O'Neill is mindful that his side will need to play more attacking football on Tuesday night in front of the Irish fans at the Aviva.
"We would obviously want to be better with the ball in Dublin when we are playing in front of our home fans, and in all honesty, we will need to be if we have to score a goal."
David Meyler will be available for the return match as the midfielder was suspended for the first leg and O'Neill was impressed that neither side picked up a caution throughout the game, allowing both sides to field their strongest teams on Tuesday.
"That was almost remarkable, really, I don't think there was a yellow card tonight.
"I don't think that they received any either – I'm talking about the opposition – so from that viewpoint, it was good.
"I think it's very evenly poised. Age [Hareide] said last night in the press conference that he thinks they are capable of scoring at the Aviva. I wouldn't doubt that.
"We just have to win the game. We have to score goals to win the match."
'We know what we have to do in Dublin now' says Callum O'Dowda #RTEsoccer pic.twitter.com/vlwE0JZoCC

— RTÉ Soccer (@RTEsoccer) November 11, 2017
O'Neill made a surprise selection ahead of the Copenhagen encounter by naming Callum O'Dowda in the starting XI and the manager believes that the Bristol City midfielder justified his selection with a hard-working performance.
"He did well. He had a couple of runs. It was a sticky old night, I must admit, to throw him into that atmosphere, but I thought he coped well.
"I don't think it was all his particular fault that he wasn't getting into the game early on, we just couldn't get the ball to him.
"But he went into the game, he did a defensive job as well when we had to and he was starting to break on them towards the end of the game."
Unsurprisingly, Randolph was named man of the match and the manager acknowledged the contribution his keeper has made throughout the campaign.
"Darren Randolph is a very fine goalkeeper and I thought he made a very good save, an excellent save, and the one he tipped over the bar.
"That's the way he's been playing for us during the course of this campaign."
Martin O'Neill - "We're in here battling and there's all to play for on Tuesday night." #DENIRL #COYBIG #RTESoccer pic.twitter.com/h3YrwuVov4

— RTÉ Soccer (@RTEsoccer) November 11, 2017