Ashley Young finds "special talent" Marcus Rashford's hunger as refreshing as it is exciting.
It is hard to fathom quite how much Manchester United's precocious forward has crammed into his career since making his first-team debut a mere 622 days ago.
Rashford has established himself as a regular for club and country, with the attacker showing no signs of slowing down thanks to ability that is matched by an equally impressive attitude.
"I saw him when he was coming up through the ranks at United," Young said of his United team-mate. "He obviously got his debut straight away and kicked on from there.
"I always said all along, for me, he's a special talent. He was always going to go a long way. Even now he's got his feet on the ground and he wants to learn. He just wants to better himself each day.
"I think the manager is having to drag him off the training pitch every day because he is just wanting to better himself. It's refreshing to see a kid like that just wanting to get to the top."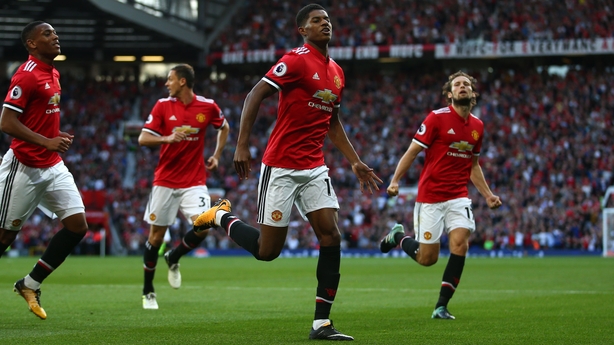 While many United team-mates admit to being taken aback by Rashford's rise, Young was not as his name was mentioned as soon as he joined the club in 2011.
"For me, as a senior pro, you got the chance to watch the Under-18s and you could tell he was going to be a big talent," he said.
"Speaking to him even at that young age, he was one of them who just wanted to learn and to be the best. I'm delighted for him because he wants to work and learn and he's doing fantastically well."
The pair now have the chance to transfer club form to the international stage together after Young's long-awaited recall.
The 32-year-old last played for England in September 2013, but his form as a remodelled full-back and increased playing time impressed Gareth Southgate enough to be included for the friendlies against Germany and Brazil.
Earlier this year it appeared more likely that Young would wind down his career in China than push for a World Cup spot, but the wide man says an exit has not crossed his mind.
"A lot's been said about me playing for three different managers at the club," he said, using an inaccurate number of permanent United managers - something he was corrected on, only to be coy when asked if he meant to omit one.
"Even the England manager said the other day that I have played for three managers there and they have always believed in me. They have always had that trust in me to play - Champions League, Europa League, big derbies. I've always had their trust to play in those games.
"I think there did come a point last season where I wasn't in the squad, wasn't even making the 18. It was disappointing but I have never thought about leaving the club. I've always got that determination, to get back in the squad and get back playing.
"I've spoken to all three managers at times when there was difficult periods but I have got confidence in myself, confidence in my ability get back in the squad and get back into the team."