It's been a long road to recovery for Sean St Ledger who has endured an almost four-year injury battle that he finally appears to be winning.
Towards the end of the Euro 2012 finals, St Ledger made such an impression for the Republic of Ireland that he looked set to become a mainstay in the international squad for years to come.
That proved not to be the case however as a knee injury suffered late in 2013 and his release from Leicester City would combine to derail his career.
St Ledger was forced to overcome a long road back to fitness and fight off fears that his career was at an end.
The defender had spells at Ipswich and MLS outfit Orlando FC where he played alongside Kaka but all throughout that time, he's been beset by knee problems that led to him eventually being released by the American side.
Now, in an attempt to rebuild his career, he's playing in the fifth tier of English football for Solihull Moors, having featured in his first competitive match in two years at the weekend.
In a frank interview on RTÉ 2fm's Game On, St Ledger revealed the extent of his injury problems and how at one stage, he was advised to retire for the good of his long-term future.
"It kind of all started when I came off against Poland in a friendly in Poland, in Martin O'Neill's first game really," said the 32-year-old.
"I think I got a groin injury from there and I was out for quite a while. I came back from that after about eight weeks and my knee was hurting quite a bit. From then I had an MRI and they said this was the problem or a meniscus issue.
"I came back from that but that knee problem never really went away. Then I went out of contract at Leicester, I didn't have a club and I went to America.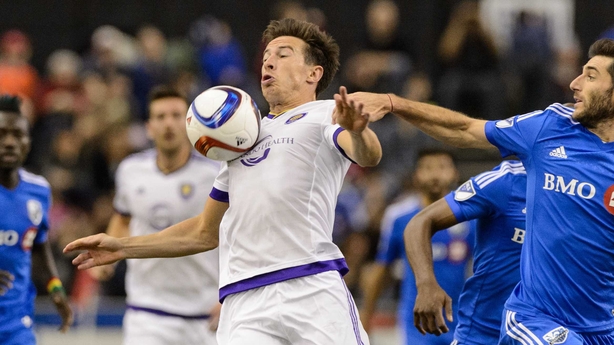 "During the start of pre-season with Colorado I came back and my knee was basically swelling up like I couldn't believe, I couldn't bend my leg. I had an MRI and basically I needed a clean-out of my knee and they just took a little bit of my meniscus off.
"That was the second time I had surgery on my knee and when I tried to come back from just a clean-out, a regular operation really, I just really struggled to train continuously. My knee was swelling constantly like it was before I had the surgery.
"That was when the American surgeon spoke about retiring and said it might be a good time and you need to think about your long-term health. I think I had bone on bone more or less.
"He did say you have the option of going to Germany to see Dr [Hans Wilhelm Muller] Wolfahrt and in the back of my mind I didn't want to retire. So I went to Germany, I saw the rehab specialist.
"The rehab took a year, he just broke me down from the beginning, jumping over hurdles and then started running and starting training and all this time I had swelling in my knee by the more it went on the less the swelling was."
All that work was ultimately worth it to St Ledger and he described his return to action in the weekend's FA Cup clash with Wycombe Wanderers as one of the best moments of his career.
Solihull lost the game 2-0 but St Ledger came through 90 minutes of action and is now looking to the future.
"For that game on Sunday as a whole, the rehab I did going over to Munich, going to the gym, the lows, it was all worth it. If I don't play football again I still have a sense of achievement because I've overcome something when people have doubted me.
"I'm 32 I don't have that long left in football and it's been great for me, probably my happiest moment on a football field.
"I just wanted to get back out there and this is a good start for me. I've signed until January with Solihull and I then if I'm good and my fitness is fine I want to try and get back into the league and push on from there."
Live coverage of Denmark v Ireland on RTÉ 2 (7.25pm), live radio commentary on RTÉ Radio 1's Saturday Sport and live blog on RTÉ.ie from 6pm.