Jose Mourinho accused his Manchester United side of displaying a bad attitude as they succumbed to their first Premier League defeat of the season at Huddersfield.
United were beaten 2-1 at a raucous John Smith's Stadium, with former Manchester City man Aaron Mooy and Laurent Depoitre doubling the number of goals conceded by the Red Devils this season.
While Terriers fans are celebrating a result that last occurred 65 years ago - Halley's Comet comes around only slightly less frequently - Mourinho was bitter and baffled by the manner of the defeat.
Marcus Rashford grabbed a consolation but there was no placating Mourinho, who took aim at Ander Herrera's suggestion in a post-match TV interview that Huddersfield played with "more passion."
A frank assessment of today's result from Ander Herrera... pic.twitter.com/S8ucttuZCw

— Manchester United (@ManUtd) October 21, 2017
"They beat us on attitude," said the Portuguese. When I lose matches I like to lose because the opponent was better than us, had more quality than us. When you lose a football match because of attitude, that is really bad.
"I heard Ander Herrera in the flash interviews saying the attitude and desire was poor....Oh my God. When a player says that, when a player feels that, I think they should all go to the press conference and explain why because I cannot explain that.
"I don't even remember a friendly match where our attitude was so poor. I feel really disappointed and if I was a Manchester United supporter, not a manager, I would be really disappointed."
Despite his clear disgruntlement Mourinho chose not to be too critical about Juan Mata or Victor Lindelof, who both made errors directly leading to goals.
Lindelof, a substitute for the injured Phil Jones when the score was still 0-0, was particularly errant but Mourinho said: "You like 'individualisation' of the mistake and the defeat. I think it is very unfair.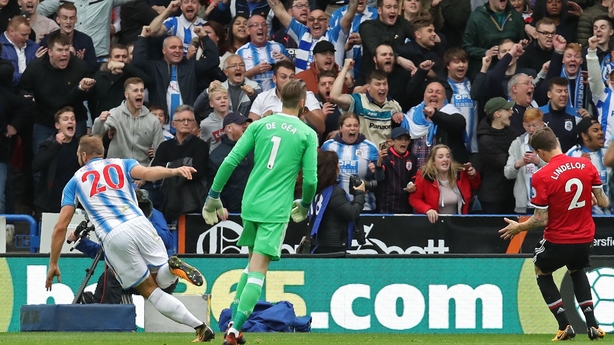 "If you play an amazing game and lose to an individual mistake, yes, you point the finger. That is not the case. In the first half I was waiting for it. It was Mata and Victor. It could be another one because the attitude was really poor."
David Wagner, the Huddersfield boss who oversaw an unlikely promotion and is now making waves in the top tier, made no attempt to downplay the magnitude of the day to those who hold the club dear.
"I live in Huddersfield so I know a little bit, maybe not 100%, how huge this result is for this town, for the supporters, for the chairman, for the board, for everyone who supports this football club," said the German.
"I am totally aware that this is a very special moment. A huge result for small Huddersfield Town. I am aware about it and happy about it and proud about it.
"For sure it is one of the top three moments I personally have as a manager of this club. This is a very, very proud moment. We all know how huge this win is for us, that we have beaten Manchester United."