Jose Mourinho believes it will be an "impossible mission" to end his managerial career at Manchester United.
Having won three trophies in his first season, the 54-year-old looks set to lead the club on their first genuine Premier League title charge since Alex Ferguson departed.
United have been crying out for a figure like Mourinho since the Scot called time on his unprecedented Old Trafford reign - the kind of longevity that the current incumbent does not believe is possible any more.
The Portuguese, synonymous with making a big impact over a short period in charge, dismissed the possibility of ending his career at United over the weekend in an interview with French television, when he also spoke of his interest in Paris St Germain's project.
Mourinho downplayed what could be construed as public flirting ahead of Wednesday's Champions League Group A clash at Benfica, so too growing chatter that a new deal at United is being discussed.
"I think it's the impossible mission, even if you want, even if you try. Impossible."
"I think you (in the) English media, you have the answer for that," Mourinho said, when asked about how he saw his future.
"Because in one day it says that I'm going to sign a five-year contract, one billion pounds per season and then the next day you say that I'm leaving and I'm going to Paris St Germain.
"I think that's the answer - the answer is that nothing is happening. I'm not signing a new five-year contract and I'm not leaving for Paris St Germain.
"I'm at Manchester United, I have a contract and that's it."
He added: "If in this moment I want to finish my career in two, three, four or five years, I would say, yes, my ambition would be to end my career at Manchester United.
"I think I am going to be here 15 years minimum here in football, in the job, and I think it's impossible to stay 17 years in the same club.
"I think it's the impossible mission, even if you want, even if you try. Impossible."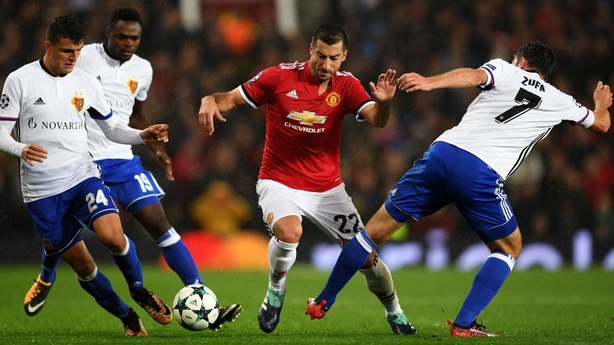 Mourinho, who signed a three-year deal at Old Trafford with the option of another, says his "future is tomorrow" - a match United approach without Eric Bailly, Zlatan Ibrahimovic, Paul Pogba, Marouane Fellaini and Michael Carrick.
The lack of midfield options is a particular problem and Mourinho has confirmed that Ander Herrera and former Benfica man Nemanja Matic will start at the Estadio da Luz.
The hosts are yet to muster a point and were hammered 5-0 at Basel last time out, but Mourinho will not allow complacency to seep in against the club he briefly managed.
"What I was trying to do today was show my players what I've been saying since the beginning: Benfica are not only the best but much better than CSKA and Basel," he said of the Portuguese champions.
"It's difficult to say that about a team that lost 5-0 and 2-1, but I think I was able to do it.
"I think the players were convinced. I think they realise results are not a real indicator of teams.
"They know Benfica are a good team and are a tricky adversary for us."
Watch Benfica v Manchester United live on RTÉ 2 and the RTÉ Player tonight from 7pm, with highlights of Bayern Munich v Celtic & Chelsea v AS Roma