Taking a retrospective traipse through Denmark's results from the qualifying campaign, two matches jump out, which prove quite telling towards the trials and tribulations of the current international side.
Age Hareide's squad stand in Ireland's way for a place at next year's World Cup in Russia, the two sides going head to head on 11 and 14 November respectively for a berth at next summer's showpiece.
But the Danes will rue missed opportunities throughout their Group E qualifying campaign and when they too take a little look back at the past 13-odd months, they should be disappointed, now tasked with taking the play-off route to Russia.
Denmark's qualifying quest started slowly, as might have been expected with new Norwegian coach Hareide taking charge of his first major tournament, following their failure to qualify for Euro 2016.
A less than impressive 1-0 home win against lowly Armenia to kick-off the qualifiers was followed up by two defeats.
First, a 3-2 loss away in Warsaw, in a game where the result flattered the Danish, who found themselves 3-0 down after 48 minutes, followed by a shocking 1-0 home defeat to the lower-ranked Montenegro.
By that stage, the Danish would have been quite happy to secure a play-off place, and things, as expected, got better thanks to Hareide finding his preferred style and formation, coupled with the fact that they happened to reside within a fairly facile group.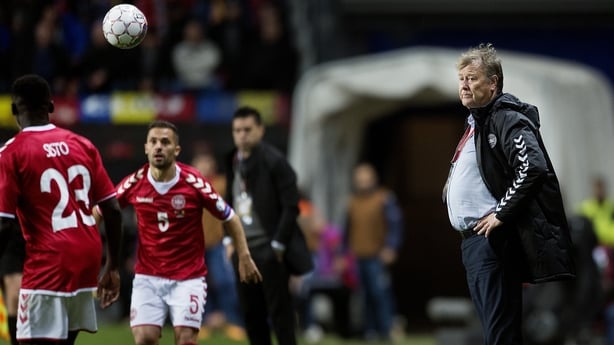 Denmark remained unbeaten for the remainder of the campaign and a young yet decent side began to emerge from within this squad, culminating in a comprehensive 4-0 home victory over group leaders Poland.
While Denmark's slow start was the main reason why they missed out on qualification, they actually enjoyed a better head to head with the group winners.
The Danes, however, dropped points home and away to Romania, while Poland beat the tops seeds twice, 6-1 on aggregate, while also taking full points from Montenegro.
Hareide's side play a nice brand of attacking football, direct at times, but mainly with the intention of allowing his players to play in the opposition half.
Denmark have several match-winners within the side, most notably, Christian Eriksen who plies his trade as playmaker at Tottenham.
And while many Irish might have rejoiced at how the play-off draw transpired, this team has the quality and character to cause more than a few problems for Martin O'Neill's side.
The fact that Nicklas Bendtner is still involved within the squad may be one of the main reasons for the optimism within the ranks of the Ireland fans.
However, the oft-ridiculed, Paddy Power pants-wearing centre forward, who failed to hit the target, twice, against Dundalk last summer, is unlikely to start.
Denmark's Key Players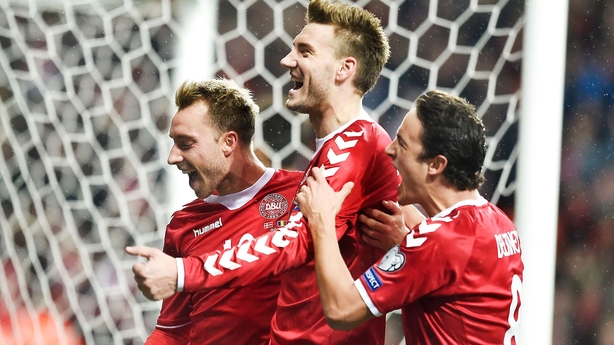 The aforementioned Eriksen will pose a genuine attacking threat, as the Spurs midfielder both creates and controls as Denmark get numbers forward in their quick-paced attacking style.
But far from a one-man team, Eriksen will line-out alongside German-based Thomas Delaney and the very experienced vice-captain William Kvist, which make up a solid midfield three.
The experienced duo allow Eriksen the room to roam, while Werder Bremen's Delaney is quick to join in the attack, possessing an eye for goal with an excellent ability to shoot from distance.
Yussuf Poulsen's potential has been ear-marked for several years, and now the RB Leipzig attacker is now starting to show his quality both at club level and on the international stage.
The 23-year-old proves very dangerous with ball at foot, either foot, and will twist and turn his way into many threatening situations.
It might be too high an accolade to suggest that Poulsen's style may mimic that of Brazillian great Ronaldinho, but there are certainly similarities, and he should prove a real handful for either Irish full-back, as well as being quite effective from set-pieces.
Bendtner's baton appears to have been passed on to Andreas Cornelius, who currently plays his football in Atalanta.
The towering centre-forward endured a short-lived dalliance with Cardiff City for their one and only season in the Premier League, as the big Dane spent most of the season injured and on the sidelines.
Still only 24, Cornelius scored many a goal for Copenhagen, either side of that Cardiff conundrum, and moved to the Serie A side ahead of the 2017 season.
Delaney – One missed by the FAI?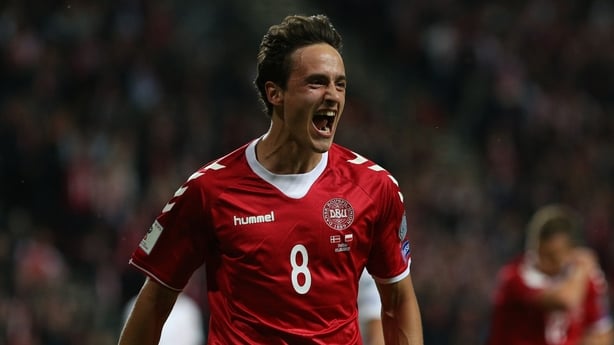 Thomas Delaney's emergence on the club scene with Copenhagen may have raised a flag in the FAI's committee for securing players for the national side.
However, it would have been in vain, as despite the obvious link to the motherland, the very tenuous nature would have revealed that the midfielder would not have been eligible for an Irish passport.
No doubt, a long, lost cousin – somewhere between the famine and modern-day Ireland – of FAI supremo, John, the midfielder was born in Denmark, while his father, also Danish born, holds USA citizenship.
Next Generation Denmark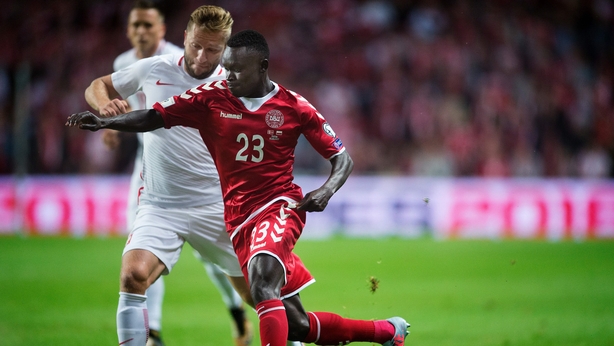 The golden generation of Danish footballers burst onto the international scene in the mid-1980s, culminating with the Euro 1992 victory, where Denmark beat Germany 2-0 in the final in Sweden.
The brothers Laudrup, Michael and Brian, Jesper OIsen, Jan Molby, Preben Elkjaer, Peter Schmeichel and Soren Lerby were all household names, playing for top European sides, and while several had passed their peak before the Class of '92 won the European Championships, their legacy remains as the greatest of all time in Denmark.
Every subsequent side has, and will always be compared to that era, and while it might be too early and way too presumptuous to think the current crop could make such an impact, their 4-0 win over Poland showed their possible potential.
Another goalkeeping Schmeichel, Leicester City's Kasper, son of Peter, provides a very solid foundation for this side, while captain Simon Kjaer, who is currently as Sevilla, is cut from the same cloth as a host of former Danish centre-halves – strong, composed, organised and inspirational.
As mentioned, the attacking unit is full of potential, with several more young players starting to break through into the first team, most notably Pione Sisto, another Spanish-based Dane, who works the wing for Celta Vigo.
Andreas Christensen broke into the Chelsea Premier League side at the start of the season and while he is set to become the natural partner of Kjaer in the middle of defence, the 21-year-old currently has competition in that position.
Full-strength Denmark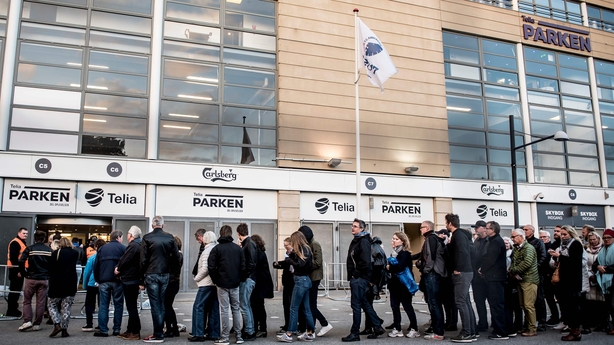 While Ireland are missing David Meyler for the first leg of the play-offs, Denmark go into the game with a full-strength squad to choose from.
Not unlike Ireland, the squad is made up of a decent amount of top-league players, supplemented by several who are Scandanavia-based and others dotted around Europe's second-tier leagues.
But on paper, there is certainly more quality within the Denmark unit, while they will traditionally enjoy a similar spirit to the Irish, which should ensure that they are confident of matching Ireland's passion in the battle, while allowing their quality to shine through.
Denmark will be looking to win this tie in Copenhagen and will expect a performance similar to that which made a very good Poland side look decidedly average.
Of course, Martin O'Neill's Ireland will be looking to drag the first leg down to that of a derby atmosphere with an element of caution, which naturally occurs in the first of two-legged affairs.
And both sides will be very aware of the yellow card situation with Ireland and Denmark carrying a number of cautions on the shoulders of key players ahead of the return game in Dublin, which should prove decisive.
Denmark XI (possible): Schmeicel; Dalsgaard, Kjaer, Christensen, Larsen; Delaney, Kvist, Eriksen, Sisto, Poulsen; Cornelius.