Republic of Ireland striker Shane Long will miss tonight's World Cup qualifier with Wales due to a hip injury.
The news comes as a late blow to manager Martin O'Neill with Long playing over 80 minutes of Friday's World Cup qualifier with Moldova.
He trained last night but has been ruled out today leaving O'Neill with a selection dilemma just hours ahead of kick-off.
"First of all I feel for him personally to get the news this late that he is not going to play a game of this magnitude," RTÉ Soccer analyst Richie Sadlier said ahead of live coverage on RTÉ2 this evening.
"You'd assume that Daryl Murphy will definitely play. Martin O'Neill now has a decision to make.
"Does he start with a second striker? It would have to be one of the really inexperienced strikers who are in the squad to play alongside him.
"He could also put another midfielder up close to Murphy. He could he put Wes in that role or even Robbie Brady.
"There is also the possibility of bringing in someone like Glenn Whelan to make up a three-man midfield with (David) Meyler and (Jeff) Hendrick and then have Brady and (James) McClean out wide.
"Now that Long isn't going to be available, there is room for Wes to be in the same team as Brady and McClean."
I understand that @ShaneLong7 has a hip injury which keeps him out of tonight's match. Hope you're ready for the play off Shane 👍🙏 #WALIRE

— Tony O'Donoghue (@Corktod) October 9, 2017
Sadlier feels that is no obvious choice for a replacement but feels Sean Maguire is definitely worth considering.
The former Cork City player made his Republic of Ireland debut on Friday night against Moldova replacing Long with just over ten minutes left to play.
"There is a case to be made for Maguire, it would be a hell of a big call," added Sadlier.
"He's done this before, he brought on Darren Randolph for his first competitive game when Shay Given went off injured against Germany and that was a huge call and Shane Duffy too.
"O'Neill is not shy of putting in really inexperienced players for big games. I suppose it will be down to what impact Maguire made in training.
"O'Neill would have seen him now for eight to 10 days, Maguire got his experience on the pitch on Friday night.
"But it would be a big, big call to go into a game like this and play a striker with around 12 minutes of international experience to his name."
Although Long was off form on Friday night against Moldova, spurning several chances, his pace is something that will always trouble defenders and will be missed against Wales.
Sadlier said Maguire could offer that, despite his lack of game time at this level: "Shane Long stretched defences, whatever position defenders take up they would have his pace in mind.
"They would be wary not to leave too much space between him and their goalkeeper. You don't get those concerns if you are only up against Daryl Murphy.
"So I think pace will certainly be a problem if we play with Murphy up front on his own. He is physically strong, he is good in the air but he is not quick, he's fairly immobile.
"Certainly before Friday he wouldn't have been called a clinical finisher at international level. His goal return is poor although you'd imagine his confidence is quite high now.

"In the post-match on Friday I brought up the question of whether Long's position would be guaranteed.

"In a squad that had more options up front I wondered if he would have played. But we have a squad that is so short of alternative options of players who can play up front with international experience.
"Our options are very limited and that becomes even more apparent with Shane Long out of the equation."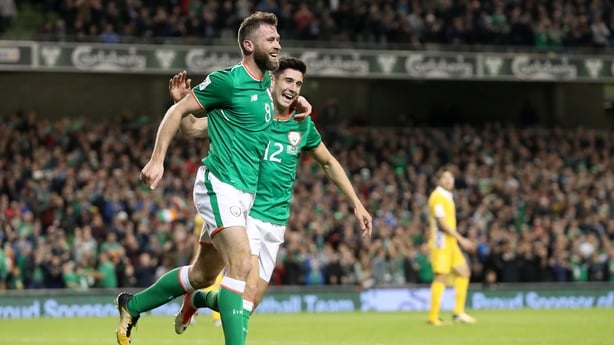 The news of Long being out injured made its way into the media at approximately 10.30am on match day.
For Sadlier this was a curious occurrence as it benefits the opposition.

"I don't know how that news found its way into the media but if it was a conscious decision by the management team to put that news out, it's a strange one.

"It's not obvious to me what the benefit of that would be, it actually seems to me that it is an advantage to Wales.

"They now know they don't have to prepare for Shane Long and the different things that he does.

"It doesn't tell them who definitely will be playing in his place but any information an opposition has on the unavailability of players or the likely selection of a team is useful to that team.

"We have handed Wales a bit of information that there was no real need for them to get."