Manager Gordon Strachan insists he felt stress-free despite Scotland waiting until the 88th minute before getting a late winner in their crunch World Cup qualifier against 10-man Slovakia at Hampden Park
As Scotland turned the screw, substitute Chris Martin and Leigh Griffiths both hit the crossbar with strikes after the break and goalkeeper Martin Dubravka continued with a remarkable performance to keep the home side at bay.
But with two minutes remaining of regulation time a cross from another substitute Ikechi Anya was turned into his own goal by Slovakia captain Martin Skrtel under pressure from Martin.
Strachan claimed to have enjoyed the 1-0 win as much as any of the Tartan Army and afterwards he said: "Actually at no time did I feel really stressful down there.
"I felt part of it down there and I could see that they had everything under control, it wasn't a problem for me, apart from a couple of misplaced passes and counter attacks.
"But being close to them I could see they were really in control of the game, they had a real belief in what they were trying to do.
"They stayed above the anxiety of the crowd. It was obvious, a lot of people were getting anxious and that is what you pay your ticket for, that is part of the emotions that you get when you watch a match."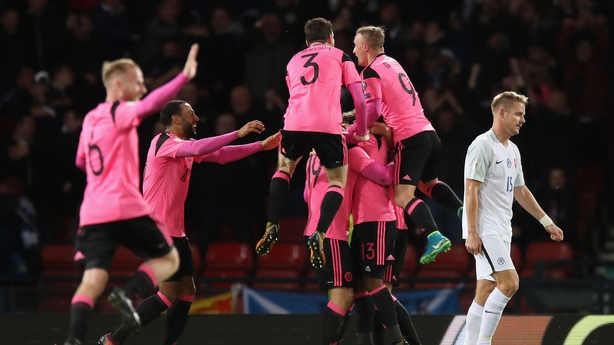 Strachan continued: "They stayed above to do the things they wanted to do and I genuinely felt we would score, not matter what the time was. I did feel like that, yes.
"There's been many times I felt like that and the goal has not come but I did feel it was going to come. The way we tried to play, the goal was coming.
"We have been building up to a performance like that and the players deserved a result like that.
"Many times we have been sitting here with bad luck written all over it but it wasn't bad luck tonight, it was a super goalkeeper, a crossbar and a lot of chances and we eventually got one in."
England are Group F winners, with Scotland two points ahead of Slovakia and three ahead of Slovenia, whom they face in the final game on Sunday, when Jan Kozak's side play minnows Malta.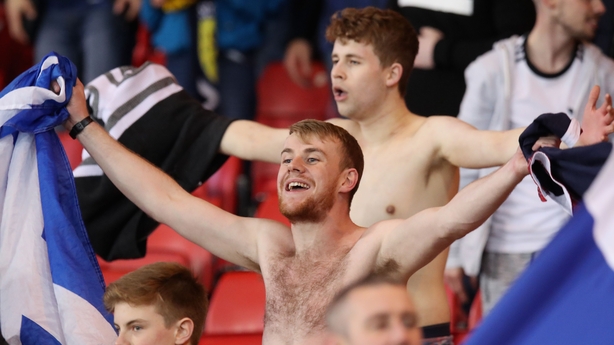 Strachan believes his side will travel to Slovenia with some confidence. He said: "Every win makes you feel better about yourself, and the performance makes you feel better about yourself.
"Their goalkeeper was outstanding- the crossbar was not too bad either. So there was a lot going on that we can be pleased about. We have to regroup and go again."
Slovakia had to wait for their luggage when they arrived at Glasgow airport and that appeared to be part of manager Jan Kozak's enigmatic response when asked about Milorad Mak's early sending off.
He said: "There has been too many coincidences since I landed in Scotland and I am too old to believe in coincidences. I will keep it to myself."