Wales manager Chris Coleman has welcomed Antonio Conte's comments about Ethan Ampadu after Jurgen Klopp suggested Ben Woodburn was not ready for international football.
Coleman has named 17-year-old prospects Ampadu and Woodburn in his squad for the crunch 2018 World Cup qualifiers against Georgia and the Republic of Ireland.
Chelsea manager Conte said earlier this month the Premier League champions were "proud" of Ampadu being selected by Wales, and rejected the notion that an international call placed extra pressure on someone so young.
Those remarks were in contrast to those of Liverpool boss Klopp who questioned whether Woodburn was ready for international duty.
Klopp, however, later christened his teenage striker 'The Prince of Wales' after Woodburn scored a World Cup winner less than five minutes after coming on as a substitute against Austria.
"It helps if you have played international football and understand what it is all about," Coleman said.
"When I read Conte's comments I felt he put it really well - and it is true. If you are good enough as a young player then why shouldn't you be involved?
"I can see the players don't belong to us and are not contracted to us and international football is a choice. But if you have played it you understand the importance of it and the honour of it.
"I wasn't surprised by Antonio's comments, but they were welcome and made total sense to me.
"I have played international football myself. It is great for anybody to be called up by their country and if they are good enough, be they 16,17 or 18, they shouldn't be put in a situation where they feel under pressure, certainly not by us."
Woodburn could well feature against Ireland in Cardiff on Monday, October 9.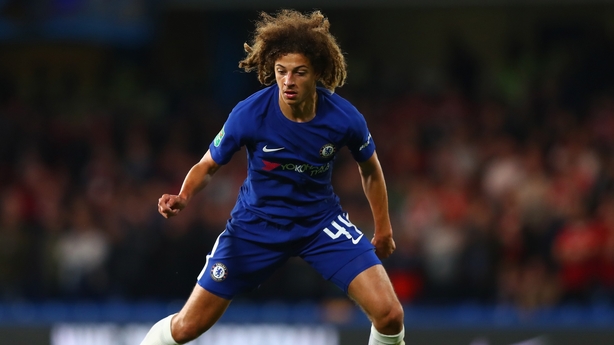 Ampadu has yet to make his senior Wales debut, despite being part of previous training camps and being in the squad for the Austria-Moldova games at the start of September.
But since that World Cup double-header he has made his Chelsea bow, coming on as a second-half substitute in the Carabao Cup victory against Nottingham Forest.
Woodburn has only had 45 minutes of first-team action for Liverpool since becoming a national hero, but Coleman believes he is being handled the right way at Anfield.
"Jurgen sees other players every day at his club who are looking good, I don't," Coleman said.
"He was honest in his assessment about Ben, but my point was that he has been in the Liverpool squad and scored on his debut at Anfield.
"I know training with us is not playing, but you see certain signs and whether they can step up or not.
"All the signs for us with Ben were good, and certainly in his first few caps. I think we were right in assuming he was ready to come and play a part."
Coleman, however, insists he is not under pressure to start Woodburn in Wales' final two World Cup qualifiers.
"There will be an expectation that he plays more of a part now," he said.
"But whether he starts or doesn't start, I can't say I feel under pressure to do that.
"I will pick the team to start, and change as the game is going, but it will all be about what I feel is best for us on the night in Georgia."