Simon Mignolet has brushed off his remarkable record against penalties after denying Leicester's Jamie Vardy from the spot to seal a precious Premier League victory.
The Belgium international's 73rd-minute save from Vardy's spot-kick was his seventh in 15 attempts in the league since he joined the Anfield club in June 2013 and proved vital in a 3-2 away win for his side at the King Power Stadium on Saturday.
However, he was quick to insist his contribution was secondary to the overall objective.
Mignolet said: "I'm not interested in records or how good my penalty record is, the main thing is it gained us three points. That's what we needed and what we can build on.
"We can take a lot of positives out of the game, even though it was an up-and-down-the-pitch one. We fought for it, we had to dig in and we showed character to get the result we needed.
"That's never easy, especially in the position we're in."
The performance at Leicester, however, posed further questions about Liverpool's defensive resilience.
They led 2-0 through early goals from Mohamed Salah and Philippe Coutinho, but Shinji Okazaki pulled one back in controversial circumstances - he appeared to haul Mignolet back during the build-up - and, after Jordan Henderson had restored the two-goal advantage, Vardy reduced it once again.
Mignolet was at the centre of several of the game's biggest incidents, and it was he who was adjudged to have fouled Vardy for the late penalty, although he continued to protest his innocence long after the final whistle.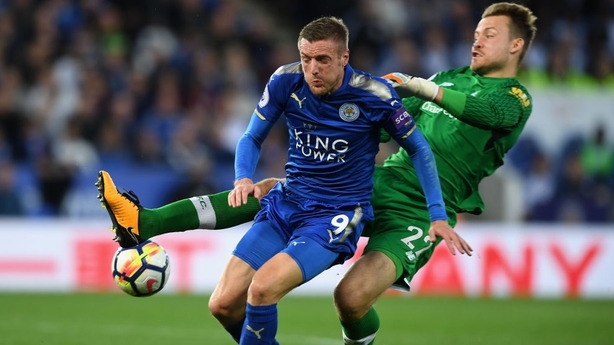 He said: "The penalty was not really a penalty, I touched the ball. If any other player on the pitch makes that challenge it wouldn't look as bad as it does now.
"The main thing is we saw it through and got the three points."
That was a source of comfort too for manager Jurgen Klopp as he started to prepare for Tuesday's Champions League trip to Spartak Moscow with the debate over his team's ability to defend ongoing.
He said: "It's obvious we concede too many, there's no doubt. That's really hard for me. Usually, I'm a really good defensive coach, but obviously that has worked not too good so far.
"But we will be fine. It's how it is. I have faith, not only offensive, but in our squad. I like to have this.
"I know we need results. I like this team. Maybe nobody else likes it, I really like it and I want to improve it together.
"Sometimes you need a punch in the face and we have had already a few - not too hard. [Manchester] City was hard, that was the only one.
"We were not really on the floor, but we always got up. We are here and we play good football. I like the shape we play."