It was a night of big performances and new beginnings for the Republic of Ireland women's team as they got their World Cup qualifying campaign off to a winning start in Lurgan
They defeated Northern Ireland 2-0 with new coach Colin Bell at the helm and Katie McCabe wearing the captain's armband for the first time.
Their first-half performance reflected a team who were determined to make their mark and they showed grit and determination throughout.
Their hard work paid off just before the break when an outstanding Megan Campbell throw flew into a packed box and landed on the head of Northern Ireland player Rachel Furness, who deflected it into the net to give Bell's side a 1-0 lead.
In the second-half Megan Campbell got the second with a perfectly floated shot form distance into the top left of the goal.
That strike came with just over 20 minutes to play and it was much deserved as she was the standout player for Bell's side.
The visitors dominated from the off and their opening goal felt long time coming as they completely dominated play and their set-pieces were impossible to marshal.
Just moments before the deadlock was broken with the own goal Ireland looked like they had taken the lead.
A Campbell cross was headed by Louise Quinn past the Northern Ireland goalkeeper Lauren Perry and was on route to the back of the net but Diane Caldwell mistakenly headed it off the line in what was a lucky escape for the home side.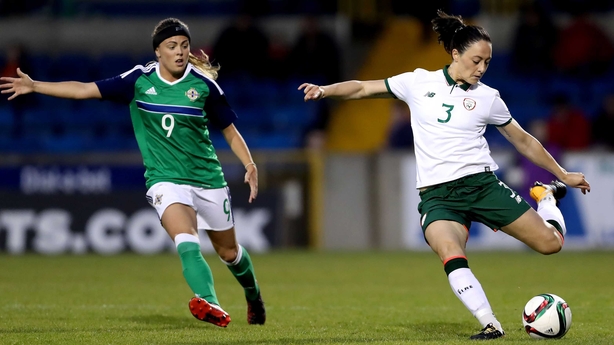 Northern Ireland's only chance of the first half came on the 43rd minute when Kendra McMullan headed a Marissa Callaghan corner at the target but she was denied by a brilliant Marie Hourihan save.
After the break Stephanie Roche came close to finding the net when she rebounded a blocked shot from McCabe but the Sunderland player's effort was ruled off side.
As the game progressed Ireland's confidence grew and so did their possession dominance with good play coming from Leanne Kiernan and Harriet Scott.
It was all one way traffic in Lurgan and Campbell's corners and throws were heaven sent for the Irish players as they tested Perry again and again with Louise Quinn getting up front causing particular trouble for the Northern Ireland defence.
But it was Campbell who finally added the second on the 69th minute and when she shot from distance Perry had no chance of keeping it out.
Northern Ireland tried to mount a late challenge and indeed McMullan had a chance to pull one back with ten minutes to play but her shot was wide of the post.
There was concern in the closing minutes for Stephanie Roche as she was stretchered off.
Next up for the Republic of Ireland is away date in Slovakia on Tuesday, 24 October.
ROI: Hourihan, Scott, Caldwell, Quinn, Campbell, Duggan Fahey, O'Gorman, O'Sullivan, Roche, McCabe
NI: Perry, Newborough, Foy, Montgomery, Nelson, Hutton, Milligan, Callaghan, Magill, Furness, McMullan