Boss Brendan Rodgers claimed his Celtic side played like under-12s at times in their 5-0 thumping by Paris St Germain at Parkhead.
The world's most expensive frontline did the damage in the first half of their Champions League Group B opener as Brazilian star Neymar opened the scoring in the 19th minute, 18-year-old French sensation Kylian Mbappe added a second in the 34th minute before Edinson Cavani netted with a penalty before the break.
The Scottish champions performed better after the break but in the latter stages Parkhead defender Mikael Lustig put through his own goal before Cavani grabbed his second with a clever header to hand the home side their record home defeat in Europe.
To add to their on-field woes, the Glasgow club may be in trouble again with UEFA after a fan came on to the pitch to aim a fresh-air kick at Mbappe before being escorted away by stewards, after Cavani had scored his penalty.
Rodgers said: "This is a level where you have to look after the ball and you have to make it work for you.
"In the first half we didn't do that, we were playing like under-12s at times.
"So like I say, it is confidence, belief. We are missing some decisive players as well who can help us at this level but it is always going to be very tough. That is the reality of it.
"I don't want to be too harsh on the players. They (PSG) are the potential champions of this tournament and where we are at, with all due respect, and where those guys are at, it is not just one or two levels, it is three or four levels away beyond.
"We always have to be competitive and we weren't for that first period but the second half was much better and the supporters acknowledged that."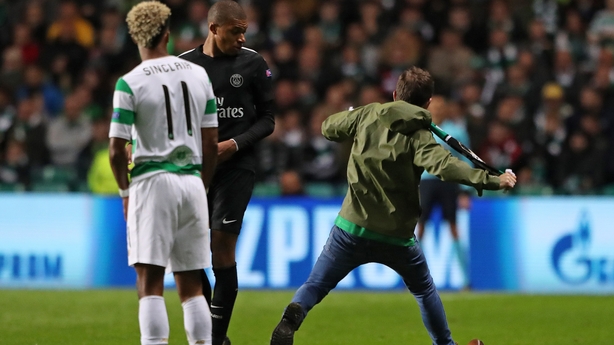 Asked about the fan coming on to the pitch Rodgers said: "The crowd reaction said it all. It is disappointing at any ground that a supporter gets on to the pitch.
"I am sure the club will deal with that. It shouldn't be anything that we should see on a football field. The crowd in their reaction told you everything you need to know."
PSG boss Unai Emery was pleased by his side's start to the competition.
He said: "I am really happy with the victory.
"The most difficult thing here is to cope with the rhythm they play at, the intensity and of course with the support they have behind them.
"My team showed a lot of character and a very controlled approach to the game which I am very pleased at.
"We are pleased that we were in control with the ball and without the ball. I would like to stress that it was a team effort. So it is a mixture of happiness and calmness.
"We are really confident that we can continue on the journey we have set out on, it was good for confidence, it is a good step forward."